Back From the Brink


Weekly Update - March 12, 2012

In This Issue

The Markets:




Three years ago Friday, the Dow Jones Industrial Average saw one of its darkest days. Closing at its Great Recession low of 6,547, investors cringed to see how far stocks had fallen from their October 2007 high of 14,164.

[1]

Since that day, we've experienced one of the greatest three-year runs in the history of the stock market, superseded only by the dot-com craze of the late nineties and the recovery from the Great Depression.

[2]


Stocks have returned with remarkable resilience. Between the "flash crash" of May 2010, the European financial crisis, the downgrade of the U.S. credit rating by Standard and Poor's, fear of default by the U.S. government, high gas prices, and supply disruptions surrounding the Japanese tsunami, it's amazing we've made it to where we are.



When you look at both the climb we've seen and the challenges we're facing, it's not surprising that many analysts are calling for a pullback in the near future. Even so, stocks managed to hold their own last week. After a couple of rough days, Wall Street logged three winning sessions on the back of a better-than-expected employment report. The S&P eked out a gain of 0.1% for the week, while the Dow dropped 0.4%, and the Nasdaq gained 0.4%.

[4]


While Friday's jobs report was hotly anticipated, the market's reaction to it was surprisingly muted. The Labor Department reported that 227,000 new jobs were created while the unemployment rate remained the same as February's at 8.3%. If so many new jobs were created, why is the unemployment rate the same? Well, while new jobs were created, the total number of job-seekers increased as more people began actively looking for work. When the job market improves, people who had previously dropped out of the hunt start applying for jobs again, affecting the unemployment rate. Clearly, while the employment situation is actively improving, we still have a long way to go.



Also supporting market performance last week was news that Greece succeeded in convincing bondholders to swap their old bonds for new ones valued at much less. In accomplishing this, Greece cleared a major hurdle to avoiding a disorderly default.



We are living during one of the most interesting times in history. Each week, as we analyze the stock market and the economy, we find both positive and negative factors to weigh when making investment decisions. We strive to do this with diligence and skill. All things considered, we trust that the same resilience that brought us to Friday will carry us into the future; even though there are sure to be bumps along the way.



ECONOMIC CALENDAR:


Monday: Treasury Budget


Tuesday: Retail Sales, Business Inventories, FOMC Meeting Announcement 2:15 PM EST


Wednesday: Import and Export Prices, EIA Petroleum Status Report


Thursday: Jobless Claims, Producer Price Index, Empire State Mfg. Survey, Treasury International Capital, Philadelphia Fed Survey


Friday: Consumer Price Index, Industrial Production, Consumer Sentiment






Performance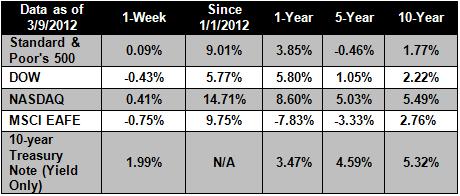 Notes: All index returns exclude reinvested dividends, and the 5-year and 10-year returns are annualized.
Sources: Yahoo! Finance, MSCI Barra. Past performance is no guarantee of future results.
Indices are unmanaged and cannot be invested into directly. N/A means not available.
Headlines:

China has approved a $2.9 billion investment by 23 foreign institutions in its
capital markets. As the Chinese economy shows signs of slowing, central bankers look to foreign investors to pick up the slack. China now has a total of $24.6 billion by 129 foreign institutional investors invested in its capital markets.

[5]
Crude oil futures rose past $108 a barrel Friday, buoyed by a good U.S. jobs report and positive news from Greece. Crude has risen from $75 a barrel in October and $96 a barrel last month on the back of rising tensions with Iran and positive economic news.

[6]
States that were hardest hit by the real estate collapse are now leading the U.S. labor market growth. Arizona, California, Florida, and Nevada accounted for 28% of the increase in U.S. employment between August and December 2011, according to Labor Department figures.

[7]
Credit Suisse is bullish on homebuilder stocks,
behind the outlook is improved buyer traffic, record affordability, and improved buyer confidence, leading to increased activity in the housing market.

[8]


"The friend in my adversity I shall always cherish most. I can better trust those who helped to relieve the gloom of my dark hours than those who are so ready to enjoy with me the sunshine of my prosperity."


Turtle Bars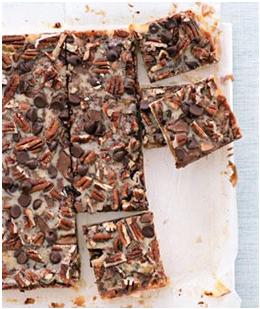 These simple but decadent bars are perfect for bake sales and gifts. Recipe from Real Simple.
Ingredients:

1/2 cup confectioners' sugar
1 14-ounce can sweetened condensed milk
1 teaspoon pure vanilla extract
1 cup pecans, coarsely chopped
3/4 cup semisweet chocolate chips
1 cup toffee-and-chocolate baking pieces (such as Heath or Skor)
Preparation:

Heat oven to 350°F. Combine the flour, confectioners' sugar, and butter in the bowl of a food processor. Pulse until a crumbly dough is formed. Press the dough firmly into a greased 9-by-13-inch pan. Bake until just golden, about 13 minutes.
Whisk together the condensed milk, egg, and vanilla. Pour the filling over the baked crust. Sprinkle the pecans, chocolate chips, and toffee pieces evenly over the filling. Bake until the filling is set, the edges are golden brown, and the toffee is melted, about 25 minutes.
Cool completely in the refrigerator, about 2 hours. Cut into 32 bars.


Move Up!
Having trouble achieving a mental breakthrough? Try playing from the forward tees in order to alter your comfort zone and lower your scores. Playing a shorter course will instill a "go-for-par" or birdie mindset that will stick with you when you return to your accustomed tees. If you can't score any better from the forward tees, consider it a message that you need extra work on your short game.


Take Breaks From Computers and Phones

As people spend more of their lives online and connected by smartphones, information overload can become a problem. In order to give your eyes and brain a break, take information breaks every hour where you leave the computer, put your phone away, and disconnect. During that break, take a walk, engage in deep breathing, do a physical activity, drink water, speak to someone in person, or meditate.


Use Vinegar as a Household Cleaner


Many commercial household cleaners contain chemicals that can be harmful when breathed in the air or absorbed through the skin. Consider replacing some of your commonly used cleaners with vinegar. Here are a few ways to use vinegar around the house:
Use vinegar to remove deposits clogging your steam iron or coffeemaker.
Use a cup of white vinegar to clean a washing machine. Run it through a regular cycle, but leave out the clothes.
A quarter-cup of white vinegar will remove animal odors or smoke from a load of laundry; simply add it on top of regular detergent.
Note: When using vinegar around the house, be sure to use only the white variety as brown vinegars will easily stain fabrics and surfaces
.
Share the Wealth of Knowledge!
Please share this market update with family, friends, or colleagues. If you would like us to add them to our list, simply click on the "Forward email" link below. We love being introduced!

Investing involves risk including the potential loss of principal. No investment strategy can guarantee a profit or protect against loss in periods of declining values.

The Standard & Poor's 500 (S&P 500) is an unmanaged group of securities considered to be representative of the stock market in general.


The Dow Jones Industrial Average is a price-weighted average of 30 significant stocks traded on the New York Stock Exchange and the NASDAQ. The DJIA was invented by Charles Dow back in 1896.


The MSCI EAFE Index was created by Morgan Stanley Capital International (MSCI) that serves as a benchmark of the performance in major international equity markets as represented by 21 major MSCI indexes from Europe, Australia and Southeast Asia.


The 10-year Treasury Note represents debt owed by the United States Treasury to the public. Since the U.S. Government is seen as a risk-free borrower, investors use the 10-year Treasury Note as a benchmark for the long-term bond market.


Google Finance is the source for any reference to the performance of an index between two specific periods.

Opinions expressed are subject to change without notice and are not intended as investment advice or to predict future performance.


Past performance does not guarantee future results.


You cannot invest directly in an index.


Consult your financial professional before making any investment decision.


Fixed income investments are subject to various risks including changes in interest rates, credit quality, inflation risk, market valuations, prepayments, corporate events, tax ramifications and other factors.


These are the views of Platinum Advisor Marketing Strategies, LLC, and not necessarily those of the named representative or named Broker dealer, and should not be construed as investment advice. Neither the named representative nor the named Broker dealer gives tax or legal advice. All information is believed to be from reliable sources; however, we make no representation as to its completeness or accuracy. Please consult your financial advisor for further information.

By clicking on these links, you will leave our server as they are located on another server. We have not independently verified the information available through this link. The link is provided to you as a matter of interest. Please click on the links below to leave and proceed to the selected site.




[1]

http://www.google.com/finance



[2]

http://www.huffingtonpost.com/huff-wires/20120309/us-market-bottom-scars-of-2008/
[3]
http://biz.yahoo.com/mu/update.html



[4]

http://www.latimes.com/business/money/la-fi-mo-jobs-report-20120309,0,5840865.story



[5]

http://news.yahoo.com/china-approves-more-foreign-funds-economy-slows-040422937.html



[6]

http://www.csmonitor.com/Business/Latest-News-Wires/2012/0310/Oil-prices-buoyed-by-US-jobs-Greek-debt-deal



[7]

http://www.bloomberg.com/news/2012-03-09/states-hardest-hit-by-real-estate-collapse-lead-u-s-labor-market-recovery.html



[8]

http://blogs.wsj.com/marketbeat/2012/03/09/homebuilder-stocks-keep-chugging-higher/