Economic News Buoys Stocks

Weekly Update - February 27, 2012

In This Issue

The Markets:




After a week of mixed performance, major indexes locked in weekly gains on Friday, buoyed by positive economic data. The S&P 500 closed at its highest level since 2008, having gained 8% so far this year. The Dow increased about 0.3% this week and flirted with its highest close since May 2008, while the Nasdaq added 0.4% to close at its highest level since December 2000!

[1]




Positive economic numbers released this week included an unexpected boost in consumer confidence in February as Americans continue to be optimistic about economic growth. The Thomson Reuters/University of Michigan final index of consumer sentiment rose to 75.3 from 75 in January, sustained by gains in the job market.

[2]

Optimistic consumers tend to spend more and invest more - two things that are very good for economic growth.




Additional positive news came out of the housing market as sales of existing U.S. homes rose 4.3% in January, sustained by record-low interest rates and bargain prices. At the same time though, sales of new homes fell in January after four straight months of gains as more Americans purchased previously-owned homes. According to the Commerce Department, new-home sales dropped 0.9% from December, falling short of forecasted growth. However, since hiring is on the rise and existing homes are selling briskly, we expect to see continued improvements in the overall housing market as stockpiles are depleted and consumers keep taking advantage of low mortgage rates.

[3]




Unfortunately, gas prices continued their rise this week, increasing 2.7 cents to a nationwide average of $3.67 a gallon on Saturday. Tensions with Iran and Syria caused crude oil to hit $109.77 at Friday's close; however, consumers are still responding relatively well. In related news, St. Louis Federal Reserve President James Bullard made a statement Friday expressing confidence that since Americans adjusted to high gas prices in 2008, the rising prices we now see are unlikely to derail the recovery.

[4]

We hope he is correct in this assumption.




Overall, despite some midweek market turbulence fueled by concerns over Europe and high gas prices, the week ended well, with positive economic news boosting confidence that the recovery will continue. Although a sustained rise in gas prices could put a damper on future growth, most economists remain cautiously optimistic, and so do we.




ECONOMIC CALENDAR:


Monday: Pending Home Sales Index, Dallas Fed Manufacturing Survey


Tuesday: Durable Goods Orders, S&P Case-Shiller HPI, Consumer Confidence


Wednesda

y

: GDP, Chicago PMI, Ben Bernanke Speaks at 10:00 AM ET, EIA Petroleum Status Report, Beige Book

Thursday: Motor Vehicle Sales, Jobless Claims, Personal Income and Outlays, ISM Manufacturing Index, Construction Spending






Performance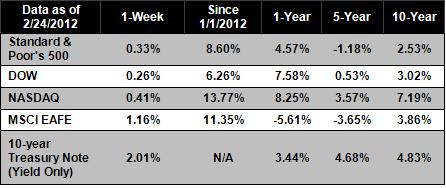 Notes: All index returns exclude reinvested dividends, and the 5-year and 10-year returns are annualized.
Sources: Yahoo! Finance, MSCI Barra. Past performance is no guarantee of future results.
Indices are unmanaged and cannot be invested into directly. N/A means not available
Headlines:

The Federal government could open the Strategic Petroleum Reserve to curb rising oil prices. Tapping the SPR often comes up when gas prices soar and politicians feel pressured into action. Opening the reserve would quickly lower prices; however, doing so might leave the country open to future shocks, meaning that it is unlikely to be opened unless a severe supply disruption occurs.

[5]
Greece launched a sovereign debt swap worth €107 billion- designed to restructure its debt load and stave off default. The swap will allow investors to take a 53.5% loss on the face value of their government bonds - which is much less than the actual loss, estimated at between 73-74%. It is hoped that the debt swap will lower Greece's overall debt from 160% of GDP to 120% by 2020, paving the way for a return to solvency.

[6]
The Federal Reserve bought $1.9 billion in long-dated bonds as part of a bond-buying program designed to support the economy by keeping long-term interest rates low. The Federal Reserve plans to purchase a wider variety of bond maturities next week.
[7]
A prominent economist is bearish on the economy. Despite the positive economic indicators, Lakshman Achuthan believes the economy is headed for a new recession. However, Achuthan's views are not widely accepted; a December CNNMoney poll of economists cut the double-dip recession risk down to 20%, citing job growth, increased retail spending, and higher consumer confidence.

[8]


"Determine never to be idle. No person will have occasion to complain of the want of time who never loses any. It is wonderful how much may be done if we are always doing."
- Thomas Jefferson


Flourless Chocolate Cake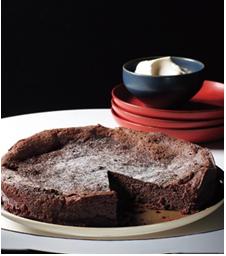 Indulge your sweet tooth with this rich, dense, moist cake. Chocolate lovers only! Recipe from realsimple.com
Ingredients:

1 cup (2 sticks) unsalted butter, cut into pieces, plus more for the pan
1/4 cup unsweetened cocoa powder, plus more for the pan
8 ounces bittersweet chocolate, chopped
1/2 cup crème fraîche or sour cream
1/4 cup confectioners' sugar, plus more for dusting
Heat oven to 350° F. Butter a 9-inch springform pan and dust with cocoa powder.

In a medium saucepan, heat the butter with ¼ cup of the heavy cream over medium-low heat until the butter is melted. Add the chocolate and stir until melted and smooth; remove from heat.


In a medium bowl, whisk together the eggs, granulated sugar, and cocoa powder; whisk in the chocolate mixture.


Transfer the batter to the prepared pan and bake until puffed and set, 35 to 40 minutes. Let cool in the pan for 1 hour. Run a knife around the edge of the cake before unmolding.

Using an electric mixer, beat the remaining 1 cup of heavy cream with the crème fraîche and confectioners' sugar until soft peaks form. Dust the cake with confectioners' sugar and serve with the whipped cream.


Memorize Your Ball Position


Memorize your ball position for each club - or more correctly, the progression of ball positions as you go from club to club. Then, before every shot, check your distance out from the ball and the ball's position in your stance. Don't rely on "feel" as so many golfers do. If you use your standard swing and the ball is just 1/2 inch farther forward than usual, you will not hit consistently.
Some players have three or four basic positions - driver, long clubs, mid irons, short irons. Others have a gradual system that goes from off the left toe for drivers, to all the way back to the right toe for short wedges. Whatever system you choose, stick with it to increase your consistency.

Add Stretching to Your Routine
Stretching throughout the day and after exercise has been shown to decrease the risk of injuries and improve blood flow to the muscles. By stretching regularly, we can increase flexibility and increase our range of motion to important joints and tendons, reducing the risk of trauma or overuse injuries.

To stretch a muscle, try to lengthen it to the point where you just feel the muscle beginning to stretch. It should never hurt. Hold the stretch for 6-10 seconds, stretching more if the muscle relaxes in that period of time. Relax then repeat the exercise



Save Energy With Oven Alternatives


Generating the energy required to power a standard oven for an hour creates as much as 2.7 pounds of atmospheric carbon dioxide. The next time you need to bake or roast a dish, consider these alternatives:
Toaster oven: 1.3 pounds of CO2 in 50 minutes of cooking; Slow cooker: 0.9 pounds of CO2 over seven hours of cooking; Microwave oven: 0.5 pounds of CO2 in 15 minutes of cooking.
Share the Knowledge!


Please share this market update with family, friends, or colleagues. If you would like us to add them to our list, simply click on the "Forward email" link below. We love being introduced!

Investing involves risk including the potential loss of principal. No investment strategy can guarantee a profit or protect against loss in periods of declining values.
The Standard & Poor's 500 (S&P 500) is an unmanaged group of securities considered to be representative of the stock market in general.

The Dow Jones Industrial Average is a price-weighted average of 30 significant stocks traded on the New York Stock Exchange and the NASDAQ. The DJIA was invented by Charles Dow back in 1896.

The MSCI EAFE Index was created by Morgan Stanley Capital International (MSCI) that serves as a benchmark of the performance in major international equity markets as represented by 21 major MSCI indexes from Europe, Australia and Southeast Asia.

The 10-year Treasury Note represents debt owed by the United States Treasury to the public. Since the U.S. Government is seen as a risk-free borrower, investors use the 10-year Treasury Note as a benchmark for the long-term bond market.


The Reuters/University of Michigan Surveys of Consumers is an index based on a survey of a nationally representative of U.S. households designed to gauge how consumers feel the economic environment will change. Survey responses are correlated and weighted to create single index value.


Google Finance is the source for any reference to the performance of an index between two specific periods.

Opinions expressed are subject to change without notice and are not intended as investment advice or to predict future performance.

Past performance does not guarantee future results.


You cannot invest directly in an index.


Consult your financial professional before making any investment decision.


Fixed income investments are subject to various risks including changes in interest rates, credit quality, inflation risk, market valuations, prepayments, corporate events, tax ramifications and other factors.


These are the views of Platinum Advisor Marketing Strategies, LLC, and not necessarily those of the named representative or named Broker dealer, and should not be construed as investment advice. Neither the named representative nor the named Broker dealer gives tax or legal advice. All information is believed to be from reliable sources; however, we make no representation as to its completeness or accuracy. Please consult your financial advisor for further information.

By clicking on these links, you will leave our server as they are located on another server. We have not independently verified the information available through this link. The link is provided to you as a matter of interest. Please click on the links below to leave and proceed to the selected site.
[1]

http://www.reuters.com/article/2012/02/24/markets-stocks-idUSL2E8DOCRP20120224




[2]

http://thomsonreuters.com/content/financial/pdf/i_and_a/4389/2012_2_24_job_growth_maintains_consumer_confidence.pdf



[3]

http://www.washingtonpost.com/business/economy/us-new-home-sales-declined-09-percent-in-january-after-4-straight-monthly-increases/2012/02/24/gIQAvNglXR_story.html



[4]

http://www.marketwatch.com/story/feds-bullard-4-gas-would-not-derail-economy-2012-02-24



[5]

http://www.latimes.com/business/la-fi-gas-prices-spr-20120225,0,3461877.story



[6]

http://www.reuters.com/article/2012/02/24/us-greece-idUSTRE8120HI20120224



[7]

http://www.washingtonpost.com/business/treasury-prices-edge-higher-as-federal-reserve-buys-19-billion-in-long-dated-debt/2012/02/24/gIQAOrIMYR_story.html




[8]

http://money.cnn.com/2012/02/24/news/economy/double_dip_recession/index.htm