Good Greece. Bad Iran.

Weekly Update - February 20, 2012

In This Issue

The Markets:

Despite a turbulent week filled with mixed news from Europe and rising Middle East tensions, stocks closed higher on hopes that Chinese assistance would mean a bailout plan for Greece. The S&P 500 closed at 1361.23, a level not seen in nearly a year, having gained 8.2% so far in 2012. Other major indexes also rose for the week, the Dow advancing 1.2% and the Nasdaq climbing 1.7%.

[1]




In not-so-great news, crude oil prices rose for a third straight day on U.S. markets Friday, topping $103 a barrel, sparked by increased saber rattling from Iran over its nuclear energy policies. A sustained surge in prices could weigh on the global economic recovery. Drivers are seeing the effect at the pump, with gas prices up by 0.9% since January, topping $3.50 a gallon in many places. Every added penny at the gas pump diverts roughly $1 billion in consumer spending away from other sectors of the economy.

[2]




Thankfully, inflation isn't looking bad overall. The Consumer Price Index (CPI) only rose 0.02% in January, which was in line with expectations. The Core CPI, which excludes food and energy, also matched expectations, gaining 0.02%. Year-over-year gains were 2.9% for the general CPI and 2.3% for the Core CPI. If overall inflation was higher, economic growth could be threatened by rising prices, and the Fed would likely respond by raising interest rates. The Fed's statement following the January FOMC report described price pressures as "subdued", and indicated that they plan to keep rates low until at least late 2014.

[3]




In simple English, last week was really a mixed bag. While we are happy with the stock market's performance, progress in Europe, and low inflation, unrest in the Middle East is a wild card. Every time bad news out of that region hits headlines, speculators drive gas prices through the roof. At this point, all we can do is monitor the situation, hoping that with diplomatic pressure, Iran will listen to reason.




ECONOMIC CALENDAR:


Monday: U.S. Markets closed for President's Day


Wednesday: Existing Home Sales


Thursday: Jobless Claims, FHFA Housing Price Index, EIA Petroleum Status Report


Friday: Consumer Sentiment, New Home Sales








Performance


Notes: All index returns exclude reinvested dividends, and the 5-year and 10-year returns are annualized.
Sources: Yahoo! Finance, MSCI Barra. Past performance is no guarantee of future results.
Indices are unmanaged and cannot be invested into directly. N/A means not available
Headlines:

Greece won a second massive financial bailout
in the early hours of Tuesday morning when its partners in the 17-country Eurozone finally stitched together a €130 billion ($170 billion) rescue, meant to avoid a potentially disastrous default and secure the euro currency.
[4]
Congress passed a payroll tax cut and job benefits bill
in a rare show of bipartisan support. Under the new bill, workers would continue to receive a two percentage point increase in their paychecks (taken out of the 6.2% Social Security payroll tax). People out of work for more than six months would keep jobless benefits averaging about $300 a week.
[5]
Jobless claims plunged last week
to a nearly four-year low, in the latest bit of good news for the U.S. economy. Initial unemployment claims totaled 348,000 in the week ended Feb. 11, said the U.S. Department of Labor. That's 13,000 less than the week before.
[6]
Iran threatened to disrupt oil trade through Strait of Hormuz
in response to pressure from the U.S. and European Union to shut down a uranium enrichment program aimed at producing nuclear weapons. Oil prices have been rising steadily since hitting a seasonal low in October.
[7]


"Great minds discuss ideas. Average minds discuss events. Small minds discuss people."
White Bean and Lamb Chili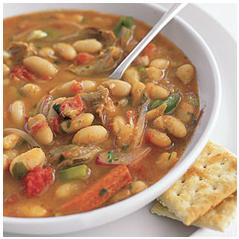 A healthy and hearty recipe from Real Simple.
Ingredients:
1 green bell pepper, diced
2 cups white beans, rinsed and drained
1 14 1/2-ounce can chopped tomatoes, drained
2 14 1/2-ounce cans chicken broth
6 ounces roasted lamb, shredded
1 cup roasted carrots, chopped
2 tablespoons all-purpose flour
2 scallions, trimmed and thinly sliced
Preparation:

In a large skillet over medium heat, heat the oil. Add the bell pepper, chili powder, and salt and cook until softened, about 3 minutes. Add the beans, tomatoes, chicken broth, lamb, and carrots. Cover and bring to a boil. Reduce heat and simmer for 25 minutes.
Meanwhile, in a small bowl, whisk together the flour and 1/4 cup warm water. Stir into the chili and cook until thickened, about 5 minutes more. Stir in the scallions.


Grip is one of the most important aspects of your swing since your hands control the club face and are the only parts of your body in contact with the club. Grip the handle with about as much pressure as you would use to hold an egg; your grip should be more in the fingers of both hands instead of the palms. There should be no pressure at all in the thumb and forefinger of your right hand.
Don't Get Thirsty


Dehydration slows down your blood flow and leaves you less energy to face the day. Drinking water first thing in the morning is a great way to kick start your day and takes only minutes. Aim to drink several glasses of water throughout the day to keep you hydrated. This will have a great effect on your energy levels and is very easy to implement into your daily routine.
Keep CFL Bulbs Out of Trash and Recycling



Many households are switching from incandescent bulbs to long-lasting CFLs. But, how do you dispose of them when they eventually burn out? Since CFLs contain a small amount of mercury, it's not environmentally safe to throw them out in the trash or recycling. When they burn out, store them in a crush-proof container and either take them to a hazardous waste disposal site or check with local retailers to see if any have a CFL recycling program
.
Share the Wealth of Knowledge!
Please share this market update with family, friends, or colleagues. If you would like us to add them to our list, simply click on the "Forward email" link below. We love being introduced!

Investing involves risk including the potential loss of principal. No investment strategy can guarantee a profit or protect against loss in periods of declining values.
The Standard & Poor's 500 (S&P 500) is an unmanaged group of securities considered to be representative of the stock market in general.
The Dow Jones Industrial Average is a price-weighted average of 30 significant stocks traded on the New York Stock Exchange and the NASDAQ. The DJIA was invented by Charles Dow back in 1896.
The MSCI EAFE Index was created by Morgan Stanley Capital International (MSCI) that serves as a benchmark of the performance in major international equity markets as represented by 21 major MSCI indexes from Europe, Australia and Southeast Asia.
The 10-year Treasury Note represents debt owed by the United States Treasury to the public. Since the U.S. Government is seen as a risk-free borrower, investors use the 10-year Treasury Note as a benchmark for the long-term bond market.
The Housing Market Index (HMI) is a weighted average of separate diffusion indices based on a monthly survey of NAHB members designed to take the pulse of the single-family housing market. Each resulting index is then seasonally adjusted and weighted to produce the HMI.
The BLS Consumer Price Indexes (CPI) produces monthly data on changes in the prices paid by urban consumers for a representative basket of goods and services. Survey responses are seasonally adjusted and weighted to produce a composite index.
The Conference Board Leading Economic Index (LEI) is a composite economic index formed by averages of several individual leading economic indicators, which are weighted to produce the complete index.
Google Finance is the source for any reference to the performance of an index between two specific periods.
Opinions expressed are subject to change without notice and are not intended as investment advice or to predict future performance.
Past performance does not guarantee future results.
You cannot invest directly in an index.
Consult your financial professional before making any investment decision.
Fixed income investments are subject to various risks including changes in interest rates, credit quality, inflation risk, market valuations, prepayments, corporate events, tax ramifications and other factors.
These are the views of Platinum Advisor Marketing Strategies, LLC, and not necessarily those of the named representative or named Broker dealer, and should not be construed as investment advice. Neither the named representative nor the named Broker dealer gives tax or legal advice. All information is believed to be from reliable sources; however, we make no representation as to its completeness or accuracy. Please consult your financial advisor for further information.
By clicking on these links, you will leave our server as they are located on another server. We have not independently verified the information available through this link. The link is provided to you as a matter of interest. Please click on the links below to leave and proceed to the selected site.
[1]

http://www.google.com/finance
[2]

http://bottomline.msnbc.msn.com/_news/2012/02/17/10435968-oil-price-surge-could-dampen-global-recovery
[3]

http://www.businessweek.com/news/2012-02-18/leading-indicators-point-to-sustained-u-s-growth-economy.html
[4]

http://www.usatoday.com/money/world/story/2012-02-20/Greece-bailout/53183092/1
[5]

http://www.nydailynews.com/news/politics/house-passes-payroll-tax-cut-jobless-benefit-bill-legislation-heads-senate-article-1.1024421
[6]

http://money.cnn.com/2012/02/16/news/economy/unemployment_benefits/index.htm
[7]

http://bottomline.msnbc.msn.com/_news/2012/02/17/10435968-oil-price-surge-could-dampen-global-recovery