The January Effect
Weekly Update - January 23, 2012
In This Issue

There's an old adage you may have heard recently which says: "As goes January, so goes the year." What is this January barometer all about? According to the Stock Traders Almanac, the month of January tends to predict the direction of the market with an 88.5% accuracy ratio, with only seven major errors recorded since 1950.[1] Those aren't bad numbers.

What causes the "January effect"? Most sources attribute it to a calendar-related anomaly in the financial markets where security prices increase in the month of January because investors sell losing positions in December and reposition themselves after the first of the year, or vice-versa.[2] While this is certainly not exact science, and it is far too early to know if January will accurately predict the rest of the year, it is interesting to note.

So far, the Bulls are really showing off. With seven trading days left to go in January, the benchmark indexes are all up between 4% and 7%. The S&P 500's 4.5% YTD gain marks its best start since 1987![3] So does this bull have legs? Skeptics will tell you it doesn't and idealists will tell you it does. We'd like to tell you that we don't know. We're not clairvoyant. (Sorry, we know you wish we were.) What we do know is that markets don't move up or down in a straight line, and we won't be surprised if we experience a pullback in the weeks ahead. This is not something we fear; it's just the nature of the stock market.

There are both positive and negative factors at work right now, and we are monitoring many of them. Europe is still on the map, and our economy is growing at a slower-than-average rate that leaves it somewhat vulnerable to external shocks. At the same time, we see the strengthening in various sectors such as financials, basic materials, durable goods, and technology[4] as reasons to sustain our optimism that both the stock market and the economy may fare well in 2012.

ECONOMIC CALENDAR:
Tuesday - Redbook
Wednesday - Pending Home Sales Index, EIA Petroleum Status Report, FOMC Meeting Announcement
Thursday - Durable Goods Orders, Jobless Claims, New Home Sales, Leading Indicators
Friday - GDP, Consumer Sentiment
Performance

Notes: All index returns exclude reinvested dividends, and the 5-year and 10-year returns are annualized.
Sources: Yahoo! Finance, MSCI Barra. Past performance is no guarantee of future results.
Indices are unmanaged and cannot be invested into directly. N/A means not available.
Headlines

The economy probably grew at its fastest pace in a year and a half during the fourth quarter; a key U.S. report is expected to show. The current MarketWatch forecast of economists predicts 3.0% growth in the fourth quarter, well above the third-quarter level of 1.8%. That would be the fastest pace of growth in a year and a half.[5]
Amid heightened tensions with Iran, an American aircraft carrier has sailed through the Strait of Hormuz into the Persian Gulf. The Navy says it's a routine maneuver.Iran recently suggested it might use military force to close the Strait in retaliation for new international economic sanctions.[6]
The average price for regular gasoline at U.S. filling stations rose 3.48 cents to $3.3944 a gallon last week, according to Lundberg Survey Inc.[7]
Postage rates jumped Sunday for the first time in two and a half years as the U.S. Postal Service hopes to generate more revenue amid historic losses. First-class postage stamps now cost 45 cents each; a price jump that officials anticipate will generate an additional $888 million in annual revenue.[8]


"The glow of one warm thought is to me worth more than money."
- Thomas Jefferson


Touchdown Tortilla Wraps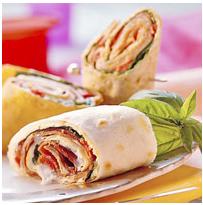 Roast beef, roasted red peppers, and fresh basil leaves make this hearty wrap great for
lunch at the office to share during the big game.
- From Diabetic Living
Ingredients:
3- 7 or 8-inch flour tortillas
1/2 of an 8-ounce tub light cream cheese with chive and onion or roasted garlic
18 to 24 fresh basil leaves
1/2 of a 7-ounce jar roasted red sweet peppers, well drained and cut into 1/4-inch-wide strips
4 ounces thinly sliced cooked roast beef, ham, and/or turkey
1 tablespoon low-fat mayonnaise dressing or light salad dressing
Directions:
1) Spread each tortilla with one-third of the cream cheese. Cover cream cheese with a layer of basil leaves, leaving a 1-inch border. Arrange roasted red peppers on basil leaves. Top with sliced meat. Divide mayonnaise among tortillas, spreading over meat.
2) Roll up each tortilla tightly into a spiral. Cut each tortilla roll in half crosswise. Wrap in plastic wrap; chill for up to 4 hours. Tote in an insulated cooler with ice packs. Makes 6 servings.


Bigger is Better
As it applies to golf, the statement above is frequently correct. When a club head is oversized, a higher percentage of its weight is moved toward the outside of the head. Have you ever heard the term "perimeter weighted"? That's what it means! A head that has more weight on its perimeter will tend to twist less during off-center hits. The scientific label for this is "higher moment of inertia." Clubs with larger heads, be they woods, irons, or putters, will not twist as much when you don't hit them perfect, resulting in straighter and longer shots. So the next time you are shopping for a new club, remember: Bigger may indeed be better.

Try Music
Listening to music is a great way to prepare yourself for participating in any activity, especially exercising. The power of music to influence, persuade, and inspire is well known. Its use in aerobics is no less potent, as music in this form stimulates the body and energizes it for the workout at hand. So, if you are having problems in establishing an exercise routine, or aren't feeling motivated, consider incorporating some music into your routine to help get you started.[9]
Grocery Bag from an Old T-Shirt
Are you looking for a new way to carry your groceries or a second use for your favorite t-shirt? Simply turn it inside out and stitch along the bottom hem. Now turn that t-shirt back and cut along the arm holes. You now have a one-of-a-kind grocery shopping bag that will put plastic grocery bags to shame.[10]
Share the Wealth of Knowledge!
Please share this market update with family, friends, or colleagues. If you would like us to add them to our list, simply click on the "Forward email" link below.
We love being introduced!
Investing involves risk including the potential loss of principal. No investment strategy can guarantee a profit or protect against loss in periods of declining values.

The Standard & Poor's 500 (S&P 500) is an unmanaged group of securities considered to be representative of the stock market in general.
The Dow Jones Industrial Average is a price-weighted average of 30 significant stocks traded on the New York Stock Exchange and the Nasdaq. The DJIA was invented by Charles Dow back in 1896.
The MSCI EAFE Index was created by Morgan Stanley Capital International (MSCI) that serves as a benchmark of the performance in major international equity markets as represented by 21 major MSCI indexes from Europe, Australia and Southeast Asia.
The 10-year Treasury Note represents debt owed by the United States Treasury to the public. Since the U.S. Government is seen as a risk-free borrower, investors use the 10-year Treasury Note as a benchmark for the long-term bond market.
Google Finance is the source for any reference to the performance of an index between two specific periods.
Opinions expressed are subject to change without notice and are not intended as investment advice or to predict future performance.
Past performance does not guarantee future results.
You cannot invest directly in an index.
Consult your financial professional before making any investment decision.
Fixed income investments are subject to various risks including changes in interest rates, credit quality, inflation risk, market valuations, prepayments, corporate events, tax ramifications and other factors.
These are the views of Platinum Advisor Marketing Strategies, LLC, and not necessarily those of the named representative or named Broker dealer, and should not be construed as investment advice. Neither the named representative nor the named Broker dealer gives tax or legal advice. All information is believed to be from reliable sources; however, we make no representation as to its completeness or accuracy. Please consult your financial advisor for further information.
By clicking on these links, you will leave our server as they are located on another server. We have not independently verified the information available through this link. The link is provided to you as a matter of interest. Please click on the links below to leave and proceed to the selected site.