It's Time to Shift Your Focus
Weekly Update - December 19, 2011
In This Issue

Each week, through this commentary, we aim to bring you a brief summary of the most important financial-related news. Our primary goal is to educate you about factors that have the potential to affect your investments, and to help you cut through all the media clutter to find some clarity. Sometimes, finding that clarity can be especially challenging.

Last week, we were faced with a barrage of headlines from all over the world, and each piece of news seemed to have its own unique impact. In the end, investors struggled to make sense of all the news, and stocks ended a roller-coaster week in which all three indexes lost more than 2.5%.[1]

Historically, the stock market has been sensitive to news. But amidst the uncertainty of recent years, its sensitivity has been heightened to an unprecedented scale. Headlines that would have barely made the evening news 10 years ago can easily lead a rally or retreat in a matter of minutes or hours in today's environment.

Case in point from last week: Fitch put seven European countries on credit watch negative, and the markets retreated. Fitch affirmed the ratings of France, Belgium, Spain, Slovenia, Italy, Ireland, and Cyprus, and the markets rallied.[2] Data came out showing holiday sales slowing, and the markets retreated.[3] Headlines came out showing that holiday shopping boosts confidence in the recovery, and the markets rallied.[4] We could repeat this scenario with housing data, gold prices, oil prices, and nearly any other shred of financial-related news.

What is our point? Don't buy into the hype! Is it important to monitor world events for signals about how investments could perform? Yes. But is it healthy to dissect every smidge of news and then alter your investment strategy at each sign of strength or weakness? No. When signals are mixed and finding clarity is difficult, it is especially important to stick to your long-term investment strategy. Letting short-term, erratic moves dictate your investment decisions can easily lead to unnecessary losses.

It can be a jungle out there - there's no doubt about it. But just as you would trust an experienced jungle guide to lead you to safety, please trust us to guide you through these uncertain times. Use the weeks ahead to enjoy some quiet time with your family and friends, and tune out the noise for a little while. We urge you not to let the media steal your focus from the things that matter most.

ECONOMIC CALENDAR:
Monday - Housing Market Index
Tuesday - Housing Starts, Redbook
Wednesday - Existing Home Sales
Thursday - GDP, Jobless Claims, Consumer Sentiment, Leading Indicators
Friday - Durable Goods Orders, Personal Income and Outlays, New Home Sales




Performance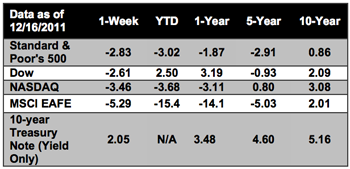 Notes: All index returns exclude reinvested dividends, and the 5-year and 10-year returns are annualized.
Sources: Yahoo! Finance, MSCI Barra. Past performance is no guarantee of future results.
Indices are unmanaged and cannot be invested into directly. N/A means not available.
Speaking of Performance, do you know who this top preformer is pictured with Pat?
Headlines

The U.S. House of Representatives On Friday approved a nearly $1 trillion bill to fund the government through the rest of the fiscal year that runs to the end of September 2012. Republicans and Democrats have been haggling for several months over spending plans for the rest of the fiscal year. The fate of a temporary payroll tax cut, however, was still undecided as of mid-Friday.[5]
Gold futures climbed Friday to break a four-session losing streak, but prices finished the week with a loss of 6.9%.[6]
The final convoy of U.S. troops left Iraq on Sunday, bringing an end to almost nine years of war in which tens of thousands of Iraqis and nearly 4,500 Americans died, media reports said.[7]
Kim Jong Il, the dictator who used fear and isolation to maintain power in North Korea and his nuclear weapons to menace his neighbors and threaten the U.S., has died, North Korean state television reported early Monday.[8]


"The happiest moments of my life have been the few which I have passed at home in the bosom of my family." - Thomas Jefferson
Homemade Eggnog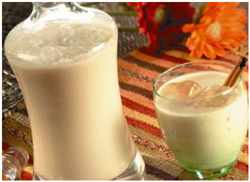 Who knew making your own eggnog could be so easy?
Recipe by: Sharon Tyler Herbst | from The Ultimate A-to-Z Bar Guide
Ingredients:
12 eggs, separated
1 cup sugar
16 oz. (1 pint; 2 cups) brandy
16 oz. (1 pint; 2 cups) bourbon or dark rum
32 oz. (1 quart; 4 cups) milk
1 tablespoon pure vanilla extract
32 oz. (1 quart; 4 cups) whipping cream
½ tsp. salt
freshly grated nutmeg
Directions:
Beat egg yolks with the sugar until creamy and light. Stir in brandy, bourbon, milk, and vanilla; cover and refrigerate for at least 4 hours, or until very cold. Whip cream until it forms soft mounds; fold into eggnog mixture. May be refrigerated for 1 to 2 hours at this point. Just before serving, beat egg whites and salt to the soft-peak stage; fold into eggnog. Sprinkle with nutmeg.
NOTE: Only use pasteurized eggs when making your eggnog to avoid salmonella.



Once you address the golf ball, hitting it has to be the most important thing in your life at that moment. Shut out all thoughts other than picking a target and taking dead aim at it. Clearing the mind of all thoughts except the thought of the target, frees the muscles to do their job. If you do this successfully, your body will do what your mind tells it to do. Reject doubts and fear. Learn to control your thoughts, and your ball may well fly to the target despite setup and swing flaws.
Get Enough Sleep

The holiday season can be one of the most stressful times of year. You know what adds to stress? Lack of sleep. So don't fall into the trap of not getting enough sleep this holiday season. Be careful of eating or drinking too much close to bedtime. And when you're sleeping, make sure that you are sleeping deeply enough so that your body is able to recover.
Properly Dispose of Wrapping Paper

Do not put gift-wrapping paper in the fireplace. Putting wrapping paper in the fireplace may result in a very large fire, throwing off dangerous sparks and embers that can lead to a chimney fire. For safety's sake, and for the environment, recycle it instead.
Learn how to prevent a fire and what to do in case a fire starts in your home by checking out these resources from the U.S. Fire Administration: www.usfa.fema.gov/citizens/focus/holiday.shtm
Share the Wealth of Knowledge!

Please share this market update with family, friends, or colleagues. If you would like us to add them to our list, simply click on the "Forward email" link below. We love being introduced!
Investing involves risk including the potential loss of principal. No investment strategy can guarantee a profit or protect against loss in periods of declining values.
The Standard & Poor's 500 (S&P 500) is an unmanaged group of securities considered to be representative of the stock market in general.
The Dow Jones Industrial Average is a price-weighted average of 30 significant stocks traded on the New York Stock Exchange and the Nasdaq. The DJIA was invented by Charles Dow back in 1896.
The MSCI EAFE Index was created by Morgan Stanley Capital International (MSCI) that serves as a benchmark of the performance in major international equity markets as represented by 21 major MSCI indexes from Europe, Australia and Southeast Asia.
The 10-year Treasury Note represents debt owed by the United States Treasury to the public. Since the U.S. Government is seen as a risk-free borrower, investors use the 10-year Treasury Note as a benchmark for the long-term bond market.
Google Finance is the source for any reference to the performance of an index between two specific periods.
Opinions expressed are subject to change without notice and are not intended as investment advice or to predict future performance.
Past performance does not guarantee future results.
You cannot invest directly in an index.
Consult your financial professional before making any investment decision.
Fixed income investments are subject to various risks including changes in interest rates, credit quality, inflation risk, market valuations, prepayments, corporate events, tax ramifications and other factors.
These are the views of Platinum Advisor Marketing Strategies, LLC, and not necessarily those of the named representative or named Broker dealer, and should not be construed as investment advice. Neither the named representative nor the named Broker dealer gives tax or legal advice. All information is believed to be from reliable sources; however, we make no representation as to its completeness or accuracy. Please consult your financial advisor for further information.
By clicking on these links, you will leave our server as they are located on another server. We have not independently verified the information available through this link. The link is provided to you as a matter of interest. Please click on the links below to leave and proceed to the selected site.
[1] http://money.cnn.com/2011/12/19/markets/premarkets/index.htm?iid=Lead