Thankful for Good News
Weekly Update - November 21, 2011
In This Issue

More than any other time of year, this week is one when people strive to count their blessings. There is no doubt being appreciative for what we have leads to a better, more satisfying life. It is wise to reflect upon the good things we enjoy, for it is one of the actions that can help us deal with the challenges we face.

During the past few years, nearly every corner of the globe has been affected by the financial crisis in some way. Even now, with the recovery well under way, we still feel the effects of high unemployment, a weak housing market, debt issues in the Eurozone, and a volatile stock market. On top of everything else, the media has a tendency to lead with what sells - sensationalism and bad news. So is there any good news out there? Definitely! Here are some developments to be thankful for:

- The employment picture is improving. The economy added 80,000 jobs in the month of October, and the unemployment rate fell to 9%. Economists are encouraged by signs companies are not cutting workers, and they say November's jobs report could be even better. The weekly jobless claims reports for the past three weeks have shown improvement.

[1]



- The housing market is showing signs of life. The Commerce Department reported that building permits, an indicator of future activity, surged 10.9% during October. In related news, the share of households delinquent on their mortgage payments has fallen to the lowest level since the end of 2008, offering signs that modest job gains are stemming further damage in the battered U.S. housing sector.

[2]



- Retail sales are up. American shoppers gave a better-than-expected boost to retail sales in October and left retailers with an encouraging outlook for the fourth quarter. Bloomberg reports a 0.5% gain followed by a 1.1% increase in September, according to figures released Thursday by the Commerce Department. Consumer spending accounts for roughly 70% of the US economy, and its recovery is essential.

[3]



- People are more optimistic about Europe. Treasury Secretary Timothy Geithner said Tuesday that Europe was making gradual progress in coming to grips with its financial crisis. "This is absolutely within Europe's capacity to solve and it's within their ability. It's within their grasp, it's within their reach," he said.

[4]



- Leading economic indicators are strengthening. The Conference Board's Leading Economic Indicators Index rose 0.9% in October, outpacing increases in the previous two months and providing some grounds for hope in economic growth to come. The index, comprised of 10 components, is intended to signal economic trends by taking a comprehensive look at the data. This month, nine out of 10 indicators were positive.

[5]



While things are still far from perfect, and caution must be exercised when making investment decisions, we are grateful to see a more positive overall picture gradually emerging.

Regardless of what the headlines include in the week ahead, we encourage you to tune out the noise. Put down your Wall Street Journal, turn off CNBC, and enjoy some quiet time with your family and friends. We know you'll be glad you did!

ECONOMIC CALENDAR:
Monday - Existing Home Sales
Tuesday - GDP, FOMC Minutes
Wednesday - Durable Goods Orders, Personal Income and Outlays, Jobless Claims, Consumer Sentiment, EIA Petroleum Status Report
Thursday - U.S. Holiday, Thanksgiving




Performance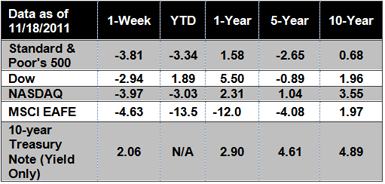 Notes: All index returns exclude reinvested dividends, and the 5-year and 10-year returns are annualized.
Sources: Yahoo! Finance, MSCI Barra. Past performance is no guarantee of future results.
Indices are unmanaged and cannot be invested into directly. N/A means not available.
"Make it a habit to tell people thank you. To express your appreciation, sincerely and without the expectation of anything in return. Truly appreciate those around you, and you'll soon find many others around you. Truly appreciate life, and you'll find that you have more of it." -Ralph Marston



Pumpkin Cheesecake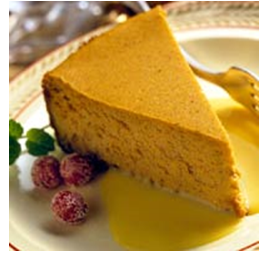 Indulge your senses with this gingersnap-crusted cheesecake from Midwest Living.

Ingredients:
3/4 cup crushed gingersnaps
1/2 cup toasted ground almonds
1/4 cup butter, melted
3 8-ounce packages cream cheese
1/2 cup granulated sugar
1/2 cup packed brown sugar
2 tablespoons cognac, brandy or milk
4 eggs
1-1/2 cups canned pumpkin
1/4 cup dairy sour cream
2 teaspoons ground cinnamon
1/2 teaspoon ground ginger
1/2 teaspoon ground cardamom
1/4 teaspoon ground cloves

Directions:
1) For crust, in bowl, combine gingersnaps and almonds. Stir in butter. Press onto bottom and 1 inch up the side of a 9- or 10-inch springform pan.

2) For filling, in a large bowl, beat cream cheese, granulated sugar, brown sugar, and cognac with an electric mixer until combined. Add eggs, beating on low speed until just combined. Stir in the pumpkin, sour cream, cinnamon, ginger, cardamom, and cloves.

3) Pour filling into crust-lined pan. Place in a shallow baking pan. Bake in a 375 degree F oven for 55 to 60 minutes for 9-inch pan or 35 to 40 minutes for 10-inch pan, or until the center appears nearly set when gently shaken.

4) Cool in pan on a wire rack for 15 minutes. Loosen crust from side of pan. Cool 30 minutes more. Remove side of pan; cool cheesecake completely. Cover; refrigerate for at least 4 hours before serving.

Nutrition Note:
Trim some fat by substituting lower-fat versions of the cream cheese and sour cream.






Don't Force Your Backswing Too Far
How does a player cultivate the proper length of backswing? We are all individuals and our muscle coordination is not the same, therefore it would be foolish to try to force the club to a parallel position at the top of the backswing if your physical abilities do not allow you to do so. Trying too hard to take the clubhead to parallel can not only shorten your distance, but it can wreck your accuracy. The club should not go back any further than you can turn your shoulders-with balance and without tilting them.
Trim the Fat


Yes, eating becomes a national pastime during the holiday season, but that doesn't mean you have to sabotage your weight. When cooking your favorite recipes, just cut back a little to save some calories. Here are a few suggestions:
- Use fat-free chicken broth.
- Use sugar substitutes in place of sugar.
- Reduce oil and butter wherever you can.
- Try plain yogurt or fat-free sour cream in creamy dips, mashed potatoes, and casseroles.
Add Organic and Local Foods to Your Feast

Support local family farmers who grow sustainable meat and produce. Not only does it taste better, you'll be doing your part for the planet too. Looking for an organic turkey or ham? Find out where to find one here: http://planetgreen.discovery.com/buying-guides/buy-green-thanksgiving-turkey.html
Share the Wealth of Knowledge!
Please share this market update with family, friends, or colleagues. If you would like us to add them to our list, simply click on the "Forward email" link below. We love being introduced!



Investing involves risk including the potential loss of principal. No investment strategy can guarantee a profit or protect against loss in periods of declining values.
The Standard & Poor's 500 (S&P 500) is an unmanaged group of securities considered to be representative of the stock market in general.


The Dow Jones Industrial Average is a price-weighted average of 30 significant stocks traded on the New York Stock Exchange and the Nasdaq. The DJIA was invented by Charles Dow back in 1896.

The MSCI EAFE Index was created by Morgan Stanley Capital International (MSCI) that serves as a benchmark of the performance in major international equity markets as represented by 21 major MSCI indexes from Europe, Australia and Southeast Asia.

The 10-year Treasury Note represents debt owed by the United States Treasury to the public. Since the U.S. Government is seen as a risk-free borrower, investors use the 10-year Treasury Note as a benchmark for the long-term bond market.

Google Finance is the source for any reference to the performance of an index between two specific periods.
Opinions expressed are subject to change without notice and are not intended as investment advice or to predict future performance.

Past performance does not guarantee future results.

You cannot invest directly in an index.

Consult your financial professional before making any investment decision.

Fixed income investments are subject to various risks including changes in interest rates, credit quality, inflation risk, market valuations, prepayments, corporate events, tax ramifications and other factors.

These are the views of Platinum Advisor Marketing Strategies, LLC, and not necessarily those of the named representative or named Broker dealer, and should not be construed as investment advice. Neither the named representative nor the named Broker dealer gives tax or legal advice. All information is believed to be from reliable sources; however, we make no representation as to its completeness or accuracy. Please consult your financial advisor for further information.
By clicking on these links, you will leave our server as they are located on another server. We have not independently verified the information available through this link. The link is provided to you as a matter of interest. Please click on the links below to leave and proceed to the selected site.
[1] http://www.cnbc.com/id/45355069
[2] http://online.wsj.com/article/SB10001424052970204517204577044401122300024.html?mod=googlenews_wsj , http://www.forbes.com/2011/11/17/housing-starts-dip-builder-sentiment-improves-marketnewsvideo.html
[3] http://community.nasdaq.com/News/2011-11/rising-consumer-spending-8-retailers-boosting-profit-projections.aspx?storyid=103371
[4] http://www.reuters.com/article/2011/11/15/us-usa-geithner-idUSTRE7AE2ON20111115
[5] http://www.dailyfinance.com/2011/11/18/index-of-leading-economic-indicators-rises/