European Politics Move Markets
Weekly Update - November 14, 2011
In This Issue

It was another yo-yo week for the stock market as ongoing worries surrounding Europe's debt crisis kept investors in suspense. The choppy period eventually ended with a rally on Friday as welcome news of a political shake-up in Greece and Italy boosted confidence that there will be further progress toward a solution.



Greek Prime Minister George Papandreou has been replaced by former banker and European Central Bank Vice President Lucas Papademos

[1]

, while Italian Prime Minister Silvio Berlusconi, who resigned on Friday, will likely be replaced by former EU Commissioner Mario Monti. The world will be watching as new leadership in both countries fight to implement reforms quickly and aggressively. Just Saturday, the Italian lower house of parliament approved a series of austerity measures demanded by Europe to shore up confidence in the country's economy. It passed by a vote of 380 to 26.

[2]




Why should any of this matter to Investors? While Greece is only the 32nd largest economy in the world, Italy holds the 8th spot, and is the 3rd largest in Europe.

[3]

If these two countries can get their acts together, other debt-laden countries in the region will have a model to follow. If they fail to create change, the consequences could be far-reaching. Europe as a whole makes up 25-30% of the global economy, and millions of American jobs depend on stability and growth there. To quote Jacob Kirkegaard of the Institute for International Economics: "Europe is by far our biggest trading partner. It's where most of our exports go. It's where we have most of our foreign direct investments. US multinational corporations are in Europe."

[4]


While it is unlikely that problems in Europe will cripple the American economy, we are connected to Europe in many ways, and investors know that. As long as Europe's future remains hazy, stocks will likely continue to react to headlines from across the sea, as we have seen in recent months.

ECONOMIC CALENDAR:
Tuesday - Producer Price Index, Retail Sales, Empire State Manufacturing Survey, Business Inventories
Wednesday - Consumer Price Index, Industrial Production
Thursday - Housing Starts, Jobless Claims, Philadelphia Fed Survey
Friday - Leading Indicators



Performance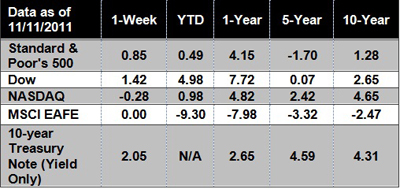 Notes: All index returns exclude reinvested dividends, and the 5-year and 10-year returns are annualized.
Sources: Yahoo! Finance, MSCI Barra. Past performance is no guarantee of future results.
Indices are unmanaged and cannot be invested into directly. N/A means not available.
Headlines


Moody's Investors Service is reviewing the risk to Penn State's reputation and finances in the wake of a child sex abuse scandal that has rocked the university. In coming months, the credit rating agency will evaluate whether the university should be downgraded. Penn State carries the second highest credit rating, reflecting very strong student demand and a strong national academic brand. The university has about $1 billion in rated debt.

[5]



Dubai's fast-growing airline Emirates kicked off the Middle East's biggest airshow Sunday with a huge order for 50 Boeing 777s, marking the U.S. aircraft maker's biggest-ever single order in dollar terms.

[6]



The Securities and Exchange Commission admitted Friday that it had disciplined eight employees over their handling of the $50 billion Bernard Madoff Ponzi scheme without firing any of the workers. The disciplinary actions, which drew jeers from some victims of the investment scandal, prompted a ninth individual to leave the agency before the punishment was finalized. The actions were meted out over the past year and weren't disclosed by the agency until an article on the actions was published online Friday by the Washington Post.

[7]








"If you want to feel rich, just count all of the things you have that money can't buy."
- Unknown

Amazing Bacon-Wrapped Jalapeno Shrimp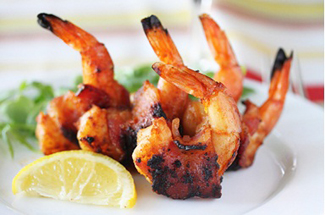 Ingredients:
1 quart vegetable oil for frying
32 peeled and deveined medium shrimp, tail-on
1 (4 ounce) can pickled jalapeno peppers, cut into slivers
16 slices bacon, cut in half
32 toothpicks

Directions:
1) Heat oil in a deep-fryer or large saucepan to 350 degrees F (175 degrees C).
2) Cut the shrimp along the back, nearly through to the front. Stuff each shrimp with a sliver of jalapeno, then wrap with half a slice of bacon. Secure with a toothpick. Repeat with the remaining ingredients.
3) Cook the shrimp in batches in the hot oil until the bacon is crispy and golden brown, 2 to 3 minutes. Drain on a paper towel-lined plate before serving.






Howard Stone, a professor of chemical engineering and applied mechanics at Harvard University, was asked for his opinion on what effect water could have on golf balls: "Given how long they were in the water, there are two things that might have happened," says Stone. "You might have absorbed a little bit of water into the ball so the ball might not only be a bit heavier, but it might have a slightly larger radius, and both of those factors, in general, will tend to affect the aerodynamic performance, making the ball fall faster. Water may also affect the structure of the molecules in the ball and might cause it to swell a little, a common effect in polymers."
So the next time you scoop a ball from the water, bear in mind that it might not be as good as it looks. You may want to save those water balls for your next shot onto an island green.

Eat Breakfast



We've all heard that breakfast is the most important meal of the day, but did you know that breakfast eaters are usually leaner than those who skip their morning meal? High-fiber cereals are central to breakfast's health benefits, and can help reduce the risk of heart disease, stroke, and diabetes. Adding nonfat milk and fruit increase the benefits to your health!
Use CFLs


These energy-saving light bulbs are a little more expensive than regular light bulbs, but they last much longer and will lower your power bill in the long run. The habit to develop is to buy a couple of these at a time, instead of the regular incandescent bulbs, and replace your bulbs with CFLs as they burn out. In a few months, your entire house will have energy-saving bulbs. Simple!
Share the Wealth of Knowledge!

Please share this market update with family, friends, or colleagues. If you would like us to add them to our list, simply click on the "Forward email" link below. We love being introduced!




Investing involves risk including the potential loss of principal. No investment strategy can guarantee a profit or protect against loss in periods of declining values.

The Standard & Poor's 500 (S&P 500) is an unmanaged group of securities considered to be representative of the stock market in general.
The Dow Jones Industrial Average is a price-weighted average of 30 significant stocks traded on the New York Stock Exchange and the Nasdaq. The DJIA was invented by Charles Dow back in 1896.
The MSCI EAFE Index was created by Morgan Stanley Capital International (MSCI) that serves as a benchmark of the performance in major international equity markets as represented by 21 major MSCI indexes from Europe, Australia and Southeast Asia.
The 10-year Treasury Note represents debt owed by the United States Treasury to the public. Since the U.S. Government is seen as a risk-free borrower, investors use the 10-year Treasury Note as a benchmark for the long-term bond market.
Google Finance is the source for any reference to the performance of an index between two specific periods.
Opinions expressed are subject to change without notice and are not intended as investment advice or to predict future performance.
Past performance does not guarantee future results.
You cannot invest directly in an index.
Consult your financial professional before making any investment decision.
Fixed income investments are subject to various risks including changes in interest rates, credit quality, inflation risk, market valuations, prepayments, corporate events, tax ramifications and other factors.
These are the views of Platinum Advisor Marketing Strategies, LLC, and not necessarily those of the named representative or named Broker dealer, and should not be construed as investment advice. Neither the named representative nor the named Broker dealer gives tax or legal advice. All information is believed to be from reliable sources; however, we make no representation as to its completeness or accuracy. Please consult your financial advisor for further information.
By clicking on these links, you will leave our server as they are located on another server. We have not independently verified the information available through this link. The link is provided to you as a matter of interest. Please click on the links below to leave and proceed to the selected site.
[1] http://money.cnn.com/2011/11/10/news/international/greece_papademos.cnnw/index.htm?iid=EL
[2] http://money.cnn.com/2011/11/12/news/economy/italy_austerity.cnnw/index.htm?iid=EL
[3] http://www.imf.org/external/index.htm
[4] http://abcnews.go.com/blogs/business/2011/11/italys-debt-crisis-why-does-it-matter/
[5] http://money.cnn.com/2011/11/11/news/economy/penn_state_downgrade/
[6] http://www.washingtonpost.com/business/fast-growing-airline-emirates-plans-to-add-50-boeing-777s/2011/11/13/gIQAto6AHN_story.html
[7] http://online.wsj.com/article/SB10001424052970204358004577032280966055886.html