Brie in Puff Pastry with Cranberry Sauce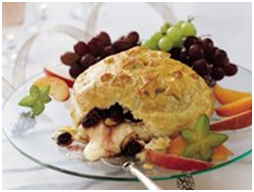 Crimson cranberries provide a little tartness to mellow Brie cheese encased in flaky puff pastry. Recipe from Betty Crocker.
Prep Time: 30 mins
Total Time: 1 hr 55 mins
Servings: 12 servings
Ingredients:
1 cup fresh cranberries
6 tablespoons packed brown sugar
1 tablespoon orange juice
1/2 teaspoon grated orange peel
1 tablespoon butter or margarine
1/3 cup sliced almonds
1 sheet frozen puff pastry (from 17.3-oz package), thawed
1 round (14 to 15 oz) Brie cheese
1 egg, beaten
Assorted crackers or sliced fresh fruit
Directions:
1) In 1-quart saucepan, mix cranberries, brown sugar, and orange juice. Heat to boiling, stirring frequently; reduce heat. Simmer uncovered 15 to 20 minutes, stirring frequently, until mixture thickens and cranberries are tender. Stir in orange peel; remove from heat.
2) In 8-inch skillet, melt butter over medium heat. Cook almonds in butter, stirring frequently, until golden brown; remove from heat.
3) Heat oven to 400 degrees F. Spray cookie sheet with cooking spray. On lightly floured surface, roll pastry into 16x9-inch rectangle. Cut out one 8 1/2-inch circle and one 7-inch circle from pastry.
4) Place cheese round on center of large circle. Spoon cranberry sauce and almonds over cheese. Bring pastry up and press around side of cheese. Brush top edge of pastry with egg. Place 7-inch circle on top, pressing around edge to seal. Brush top and side of pastry with egg. Cut decorations from remaining pastry and arrange on top; brush with egg. Place on cookie sheet.
5) Bake 20 to 25 minutes or until golden brown. Cool on cookie sheet on wire rack 1 hour before serving. Serve with crackers.