Europe vs. Earnings
Weekly Update - October 24, 2011

In This Issue

It's an interesting time for the stock market. We're in the middle of a healthy earnings season, economic news is modestly positive, and yet, investors can't pull their eyes away from the drama in Europe.



On average, 60% of companies in the S&P 500 are beating earnings estimates since the reporting season began this month, and numbers for revenue are coming in even better.

[1]

The number of people claiming unemployment benefits declined this week, housing construction picked up last month (at least for apartment buildings), and inflation remains low.

[2]

Add to this the fact that many analysts are saying stocks are undervalued right now,

[3]

and it would have been reasonable to expect a stock market rally last week. Instead, what we got was a roller coaster ride that eventually ended the week virtually flat. The Dow and S&P rose a little over 1%, while the Nasdaq fell 1%.


Europe is clearly dominating investor sentiment right now, leaving the markets vulnerable to every shred of bad news. With good news, we see stocks push upward. With bad news, they pull back. All of this pushing and pulling is keeping stocks in somewhat of a no man's land where valuations look good but global economic concerns are scaring people away from them.

Meanwhile, European leaders are scrambling to solve the crisis. And while the outcome of all their meetings is impossible to predict, expectations for a bold and reasonable plan are high. If a concrete plan comes together, it is likely that the markets will respond positively. If a plan doesn't come together, the bumpy ride will probably continue.

While progress in Europe has been painfully slow, it is starting to look like their leaders are taking things more seriously. If nothing else, most would agree that we are closer to the end of this crisis than to the beginning. And that is definitely good news!

ECONOMIC CALENDAR:
Tuesday - S&P Case Shiller HPI, Consumer Confidence
Wednesday - Durable Goods Orders, New Home Sales
Thursday - GDP, Jobless Claims, Pending Home Sales Index
Friday - Personal Income and Outlays, Employment Cost Index, Consumer Sentiment



Performance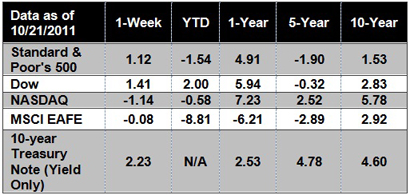 Notes: All index returns exclude reinvested dividends, and the 5-year and 10-year returns are annualized.
Sources: Yahoo! Finance, MSCI Barra. Past performance is no guarantee of future results.
Indices are unmanaged and cannot be invested into directly. N/A means not available.
Headlines


On Friday, President Obama announced that the United States would withdraw its forces from Iraq by the end of the year. Although the most heart-wrenching costs of the Iraq war come in the form of human lives, Obama's decision is also a major step toward putting the United States on a more sustainable fiscal path.

[4]



The U.S. Senate adopted a measure on Thursday that would raise the maximum size of a home loan backed by mortgage companies Fannie Mae, Freddie Mac, and the Federal Housing Administration to $729,750.

[5]



The Occupy Wall Street protests are rapidly spreading around the world. St. Paul's Cathedral has closed to the public because Occupy London Stock Exchange protesters camped outside, church officials said Friday.

[6]



Federal Reserve officials are starting to build a case for a new program of buying mortgage-backed securities to boost the economy, though they appear unlikely to move swiftly. The idea would be to target any new efforts by the central bank at the parts of the economy that are most severely impeding a recovery - the housing and mortgage markets - by working to push down mortgage rates.

[7]







"Do not anticipate trouble, or worry about what may never happen. Keep in the sunlight."
- Benjamin Franklin



Speedy Paella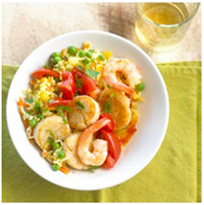 From: Better Homes and Gardens
If you love paella, try this irresistible recipe twist. Simply toss together scallops, plum tomatoes, and shrimp with rice, peas, corn, and carrots. Serves 4.
Ingredients:
1 10-oz. pkg. frozen long grain white rice with vegetables (peas, corn, and carrots)
1/2 lb. fresh sea scallops, (halve large scallops)
1/2 lb. cooked, peeled, deveined shrimp
4 plum tomatoes, coarsely chopped
Chopped fresh parsley (optional)
Directions:
1) Prepare rice according to microwave package directions.
2) Meanwhile, in large skillet heat cooking oil over medium heat. Add scallops to hot oil in skillet; cook 3 minutes or until scallops are opaque. Add shrimp and tomatoes; heat through.
3) Transfer rice to bowl; stir in turmeric. Spoon seafood-tomato mixture over rice; lightly toss. Season to taste with salt and pepper. Sprinkle fresh parsley.


For a green side shot from firm sand, trade your sand club for a pitching wedge. Its sharper face and smaller flange dig in and under the ball better than the sand wedge, which will tend to bounce off the hard surface and skull the ball. But don't let the blade of the pitching wedge dig in too deeply. Set up a little wider than usual and make a low, sweeping takeaway and hit down briskly about an inch behind the ball to "skim" it out.

Taking two seconds to empty the lint trap in your clothes dryer can prevent you from being one of the 315 dryer-fire victims each year in the United States.
One thing most of us rarely think about when we eat something is how far that food had to travel to get to our plate. Sometimes it can be thousands of miles - even halfway around the world! Think about how much fuel is wasted bringing those items to you, when similar food is often grown right in your own area. The habit to develop: When shopping at a grocery store, see if there are any fruits and vegetables labeled as "grown locally." It's also great to shop at farmer's markets and fruit/vegetable stands with locally grown foods.
Share the Wealth of Knowledge!

Please share this market update with family, friends, or colleagues. If you would like us to add them to our list,
simply click on the "Forward email" link below. We love being introduced!
Investing involves risk including the potential loss of principal. No investment strategy can guarantee a profit or protect against loss in periods of declining values.
The Standard & Poor's 500 (S&P 500) is an unmanaged group of securities considered to be representative of the stock market in general.
The Dow Jones Industrial Average is a price-weighted average of 30 significant stocks traded on the New York Stock Exchange and the Nasdaq. The DJIA was invented by Charles Dow back in 1896.
The MSCI EAFE Index was created by Morgan Stanley Capital International (MSCI) that serves as a benchmark of the performance in major international equity markets as represented by 21 major MSCI indexes from Europe, Australia and Southeast Asia.
The 10-year Treasury Note represents debt owed by the United States Treasury to the public. Since the U.S. Government is seen as a risk-free borrower, investors use the 10-year Treasury Note as a benchmark for the long-term bond market.
Google Finance is the source for any reference to the performance of an index between two specific periods.
Opinions expressed are subject to change without notice and are not intended as investment advice or to predict future performance.
Past performance does not guarantee future results.
You cannot invest directly in an index.
Consult your financial professional before making any investment decision.
Fixed income investments are subject to various risks including changes in interest rates, credit quality, inflation risk, market valuations, prepayments, corporate events, tax ramifications and other factors.
These are the views of Platinum Advisor Marketing Strategies, LLC, and not necessarily those of the named representative or named Broker dealer, and should not be construed as investment advice. Neither the named representative nor the named Broker dealer gives tax or legal advice. All information is believed to be from reliable sources; however, we make no representation as to its completeness or accuracy. Please consult your financial advisor for further information.