Weekly Update - October 17, 2011


Staging For a Comeback?
In This Issue

The Markets:




Just a couple of weeks ago, on October 3rd, the S&P 500 was down 12.6% for the year and things weren't looking too good for a comeback. Since that time, it has trimmed the loss to only 2.6% and needs to gain just 33 points to get above the 1,257 where it started the year. If the S&P 500 finishes this year with a gain, it will be its biggest comeback since 1984!

[1]


What has caused this turnaround? One reason is that investors are becoming more confident that Europe will protect its banks from huge losses on Greek bonds if that country fails to make good on its debt. Another reason is that many people still think stocks are undervalued and that company earnings are going to be better in the third quarter than many analysts expect.

Since July, analysts have continually cut their earnings estimates based on fears that the U.S. is heading into a recession. Much to their surprise though, positive reports on retail sales, applications for unemployment benefits, and the number of jobs added in August have been better than expected. So while some have been pricing the market in expectation of the worst, things haven't been as bad as many expected.



Seasonal investor behavior could also be at play here. If you look at the 30-year time period from 1981-2010, you will find that the average price return for the S&P 500 Index has been 7.14%. While this is significant, it is even more impressive that the index ended positive 24 out of 30 years, or 80% of the time!

[2]

"Positive market psychology hits a fever pitch as the holiday season approaches and does not begin to wane until the spring," according to the Stock Trader's Almanac.

[3]


While Europe's debt problems still aren't solved, and it is definitely too early to count on gains for the year, we are happy to see this positive momentum in the stock market and hope it continues.

ECONOMIC CALENDAR:


Monday - Empire State Mfg Survey, Industrial Production
Tuesday - Producer Price Index, Treasury International Capital, Housing Market Index, Ben Bernanke Speaks at 1:15 PM ET
Wednesday -Consumer Price Index, Housing Starts, EIA Petroleum Status Report, Beige Book
Thursday - Jobless Claims, Existing Home Sales, Philadelphia Fed Survey, Leading Indicators



Performance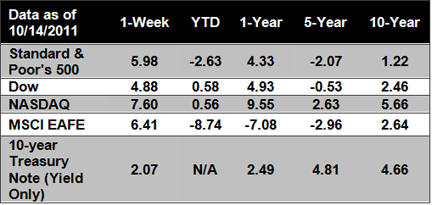 Notes: All index returns exclude reinvested dividends, and the 5-year and 10-year returns are annualized.
Sources: Yahoo! Finance, MSCI Barra. Past performance is no guarantee of future results.
Indices are unmanaged and cannot be invested into directly. N/A means not available.
Headlines


Earnings season is in full swing
as the week ahead includes reports from nearly half of the Dow's 30 components, including Intel, McDonald's, and General Electric, and 96 members of the S&P 500 including, Apple, Southwest Airlines, and Chipotle Mexican Grill. S&P 500 company earnings are expected to have climbed 23% in the third quarter of 2011, according to earnings tracker Thomson Reuters. Revenues of the companies in the benchmark index are expected to have risen 10%.
[4]
France and Germany have less than a week of frantic negotiation ahead
to resolve key differences on a "comprehensive plan" to end the Eurozone sovereign debt crisis after the world's leading finance ministers put the ball firmly in their court over the weekend. The Group of 20 richest nations told the Eurozone that by the European summit next Sunday it should: agree on the losses the private sector should take on Greek debt; arrange a credible plan for the recapitalization of Europe's banks; and install a firewall to protect other countries from Greece's woes.
[5]
Throngs of Apple fans lined up in the wee hours Friday
outside the company's flagship store in Manhattan to be among the first to get their hands on the new iPhone 4S. Two hours before Apple's new smartphone was slated to go on sale, hundreds of aspiring buyers filled the plaza outside the Fifth Avenue glass cube, echoing scenes that had already played out earlier in the day in Australia, Japan, Germany, France, and other Apple stores around the world.
[6]


"The man is richest whose pleasures are cheapest."
- Henry David Thoreau



Apple Totter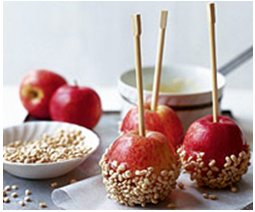 From: Vegetarian Times
Ingredients:
6 small, crisp apples, such as Golden Delicious, Honeycrisp, Braeburn, or Newtown pippin
1 cup sugar
2 tablespoons unsalted butter
1 teaspoon apple cider vinegar
Pinch coarse salt
3/4 cup crispy brown rice cereal
Directions:
1) Line baking sheet with wax paper. Remove stems from apples, if necessary, and push Popsicle stick or chopstick in stem end of apple.
2) Combine sugar and 1/2 cup water in saucepan. Bring to a boil. Add butter, vinegar, and salt, then simmer over medium heat 10 to 15 minutes, or until mixture reaches hard crack stage (290 degrees F) on candy thermometer. Alternatively, boil toffee until tiny amount dripped into bowl of cold water becomes firm.
3) Place brown rice cereal in bowl. Dip apples in toffee, twirling to coat bottom half. Let toffee drip off bottoms before rolling in cereal. Place on prepared baking sheet, and cool. If not eating right away, wrap in wax paper and refrigerate.


Control Your Last "Swing Thought"
"I knew I was gonna do that!" It's a confession heard on every golf course, every day. Amateurs are often quick to admit that they knew what mistake they were going to make in advance. Prophets they are not; negative thinkers perhaps. And the worst time to have a negative thought is the instant before swinging.
At address, when negative thoughts creep into your mind, step back and regroup. Break the chain of negative thinking by recalling good shots you've hit in similar situations. Don't swing until you can confidently visualize a perfect shot.

Reducing Insomnia

Difficulty falling or staying sleep is one of the most common complaints doctors hear, but it can usually be improved by changing your lifestyle. First, maintain a consistent schedule and try to go to bed at the same time each night. Avoid caffeine and alcohol, as well as high carb snacks within two hours of bedtime. Also try adding exercise to your daily routine to decrease stress. A good night's rest is vital to your overall health so take the time to work on some of these techniques!
Greener (and Cheaper) Fuel Bills


Reduce the heat just 1 degree at a time and try it for a week. Each 1-degree drop for an eight-hour period reduces your fuel bill about 1%. Turning down the thermostat 5 to 10 degrees at night, can save 5 to 10% of your heating bill!
Share the Wealth of Knowledge!

Please share this market update with family, friends, or colleagues. If you would like us to add them to our list, simply click on the "Forward email" link below. We love being introduced!
Investing involves risk including the potential loss of principal. No investment strategy can guarantee a profit or protect against loss in periods of declining values.
The Standard & Poor's 500 (S&P 500) is an unmanaged group of securities considered to be representative of the stock market in general.
The Dow Jones Industrial Average is a price-weighted average of 30 significant stocks traded on the New York Stock Exchange and the Nasdaq. The DJIA was invented by Charles Dow back in 1896.
The MSCI EAFE Index was created by Morgan Stanley Capital International (MSCI) that serves as a benchmark of the performance in major international equity markets as represented by 21 major MSCI indexes from Europe, Australia and Southeast Asia.
The 10-year Treasury Note represents debt owed by the United States Treasury to the public. Since the U.S. Government is seen as a risk-free borrower, investors use the 10-year Treasury Note as a benchmark for the long-term bond market.
Google Finance is the source for any reference to the performance of an index between two specific periods.
Opinions expressed are subject to change without notice and are not intended as investment advice or to predict future performance.
Past performance does not guarantee future results.
You cannot invest directly in an index.
Consult your financial professional before making any investment decision.
Fixed income investments are subject to various risks including changes in interest rates, credit quality, inflation risk, market valuations, prepayments, corporate events, tax ramifications and other factors.
These are the views of Platinum Advisor Marketing Strategies, LLC, and not necessarily those of the named representative or named Broker dealer, and should not be construed as investment advice. Neither the named representative nor the named Broker dealer gives tax or legal advice. All information is believed to be from reliable sources; however, we make no representation as to its completeness or accuracy. Please consult your financial advisor for further information.
By clicking on these links, you will leave our server as they are located on another server. We have not independently verified the information available through this link. The link is provided to you as a matter of interest. Please click on the links below to leave and proceed to the selected site.
[1] http://www.google.com/hostednews/ap/article/ALeqM5g2jVJQwTAzQj4jEVjyUF4D-rBE2A?docId=50f584fc1fb6437e966b30df232971ea
[2] http://www.ibtimes.com/articles/222945/20110930/markets-rates-central-banks-stocks-politics-q4.htm?cid=2
[3] http://www.stocktradersalmanac.com/sta/home.do
[4] http://money.cnn.com/2011/10/14/markets/stocks_lookahead/index.htm?iid=HP_LN
[5] http://www.ft.com/intl/cms/s/0/52e9c856-f815-11e0-a419-00144feab49a.html#axzz1aynePlqB
[6] http://money.cnn.com/2011/10/12/technology/iphone_4s/index.htm?iid=HP_River