Weekly Update - October 10, 2011


Noteworthy Employment Data

In This Issue

The Bureau of Labor Statistics released its monthly Employment Situation Summary on Friday, and the data conclusively proves that the U.S. is not in a recession. To many the data would seem to indicate that the odds of entering into one are much lower than some reports in the media may suggest.



Nonfarm payroll employment edged up by 103,000 in September, and increased by 202,000 if you include upward revisions for July and August. This significantly outpaced consensus expectations of a mere 60,000 gain.

[1]

And while the report reflected the return of about 45,000 Verizon workers who had been on strike in August, the increases are still significant. Also striking is the fact that the number of weekly hours per worker increased from 34.2 to 34.3. While that may not seem like much of a jump, it is actually the equivalent of adding 320,000 jobs!

[2]




If you take a look at the jobs numbers over the past year, you will see that private sector payrolls have grown by 1.8 million, the workweek has lengthened, and hourly wages are up 1.9%.

[3]

And while we acknowledge that the labor market is still far from operating at an optimal level, we are definitely seeing improvement!


As we hope this positive trend in hiring will continue, only time will tell if it can be more than a momentary bright spot. In the weeks ahead, investors will be looking for signs on the health of the economy from corporate earnings and what is still the biggest elephant in the room: Europe's debt crisis. We will continue to monitor developments in these and other areas and will work diligently to keep you informed.

ECONOMIC CALENDAR:
Monday - U.S. Holiday: Columbus Day
Tuesday - FOMC Minutes
Thursday - International Trade, Jobless Claims, EIA Petroleum Status Report, Treasury Budget
Friday - Retail Sales, Import and Export Prices, Consumer Sentiment, Business Inventories




Performance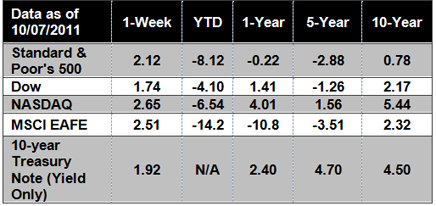 Notes: All index returns exclude reinvested dividends, and the 5-year and 10-year returns are annualized.
Sources: Yahoo! Finance, MSCI Barra. Past performance is no guarantee of future results.
Indices are unmanaged and cannot be invested into directly. N/A means not available.
Headlines


Steve Jobs, the co-founder and board chairman of one of the world's greatest companies, will long be remembered as a remarkable man. We have truly lost a great visionary who enriched the lives of millions by means of technology. Born in 1955 to a world of rotary phones and room-sized computers, he left behind a world where over 100 million people carry a small device called an iPhone - which is both a phone and a computer - in their pockets. Steve Jobs is a man who will unquestionably be missed.

[4]



Business-jet sales may increase worldwide starting in 2012 as emerging-market demand picks up. Purchase expectations are growing in Asia, followed by the Middle East and Africa, while the free-fall in developed markets like North America following 2008's recession has stabilized, according to an annual survey of 1,500 companies by Honeywell International Inc., a New Jersey-based avionics and cockpit-instruments maker.

Consumers cut their borrowing in August by the most in 16 months. Fewer people used their credit cards. And a measure of demand for auto and student loans fell. Total borrowing dropped $9.5 billion in August, the Federal Reserve said last week. In July, borrowing increased $11.9 billion.

[5]



While the nation added jobs last month, public schools lost 24,400 positions - the most of any category. Local government in total shed 35,000 jobs. Teachers continue to get pummeled as state and local governments digest budget cuts for fiscal 2012, which began in July in most states.

[6]








"To be successful, you have to have your heart in your business, and your business in your heart." - Thomas Watson, Sr.

Tomato-Tortellini Soup


From: Better Homes and Gardens

Cream cheese and tomato soup make a rich and creamy base for this four-ingredient tortellini soup recipe that can be prepared in just 15 minutes.


Ingredients:
2 14-ounce cans reduced-sodium chicken broth or vegetable broth
1 9-ounce package refrigerated tortellini
1/2 of an 8-ounce tub cream cheese spread with chive and onion
1 10.75- or 11-ounce can condensed tomato or tomato bisque soup
Snipped fresh chives (optional)

Directions:
In a medium saucepan, bring broth to boiling. Add tortellini; reduce heat. Simmer, uncovered, for 5 minutes. In a bowl, whisk 1/3 cup of the hot broth into the cream cheese spread until smooth. Return all to saucepan along with tomato soup; heat through. Sprinkle with chives before serving. Makes 4 servings.






Build a Solid Foundation


A consistent golf swing requires a smooth tempo and good balance. Just as a house needs a solid foundation, so does a golf swing.

Practice hitting some shots with your feet close together (about six inches apart). This forces you to maintain better balance, tempo, and rhythm, and will prove effective when you go back to hitting from your normal stance.


Fall Foliage and Foods


Autumn is a time of bright colors and hearty meals. When selecting foods, try letting your diet reflect the changing leaf colors. Foods such as apples, squash, figs, and cranberries are all healthy (and colorful) additions. Pumpkins are bright orange because they're full of beta carotene, an antioxidant, while they are also low in calories and rich in fiber, iron, and potassium. Other fall favorites are beets, which are high in folate and potassium, and also help fight cancer. So bring some of the outdoor color inside and onto your plate to enhance your menu.


Print Smarter


The average U.S. office worker goes through 10,000 sheets of copy paper a year. Recycle toner and ink cartridges and buy remanufactured ones. According to Office Depot, each remanufactured toner cartridge "keeps approximately 2.5 pounds of metal and plastic out of landfills... and conserves about a half-gallon of oil."


Share the Wealth of Knowledge!

Please share this market update with family, friends, or colleagues. If you would like us to add them to our list, simply click on the "Forward email" link below. We love being introduced!
Investing involves risk including the potential loss of principal. No investment strategy can guarantee a profit or protect against loss in periods of declining values.

The Standard & Poor's 500 (S&P 500) is an unmanaged group of securities considered to be representative of the stock market in general.
The Dow Jones Industrial Average is a price-weighted average of 30 significant stocks traded on the New York Stock Exchange and the Nasdaq. The DJIA was invented by Charles Dow back in 1896.
The MSCI EAFE Index was created by Morgan Stanley Capital International (MSCI) that serves as a benchmark of the performance in major international equity markets as represented by 21 major MSCI indexes from Europe, Australia and Southeast Asia.
The 10-year Treasury Note represents debt owed by the United States Treasury to the public. Since the U.S. Government is seen as a risk-free borrower, investors use the 10-year Treasury Note as a benchmark for the long-term bond market.
Google Finance is the source for any reference to the performance of an index between two specific periods.
Opinions expressed are subject to change without notice and are not intended as investment advice or to predict future performance.
Past performance does not guarantee future results.
You cannot invest directly in an index.
Consult your financial professional before making any investment decision.
Fixed income investments are subject to various risks including changes in interest rates, credit quality, inflation risk, market valuations, prepayments, corporate events, tax ramifications and other factors.
These are the views of Platinum Advisor Marketing Strategies, LLC, and not necessarily those of the named representative or named Broker dealer, and should not be construed as investment advice. Neither the named representative nor the named Broker dealer gives tax or legal advice. All information is believed to be from reliable sources; however, we make no representation as to its completeness or accuracy. Please consult your financial advisor for further information.
By clicking on these links, you will leave our server as they are located on another server. We have not independently verified the information available through this link. The link is provided to you as a matter of interest. Please click on the links below to leave and proceed to the selected site.
[1] http://www.bls.gov/news.release/empsit.nr0.htm
[2] http://www.ftportfolios.com/Commentary/EconomicResearch/2011/10/7/non-farm-payrolls-were-up-103,000-in-september
[3] http://www.bls.gov
[4] http://www.bloomberg.com/news/2011-10-09/business-jet-sales-may-increase-in-2012-as-asia-blunts-slow-global-economy.html
[5] http://www.chron.com/business/article/Consumer-borrowing-dropped-9-5-billion-in-August-2208661.php
[6] http://money.cnn.com/2011/10/07/news/economy/local_government_jobs/index.htm?iid=HP_River