Weekly Update - September 26, 2011
Less Talk, More Action

In This Issue

After the brisk market rally we experienced two weeks ago, the tables turned dramatically last week as many asset classes experienced their worst week in years. The Dow tumbled 6.4%, the S&P 500 fell 6.5%, and the Nasdaq slid 5.3%.

[1]

Even gold shed nearly 10% over the course of the week for its biggest drop on a percentage basis in 28 years.

[2]



In conjunction with persistent concerns about European debt and a weakening U.S. economy, the presumed trigger for the panic was that the Fed's Open Market Committee (FOMC) launched "Operation Twist" on Wednesday. The move, designed to bring interest rates down and stimulate the housing market, scarcely proved to reassure investors. "Operation Twist" calls for the Fed to sell short-term securities (maturing in three years or less) from its sizeable $1.7 trillion holdings of government debt and use the $400 billion raised to buy longer-term mortgage-backed securities maturing in six to 30 years.

[3]



At the same time, the Fed accompanied its announcement with a lukewarm (at best) assessment of the economy. While stating that they continue to expect some pickup in the pace of recovery over coming quarters, they cited "significant downside risks to the economic outlook, including strains in global financial markets."

[4]



While the stock market has undeniably taken a big hit, and investor confidence has been badly shaken, few things fundamentally changed from two weeks ago. In essence, market participants reacted to renewed concerns that policymakers aren't doing enough to stabilize the global economy.

Notably, the Group of 20 major economies, including the United States, European Union, and China, issued a statement Thursday saying that it stands committed to "take all necessary actions to preserve the stability of banking systems and financial markets as required."

[5]



It is likely that we will continue to experience a period of volatility as investors wait to see if the words of policymakers lead to tangible actions.

ECONOMIC CALENDAR:
Monday - New Home Sales
Tuesday - S&P Case-Shiller HPI, Consumer Confidence
Wednesday -Durable Goods Orders, EIA Petroleum Status Report
Thursday - GDP, Jobless Claims, Pending Home Sales
Friday - Personal Income and Outlays, Chicago PMI, Consumer Sentiment



Performance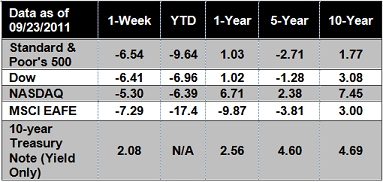 Notes: All index returns exclude reinvested dividends, and the 5-year and 10-year returns are annualized.
Sources: Yahoo! Finance, MSCI Barra. Past performance is no guarantee of future results.
Indices are unmanaged and cannot be invested into directly. N/A means not available.
Headlines


Last week, the government released the latest census report showing the poverty rate rose to a 17-year high. A whopping 46.2 million people (or 15.1% of the U.S. population) live in poverty, and 49.9 million live without health insurance.

[6]



BP is preparing its rigs and workers to resume full drilling operations in the Gulf of Mexico, seeking to end a 17-month production slump following the worst U.S. oil spill.

[7]



The International Monetary Fund annual meetings wrapped up in Washington on Sunday with no immediate consensus on the solution. Participants said they were waiting for the ratification of the action plan agreed on July 21 by the Eurozone, particularly by the German Bundestag this week, before starting serious negotiations on increasing the rescue fund's firepower or asking for a bigger write-down in private sector holdings of Greek debt.

[8]



For the first time in months, retail gasoline prices have fallen below $3 a gallon in places, including parts of Michigan, Missouri, and Texas. And the relief is likely to spread thanks to a sharp decline in crude-oil prices. The national average for regular unleaded gasoline is $3.51 per gallon, down from a high of $3.98 in early May. Last week's plunge in oil prices could push the average to $3.25 per gallon by November, analysts say.

[9]







"Don't judge each day by the harvest you reap but by the seeds that you plant."
- Robert Louis Stevenson

Gouda-Pecan Bites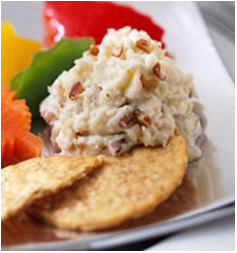 From: Better Homes and Garden


Gouda is a semi-firm Dutch cheese with a mild flavor. It's the cornerstone of this easy appetizer or snack. Serve with crackers or vegetables.
Ingredients:
1 cup finely shredded Gouda cheese (4 oz.)
1/4 cup dairy sour cream
1/4 cup very finely chopped pecans
Assorted crackers and/or cut sweet peppers
Directions:
1) Bring shredded cheese to room temperature in a medium mixing bowl (allow 30 minutes). Add sour cream and pecans. Beat with an electric mixer until combined and mixture is creamy. Cover and chill for up to 1 hour. If mixture is too firm, let stand for a few minutes to soften before piping.
2) To serve, spoon cheese mixture into a pastry bag to which a very large star tip (1/2-inch) has been fitted. Pipe mixture onto assorted small crackers and/or vegetable slices. Makes 1-1/2 cups.




Treat Thick Grass Hitting From a Bunker

When a ball is nestled down in thick grass, it should not be treated as a regular shot. Your normal swing will be twisted and distorted by interaction with the grass, and clean contact will not be made with the ball. With your wedges and short irons, it is often best to approach such shots as though you were hitting from a bunker. Open your stance a bit and hit down just behind the ball with a sharp, descending blow (down and through). You are not going to be hitting the ball itself, but rather, the grass just behind it. Instead of a spray of sand, you should get a spray of grass.
Steam Your Broccoli

Italian researchers recently discovered that steaming broccoli increases its concentration of glucosinolates (compounds found to fight cancer) by 30 percent. Boiling actually lowers the levels.


The average U.S. office worker goes through 10,000 sheets of copy paper a year. Print on both sides and use the back side of old documents for faxes, scrap paper, or drafts. Avoid color printing and print in draft mode whenever possible.
Share the Wealth of Knowledge!


Please share this market update with family, friends, or colleagues. If you would like us to add them to our list,
simply click on the "Forward email" link below. We love being introduced!
Investing involves risk including the potential loss of principal. No investment strategy can guarantee a profit or protect against loss in periods of declining values.
The Standard & Poor's 500 (S&P 500) is an unmanaged group of securities considered to be representative of the stock market in general.
The Dow Jones Industrial Average is a price-weighted average of 30 significant stocks traded on the New York Stock Exchange and the Nasdaq. The DJIA was invented by Charles Dow back in 1896.
The MSCI EAFE Index was created by Morgan Stanley Capital International (MSCI) that serves as a benchmark of the performance in major international equity markets as represented by 21 major MSCI indexes from Europe, Australia and Southeast Asia.
The 10-year Treasury Note represents debt owed by the United States Treasury to the public. Since the U.S. Government is seen as a risk-free borrower, investors use the 10-year Treasury Note as a benchmark for the long-term bond market.
Google Finance is the source for any reference to the performance of an index between two specific periods.
Opinions expressed are subject to change without notice and are not intended as investment advice or to predict future performance.
Past performance does not guarantee future results.
You cannot invest directly in an index.
Consult your financial professional before making any investment decision.
Fixed income investments are subject to various risks including changes in interest rates, credit quality, inflation risk, market valuations, prepayments, corporate events, tax ramifications and other factors.
These are the views of Platinum Advisor Marketing Strategies, LLC, and not necessarily those of the named representative or named Broker dealer, and should not be construed as investment advice. Neither the named representative nor the named Broker dealer gives tax or legal advice. All information is believed to be from reliable sources; however, we make no representation as to its completeness or accuracy. Please consult your financial advisor for further information.
By clicking on these links, you will leave our server as they are located on another server. We have not independently verified the information available through this link. The link is provided to you as a matter of interest. Please click on the links below to leave and proceed to the selected site.
[1] http://www.google.com/finance
[2] http://www.foxbusiness.com/investing/2011/09/23/dismal-week-stocks-metals-crushed-in-worst-plunge-in-years/
[3] http://www.nytimes.com/2011/09/22/business/22text.html
[4] http://www.nytimes.com/2011/09/22/business/22text.html
[5] http://www.foxbusiness.com/investing/2011/09/23/dismal-week-stocks-metals-crushed-in-worst-plunge-in-years/
[6] http://money.cnn.com/2011/09/21/news/economy/middle_class_income/index.htm?iid=HP_Highlight
[7] http://www.bloomberg.com/news/2011-09-23/bp-plans-full-return-to-gulf-drilling-this-year.html
[8] http://www.ft.com/intl/cms/s/0/5a3b7a9e-e796-11e0-9da3-00144feab49a.html#axzz1YzcSBAmu
[9] http://abclocal.go.com/ktrk/story?section=news/national_world&id=8367162