Weekly Update - August 29, 2011
Slow and Steady Says Bernanke
In This Issue

Between Hurricane Irene's thrashing, Steve Jobs' resignation, and Ben Bernanke's annual economic conference, there were a number of important headlines last week. In the midst of them all, U.S. stocks managed to log their first winning week in five as major indexes all closed over 4% higher.



Much of the stock market's positive performance can be attributed to reassuring words from Fed Chairman Ben Bernanke's speech on Friday, during which he focused on the long-term strengths of the U.S. economy and touted that growth fundamentals "do not appear to have been permanently altered by the shocks of the past four years."[1] Many analysts agree that Bernanke's speech helped lift investor sentiment.[2]

While acknowledging the challenges we are facing, the overall tone of his speech was optimistic. After reminding his audience that "the financial crisis that gripped global markets in 2008 and 2009 was more severe than any since the Great Depression", he stated that "restorative forces are at work today, and they will continue to promote recovery over time."[3]

The Fed Chairman concluded his comments on a positive note by reinforcing that even though policymakers have a tough job in supporting economic recovery while also tackling long-term debt, "those challenges can be met and the fundamental strengths of our economy will ultimately reassert themselves."[4] He also went on to pledge that the Fed will keep short-term interest rates low, and will do "all it can" to help the recovery.[5]

Early Friday, the government said the nation's economy grew at an annual rate of just 1% in the April-June quarter, which was less than expected.[6] Even so, we believe, as does the Fed Chairman, that we will continue to see "recovery over time".

ECONOMIC CALENDAR:
Monday - Personal Income and Outlays, Pending Home Sales Index
Tuesday - S&P Case-Shiller HPI, Consumer Confidence, FOMC Minutes
Wednesday -ADP Employment Report, Chicago PMI, Factory Orders, EIA Petroleum Status Report
Thursday - Jobless Claims, Productivity and Costs, ISM Mfg Index, Construction Spending, Motor Vehicle Sales
Friday - Employment Situation





Performance

Notes: All index returns exclude reinvested dividends, and the 5-year and 10-year returns are annualized.
Sources: Yahoo! Finance, MSCI Barra. Past performance is no guarantee of future results.
Indices are unmanaged and cannot be invested into directly. N/A means not available.
HEADLINES:

Steve Jobs has resigned as chief executive officer of Apple. The company has promoted Chief Operating Officer Tim Cook to the position of CEO and said that Cook will join the company's board of directors. Jobs will become Apple's chairman.

[7]



Warren Buffett struck a deal with Bank of America on Thursday, to inject $5 billion in capital in exchange for preferred shares that pay a 6% dividend, and warrants to buy 700 million common shares at $7.17. This deal comes at an opportune time for the bank and helps calm market concerns that Bank of America is under-capitalized.

[8]



The six biggest U.S. airlines canceled at least 10,300 flights from Saturday through Monday because of hurricane Irene.

[9]



Refiners and fuel shippers were taking stock of their operations early Sunday after a night of high winds and rains, but so far no major damage had been found. Most of the refineries and fuel shippers who had been bracing for Irene were dealing early Sunday with relatively minor power outages and water buildups.

[10]






"Our best successes often come after our greatest disappointments."
- Henry Ward Beecher

Berry Easy Cobbler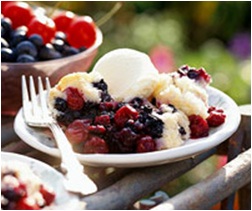 From: Midwest Living
This sugar-topped fruit cobbler is even more delicious with vanilla ice cream or frozen yogurt. Serve it for dessert at summer parties.
Ingredients:
1-1/4 cups all-purpose flour
1/2 cup sugar
1-1/2 teaspoons baking powder
3/4 cup milk
1/3 cup butter or margarine, melted
3 cups fresh blueberries
1/3 cup sugar
Vanilla ice cream or frozen yogurt (optional)
Directions:
1) In a medium mixing bowl, combine flour, the 1/2 cup sugar, and the baking powder. Add milk and melted butter; stir until just combined.
2) Spread the batter in a greased 8x8x2-inch baking dish (2-quart square). Scatter blueberries evenly over batter. Sprinkle evenly with the remaining 1/3 cup sugar.
3) Bake the cobbler in a 350 degree F oven for 40 to 45 minutes or until a toothpick inserted into the cake portion near the center comes out clean. Makes 10 servings.


Grip it and Rip it

Most power tips have to do with the physical components of generating speed and power in the golf swing. In this case, the power tip is a mental one.

To hit your longest and straightest drives, you must be mentally geared up to unleash your potential power. You can't go deep if you're filled with fear or anxiety about the outcome of the shot. Some well-known instructors like Jackie Burke Jr. and Jim McLean advocate the idea of being a "little reckless" with the driver. Not that you should truly be "reckless", but it is important not to become overly analytical before and during your swing. Every once in a while, it's okay to trust yourself and let your athletic instincts take over.



Conquering Stress
Sometimes stress is made up of building concerns rather than a specific problem. To help with stress reduction, try enjoying one relaxing activity daily. Listening to music, meditating, writing in a journal, or enjoying a soothing bubble bath are all great ways to relax and relieve stress. Also try to exercise regularly to relieve both the physical and emotional effects of stress. Some great stress-relieving exercises include yoga, pilates and tai chi. Finally, be sure to share what's on your mind with others as a stress outlet.


Donate Your Stuff
Got a bunch of stuff you want to get rid of? Don't contribute to the landfill. If it's usable, give it to someone who needs it. Or donate it to a charity thrift shop - they can sell it for a little bit of fund-raising cash, so you're not only lengthening the life of that item but helping a good cause. The habit to develop: When weeding out your old stuff, put them in a box or basket near the door. Then when you run errands, grab the box and drop it off at a charity shop. If it's an expensive item, you could email your friends and family to give them the first shot at it.

Share the Wealth of Knowledge!
Please share this market update with family, friends, or colleagues. If you would like us to add them to our list, simply click on the "Forward email" link below. We love being introduced!
Investing involves risk including the potential loss of principal. No investment strategy can guarantee a profit or protect against loss in periods of declining values.
The Standard & Poor's 500 (S&P 500) is an unmanaged group of securities considered to be representative of the stock market in general.
The Dow Jones Industrial Average is a price-weighted average of 30 significant stocks traded on the New York Stock Exchange and the Nasdaq. The DJIA was invented by Charles Dow back in 1896.
The MSCI EAFE Index was created by Morgan Stanley Capital International (MSCI) that serves as a benchmark of the performance in major international equity markets as represented by 21 major MSCI indexes from Europe, Australia and Southeast Asia.
The 10-year Treasury Note represents debt owed by the United States Treasury to the public. Since the U.S. Government is seen as a risk-free borrower, investors use the 10-year Treasury Note as a benchmark for the long-term bond market.
Google Finance is the source for any reference to the performance of an index between two specific periods.
Opinions expressed are subject to change without notice and are not intended as investment advice or to predict future performance.
Past performance does not guarantee future results.
You cannot invest directly in an index.
Consult your financial professional before making any investment decision.
Fixed income investments are subject to various risks including changes in interest rates, credit quality, inflation risk, market valuations, prepayments, corporate events, tax ramifications and other factors.
These are the views of Platinum Advisor Marketing Strategies, LLC, and not necessarily those of the named representative or named Broker dealer, and should not be construed as investment advice. Neither the named representative nor the named Broker dealer gives tax or legal advice. All information is believed to be from reliable sources; however, we make no representation as to its completeness or accuracy. Please consult your financial advisor for further information.
By clicking on these links, you will leave our server as they are located on another server. We have not independently verified the information available through this link. The link is provided to you as a matter of interest. Please click on the links below to leave and proceed to the selected site.
[1] http://www.federalreserve.gov/newsevents/speech/bernanke20110826a.htm
[2] http://www.usatoday.com/money/markets/story/2011-08-26/Stocks-recover-after-Bernanke-speech/50148070/1
[3] http://www.federalreserve.gov/newsevents/speech/bernanke20110826a.htm
[4] http://www.federalreserve.gov/newsevents/speech/bernanke20110826a.htm
[5] http://www.federalreserve.gov/newsevents/speech/bernanke20110826a.htm
[6] http://www.bea.gov/newsreleases/national/gdp/gdpnewsrelease.htm
[7] http://finance.fortune.cnn.com/2011/08/24/fallen-apple-steve-jobs-resigns/
[8] http://www.forbes.com/sites/greatspeculations/2011/08/26/buffetts-capital-never-comes-cheaply-as-bofa-knows/
[9] http://www.bloomberg.com/news/2011-08-28/flight-cancellations-in-u-s-resulting-from-hurricane-irene-exceed-10-300.html
[10] http://online.wsj.com/article/BT-CO-20110828-703803.html