Oil and Gas on Higher Ground


As turmoil in the Middle East continues to roil the markets, it is no coincidence that "oil" is at the root of economic concerns. From an investment perspective, analyzing oil's relationship to the markets is crucial, but the reality is that nearly everyone (investors and non-investors alike) are affected by oil prices. So what exactly is affecting the rise in oil costs? And, more importantly, do oil prices have the potential to derail America's economic recovery?



After the fall of dictatorial governments in Tunisia and Egypt, unrest has spread throughout the Middle East, with Libya dominating the spotlight this week. The International Energy Agency reported late Friday that Libya is probably producing about 850,000 barrels of oil daily, down from its normal capacity of 1.6 million barrels, which represents just under 2% of the world's oil supply. While the sudden oil shortage hits European refiners the hardest,[1] oil fears still caused the stock market to suffer its first weekly loss in a month. For the week, the S&P 500 slid 1.7%; the Dow dropped 2.1%, and the Nasdaq fell 1.9%.[2] Happily, fears were eased somewhat on Friday when Saudi Arabia reported it has increased its crude oil production to 9 million barrels a day to make up for supplies lost in Libya.[3]

What we're seeing right now is a tug of war between worry and economic fundamentals. While most U.S. economic data looks good, investors are focused on the potential implications of interruptions in oil production. For the moment, this issue will dominate the headlines regardless of how attractive other data looks.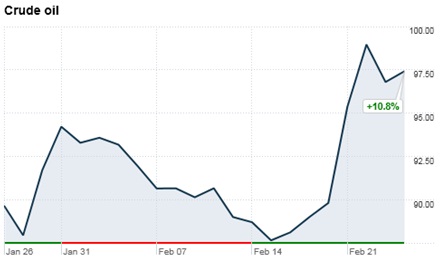 *Graph courtesy of http://money.cnn.com/2011/02/25/markets/oil/index.htm
U.S. drivers have already been feeling the pinch at the pump, with gas prices spiking 6 cents on Friday, the biggest one-day jump in two years. The national average price for a gallon of regular gas rose to $3.29, according to AAA, marking the fourth day in a row that prices have risen and bringing the national average to the highest level since October 2008. In general, every $1 increase in the price of oil costs consumers $1 billion over the course of a year.[4] Higher oil prices also weigh on the U.S. economy by increasing the costs of moving goods,[5] thus transferring rising costs to manufacturers, wholesalers, retailers, and eventually the American public.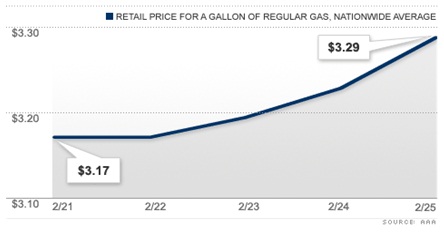 *Graph courtesy of http://money.cnn.com/2011/02/25/news/economy/gas_price_spike/index.htm
If gas prices continue to rise as some analysts predict, how will this affect the economic recovery? Put simply, there is no way to know for sure. Granted, when gas prices go up, Americans have less to spend on everything else. And since consumer spending makes up over 70% of the U.S. economy[6], a drop in spending could slow the recovery down. At the same time though, modest increases in fuel prices do not inevitably cause economic slowdowns. What they more often do is cause alarm, thus affecting consumers' perceptions about what they can afford and causing them to react by tightening their belts.
So while the natural reaction may be to retreat to conservative investments and cut-off all spending on nonessentials, it is important to avoid overreacting. The coming week promises to shed more light on the true status of our domestic economy as various data related to jobs, payrolls, and manufacturing are released.[7]
ECONOMIC CALENDAR:
Monday - Personal Income and Outlays, Chicago PMI, Pending Home Sales
Tuesday - Redbook, Construction Spending
Wednesday - ADP Employment Report, EIA Petroleum Status Report, Beige Book
Thursday - ECB Announcement, Jobless Claims, Productivity and Costs, ISM Non-Mfg Index Friday - Employment Situation, Factory Orders