Weekly Market Update
Week of January 24, 2011
The Markets:


While the recovery has continued to burn brighter, it's no thanks to the rising cost of gasoline. Most consumers are cringing over prices at the pump and, as a nationwide economic marker, it affects nearly everyone.



Gas prices hit almost $3.12/gallon on Friday, less than a dollar below the all-time high of about $4.11/gallon in July 2008.[1] Current prices have risen 12 cents a gallon (4%) in the last month alone and 39 cents (14%) over the last year. Crude oil has risen on a similar track and is currently trading at just under $90 a barrel.[2]




Though American consumers are paying the price, international oil demand and lack of supply are primarily responsible for the rising cost. Last year, worldwide demand hit a record of more than 87 million barrels a day, largely driven by strong growth in India, China, and the Middle East. Simultaneously, supply was constricted by the drilling moratorium in the Gulf of Mexico following the BP disaster, slow production growth in non-OPEC countries, and OPEC production controls.[3]




Gas prices are proving to be a critical, but unpredictable element in the economic recovery. Analysts are predicting prices to range from $3.20 to $3.75/gallon by spring, just when Americans typically hit the road.[4] Just as positive consumer sentiment can be tempered by the daily reminders of rising prices, there is also an unknown tipping point for when those prices take a toll on spending.[5]




While all this talk about rising gas prices may have you feeling less than enthusiastic, the overall economic outlook is still positive and the stock market is performing well. While some indexes fell slightly for the week, the Dow climbed 0.72%, continuing its longest winning streak since April of last year.[6] At least for now, rising gas prices aren't creating a significant drag on the economic recovery.


ECONOMIC CALENDAR:
Tuesday - Redbook, S&P Case Shiller HPI, Consumer Confidence
Wednesday - New Home Sales, EIA Petroleum Status Report
Thursday - Durable Goods Orders, Jobless Claims, Pending Home Sales
Friday - GDP, Employment Cost Index, Consumer Sentiment
Performance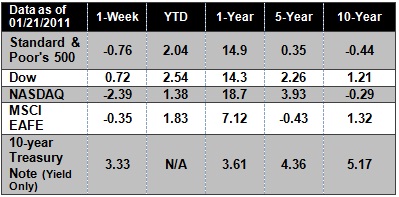 Notes: All index returns exclude reinvested dividends, and the 5-year and 10-year returns are annualized.
Sources: Yahoo! Finance, MSCI Barra. Past performance is no guarantee of future results.
Indices are unmanaged and cannot be invested into directly. NA means not available.
Headlines

Facebook raised $1.5 billion from Goldman Sachs and Digital Sky Technologies,
giving the company an estimated value of $50 billion. Facebook confirmed that it will begin filing public financial reports by April 2012, a move likely indicative of an IPO.[7]
A 1963 Pontiac ambulance that supposedly carried the body of President John F. Kennedy after his assassination was sold at a Scottsdale, Ariz., auction Saturday night for $132,000.[8]
Existing home sales jumped 12% in December, the fifth month of gains in the past six months. While the rates are higher than expected, the median price of homes has fallen by 1% and is still down 2.9% from a year ago.[9]
Thirty-second advertising spots for 2011's Super Bowl XLV will cost about $3 million each. This year's ads contain a record number from the auto industry, while the largest advertisers include Anheuser-Busch and Dot-com firms. Many will include online features with contest components.[10]


"There is no such thing in anyone's life as an unimportant day." - Alexander Woollcott


Gorgonzola and Toasted Walnut Spread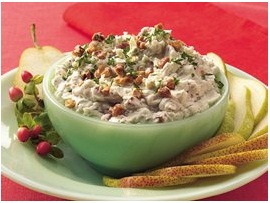 From: Betty CrockerThe fabulous flavor of toasted walnuts infuses every bite of this rich and creamy spread..

Servings: 16 servings (2 tablespoons spread and 2 bread or fruit slices each).
Total Time: 10 mins

Ingredients:
1 cup crumbled Gorgonzola cheese
1 package cream cheese, softened (8 ounce)
3 tablespoons half-and-half
1/4 teaspoon freshly ground pepper
1/2 cup chopped walnuts, toasted
1 tablespoon chopped fresh parsley
French bread slices
Apple and pear slices

Directions:
1. Reserve 1 tablespoon of the Gorgonzola cheese for garnish. In food processor, place cream cheese, remaining Gorgonzola cheese, half-and-half and pepper. Cover and process until blended.

2. Reserve 1 tablespoon of the walnuts for garnish. Stir remaining walnuts into cheese mixture. Spoon into shallow serving bowl. Sprinkle with reserved Gorgonzola cheese, walnuts and the parsley. Serve with bread slices and apple slices.




Cut the Tension

Tension in your golf swing can cause you to lose distance and accuracy. By executing certain fundamentals correctly, tension is avoided.

At a basic level you can decrease tension by working on a proper grip. A grip that has proper tension is achieved by doing the following: Place the grip in the fingers of both hands. With the bottom hand, start the grip in the middle of the fingers. Avoid the palm. Also, place the thumb of the top hand off to the side, away from the target, and place the bottom thumb on the other side of the grip, closest to the target. The thumbs have many nerves at the tips. If the thumbs run directly down the center of the grip, you trigger those nerves. The arms tense up and you now have tension.

Your goal should be to achieve a light grip. If you maintain a light grip during the swing, you will avoid any swing characteristics that cause tension. If you use a tight grip then you also tense your forearm muscles, and this automatically opens the face of the club causing pushed shots.
Parting thought... RELAX.


Share the Wealth of Knowledge!

Please share this market update with family, friends, or colleagues. If you would like us to add them to our list, simply click on the "Forward email" link below. We love being introduced!