Weekly Market Update
Week of January 10, 2011
The Markets:


The so-called "January effect" is a calendar-related anomaly in the financial markets where security prices increase in the month of January because investors often sell losing positions in December and reposition themselves after the first of the year, or vice-versa.

[1]

Though last week's trading pattern (strong at the outset, slumping on Friday) could be connected with this event, there are additional factors at play.

On Friday, the Massachusetts Supreme Court ruled against Wells Fargo and US Bancorp, effectively voiding certain foreclosure sales because the banks couldn't prove that the mortgages had been assigned to them. Fears that the ruling could make it harder for financial firms to foreclose on mortgages connected with securities resulted in a fall for bank stocks.

[2]

Friday's employment report also disheartened investors as data fell short of expectations.

[3]

Yet despite adding only 103,000 jobs of the 150,000 expected, the unemployment rate dropped to 9.4%, reaching a 19-month low.

[4]



Although markets were negatively affected by the bank ruling and various other factors, they still managed to end the week higher, marking the sixth straight week of gains.

[5]

Overall, the Dow rose 0.8%, the S&P 500 climbed 1.1%, and the Nasdaq increased 1.9%.

[6]

Much of the week's gains were amassed on Monday and Wednesday, riding the wave of optimism into the new year and climbing Wednesday on a stronger-than-expected jobs report for December.

[7]



Federal Reserve Chairman Ben Bernanke spoke optimistically about the economy on Friday, citing improved consumer spending and a drop in unemployment claims as hopeful signs. "We have seen increased evidence that a self-sustaining recovery in consumer and business spending may be taking hold," he said in his first testimony to Congress since the Fed launched QE2.

[8]



There is a January axiom that says: "As goes January, so goes the year." And according to the Stock Traders Almanac's January Barometer, the month of January tends to predict the direction of the market with a 91.4% accuracy ratio, with only five major errors recorded since 1950.

[9]

This is certainly not exact science, and it is far too early to see if January will accurately predict the rest of the year, but we'll keep you informed about how things shape up.

ECONOMIC CALENDAR:
Tuesday - Motor Vehicle Sales, Redbook, Wholesale Trade
Wednesday - Import & Export Prices, EIA Petroleum Status, Beige Book, Treasury Budget
Thursday - International Trade, Producer Price Index, Jobless Claims, EIA Petroleum Status
Friday - Consumer Prices, Retail Sales, Industrial Production, Consumer Sentiment, Business Inventories



Performance

Notes: All index returns exclude reinvested dividends, and the 5-year and 10-year returns are annualized.
Sources: Yahoo! Finance, MSCI Barra. Past performance is no guarantee of future results.
Indices are unmanaged and cannot be invested into directly. NA means not available.
Headlines


Tragically, Arizona Rep. Gabrielle Giffords was critically wounded in a Tucson shooting rampage that killed six people, including a federal judge, and wounded 12 others. Congress has postponed its agenda for the week, which included a vote to repeal the recent health-care plan.[10]

Obama named Gene B. Sperling as director of the National Economic Council, the same job Sperling held for four years under Bill Clinton. Other changes to the economic team include: Jason Furman, Principal Deputy Director of the NEC, and Heather Higginbottom, Deputy Director of the Budget Office.[11]

Blue Shield, one of California's largest health insurers, plans to hike its premiums by as much as 59%. The premium rates are set to take effect on March 1, pending review from state insurance regulators. The move will impact 193,000 individual Blue Shield policy holders.[12]

Gold dipped to settle below $1,369 on Friday, marking its biggest weekly decline since May, after disappointing U.S. jobs data failed to revive safe-haven demand. Bullion declined for a fifth day, its longest losing streak in seven months, and a 4% decline for the week.[13]

European sovereign debt concerns peaked on Friday amid reports that the yield on Portuguese 10-year bonds hit a recent high of 7.1%, the cost of insuring the debt of banks in Italy and Spain rose sharply, and the euro hit a three-month low against the dollar.[14]






"Character cannot be developed in ease and quiet. Only through experience of trial and suffering can the soul be strengthened, ambition inspired, and success achieved." - Helen Keller


Cumin-Caraway Rounds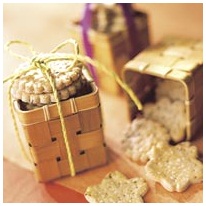 From: Better Homes and Gardens

Servings: 40 crackers
Total: 15 minutes

Ingredients:
3/4 cup all-purpose flour
3/4 cup rye flour
1 tablespoon caraway seed
1/2 teaspoon baking powder
1/2 teaspoon salt
1/2 teaspoon ground cumin
1/4 teaspoon ground coriander
1/4 cup butter, cut into 4 pieces
1/3 cup milk
1 egg white, beaten

Directions:
1. In a food processor bowl combine all-purpose flour, rye flour, caraway seed, baking powder, salt, cumin, and coriander. Add butter; cover and process until blended. Add milk and process just until mixture forms a dough (if necessary, add an additional 1 tablespoon milk).

2. Transfer dough to a floured surface and let stand 5 minutes. Roll to 1/8-inch thickness and cut with a 2-inch cutter or use a knife to cut into desired shapes. Transfer cutouts to an ungreased baking sheet. Brush lightly with egg white. Using a fork, prick crackers all over.

3. Bake in a 350 degree F oven for 15 to 17 minutes or until crisp. Cool completely on wire racks. Store in a tightly covered container in the refrigerator for up to 1 week or in the freezer for up to 1 month. Makes 40 crackers.




How To Hit Under an Obstruction

If you need to keep your ball low, such as under tree limbs, but need distance to execute the shot, here's another trick for your bag:

1) Play the ball slightly rear of center and press your hands forward of the ball.
2) Use a 3, 4, or 5 iron, and close the club face slightly.
3) Keep your hands ahead of the club for the whole swing.

The ball will come out low and hot, so compensate with the amount of back swing you use. Sometimes the ball will draw a little more than usual, so practice this shot on the range before you take it on the course.


Share the Wealth of Knowledge!

Please share this market update with family, friends, or colleagues. If you would like us to add them to our list, simply click on the "Forward email" link below. We love being introduced!