UC Garden Clippings
University of California Botanical Garden
October 2012 - Vol 4, Issue 3
Free with Garden Admission

Sick Plant Clinic
Saturday, October 6
9 am - noon
Free.

Friday, October 5 &
Sunday October 7
Docent tours at 11 am,
12:30 pm and 1:30 pm.
Free admission for alumni, students & families!

Garden Strollers


Wednesday, October 10

11 - 11:45 am


Butterfly Walk
Tuesday, October 23
3 - 4 pm



Docent Walks

Thursdays, Saturdays & Sundays
1:30 pm

Saturday, October 13

11 am - 4 pm

---

11am & 1 pm: Spanish and English Docent-Led Tours

of the Exhibit

---

2 pm: Native Food Tastings & Crafts

Fall Self-guided Tour
The tour, which highlights plants from around the world, is a circuit and takes about one hour. It starts at the Garden Entrance. Look for the ORANGE numbered markers to guide you to the featured plants. Download the tour and map here.



Penstemon sp.

The Mexican/Central American Collection




Our Mexican and Central American collection is represented in two separate areas, one in the front encountered as you leave the Water-wise Entry Garden, and one in the back of the Garden, far from the entrance. This collection, a delightful mix of plants, represents two major plant communities: pine-oak woodland and cloud forest. The pine-oak woodland community combines agaves and their relatives and a nationally noted oak collection. The cloud forest community is one of the most unique in the Garden, with many plants from this higher elevation assemblage doing well in our coastal Bay Area climate. This area is particularly lovely in autumn, when blooming salvias and penstemons attract hordes of hummingbirds. Tree-like daisy relatives, often referred to as woody asters, produce large trusses of blooms throughout the area. A particularly rich collection of ferns fill the understory.

Be sure to include a stroll through the Mexican/Cental American Collection in your October Garden visit.

---

Members' Walk: Mexico/Central America

Tuesday | October 16 | 1 - 2:30 pm

Join Horticulturist Eric Schulz as he guides you on this unique tour of plant communities from Mexico and Central America. Highlights will include the medicinal and cultural uses of plants by the Aztecs and Mayans.

REGISTER ONLINE
Advance registration required; members-only; free




Propagator's Choice


Salvia greggii

Mexican Salvia


Salvia from Mexico are wonderful color additions to your garden. They're floriferous, hardy, and thrive in both sunny and shady locations. There are several species and cultivars, the bulk of which are based on Salvia microphylla and S. greggii. Their flowers come in a variety of colors from deep indigo, fuchsia pink, chartreuse and even two-toned. We have a great selection available on the plant deck in one gallon pots, price starting at $8.00.

---

Native Plant Extravaganza

Bringing Back the Natives Garden Tours and the UC Botanical Garden are partnering to bring you a Fall Native Plant Sale Extravaganza and Open Garden Day. Enjoy free admission to the Garden (only on Oct. 7) with a downloadable coupon available here. Garden Talks and a special tour of the California Native Area will be offered. Join the Garden for this full-day native plants celebration and sale. The Plant Deck will feature a spectacular native plant selection for you to choose from!

Featured Events:

Plant Deck Sale: 10 am - 4 pm

Garden Talk: 10 am - Bulbs and Grasses for California Native Gardens with Ben Anderson, UCBG Horticulturist of the California Collection. REGISTER HERE

Garden Talk: Noon - Conifers of the UCBG California Collection with Dylan Ferreira, UCBG Horticulturist of the California Collection. REGISTER HERE



Advance registration required for Garden Talks; free with Garden admission.



California Native Plants & People Tour: 1:30 pm - Learn how California Indians use plants for food, shelter, clothing, tools, medicine, games and music. Free with Garden admission; no registration required;
Garden Membership

As a Garden Member you are a highly valued and unique individual

-

whose generosity directly supports the Garden. The Garden is so many different things to so many different people

-

an outdoor classroom, an artist studio, a research hub, an oasis, a family getaway

- and always an ever-changing landscape inviting you to explore its 34 acres! When you join or renew your Garden membership you join a circle of individuals who share a passion for horticulture, nature, and culture.

Enjoy a full year of benefits and make the most of the Garden's vibrant and diverse collection, tours, exhibitions and other special events by renewing your membership or becoming a Garden Member today.

Four Ways to Join or Renew
On-Site: Stop by the Garden Kiosk
Phone: 510-643-1924
Mail: 200 Centennial Dr · Berkeley · CA 94720-5045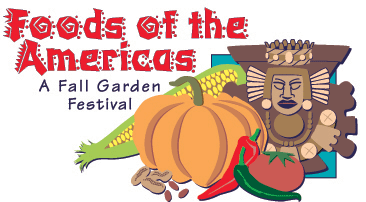 Wednesday, October 10 -
Wednesday, October 24
9 am - 4 pm
From chocolate to quinoa, discover the cornucopia of food crops that originated in the Americas thousands of years ago.
Exhibit free with Garden Admission; Tours available
Foods of the Americas Family Day!
Saturday, October 13 9 am - 4 pm11 am
&
1 pm
Spanish and English Docent-Led Tours of the Exhibit
2 pm
Native Food Tastings & Crafts
Free with Garden Admission
Visit the Foods of the Americas
webpage
for more information.
Upcoming Programs
Shade by Todd Gilens
Natural Discourse Artist Encounter: Todd Gilens
Sunday, October 7 2:30 - 3:30 pm
Todd
Gilens will be on hand in the Garden to discuss his work featured in the Natural Discourse exhibition. Free with Garden admission.
Natural Discourse Poetry Walk: Botanica Recognita: Signage to Facilitate a Greeting
Saturday, October 20 10:30 am - noon
Join poets Hazel White and Denise Newman for a guided experience of the 25 poem-signs featured in the Garden's Natural Discourse exhibition that pay tribute to specific plants and trees in the collection. Free with Garden admission.
Family Program: Extreme Plants
Saturday, October 27 1 - 2:30 pm
This Halloween discover some of the strange plants that lurk in the Garden - and take one home with you! Children of all ages, together with accompanying parent/guardian, will explore the curious plants with a dark side that live in our Garden collections. Advance registration required: $12 per person, $10 members. REGISTER ONLINE
Photo by Melanie Hofmann
Fall Bird Walk
Saturday, November 3 9 - 10:30 am
Observe resident, migrant and vagrant birds in the Garden's many bird friendly micro-habitats with birding expert Phila Rogers and Associate Director of Collections & Horticulture Chris Carmichael. Advance registration required; $20, $17 members. REGISTER ONLINE
New Member Welcome Wagon
Sunday, November 4 9:30am - noon
We're rolling out the Welcome Wagon to greet all our newest members and everyone that has joined the Garden over the past year. New members are invited to join us at 9:30 am for a "meet & greet" and morning treats, followed by a Garden introduction from Garden Director Paul Licht at 10 am. At 11 am we'll take a special docent-led tour of the Garden. Advance registration required; free. REGISTER ONLINE
Manage Your Subscription
The UC Garden Clippings is a publication of the University of California Botanical Garden at Berkeley. You can manage your subscriptions to Garden electronic publications by choosing
Update Profile/Email Address
at the bottom of the newsletter. The
Update Profile/Email Address
feature provides subscription options, allowing you to select those garden publications you wish to receive. Select
Safe Unsubscribe
to remove your email address from all UCBG electronic publications. The Garden offers five email publications:
UC Garden Clippings:

This is a monthly newsletter featuring garden events and stories.

Updates:

Occasional brief emails are sent to highlight special garden events.

Plant Deck:

This is a monthly email describing plants available for purchase in the Garden.

Garden Clubs:

This is an occasional publication describing special events and opportunities for garden clubs and plant societies.

Tours:

Be the first to know when the Garden has a new tour available for schools and other groups. Get details on arranging tours for your group.
Botanical Art: You''ll receive exclusive information about classes and exhibitions.
Editor: Vanessa Crews,
vcrews@berkeley.edu
, 510-643-2937