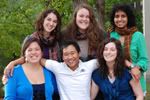 Voices in Solidarity: Six Friends Reaching for Healing Across the World
Join the 2011 Sorensen Fellows as they elaborate on their summer experiences and all that they've learned. Lunch will be served. All are welcome.
12/13 | 12:00 - 1:30pm | Alumni Lounge, Usdan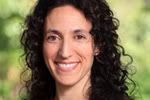 The Argument - A Fiction Reading
Rachel Kadish will read from her collection of short stories titled "The Argument" and invites discussion. Through a wide span of characters and voices, the stories, set in Israel and the U.S., pose questions about love, humor, and memory, Jewish and human identity.
12/13 | 12:30 - 2:00 pm | Epstein Lecture Hall
Members of the Brandeis-Wellesley Orchestra, Neal Hampton, conductor, with the University Chorus and the Brandeis Chamber Choir, James Olesen, director, lead the Brandeis Community in the annual Messiah-SING.
12/13 | 4:00 - 5:30pm | Shapiro Atrium
Summer Internship Funding Info Session
12/13 | 2:00 - 3:30 pm | Alumni Lounge, Usdan
Given the chance, how would you change the world? Here's your opportunity to work for coexistence, peace, social justice, gender rights ... the list goes on. Come learn about the Sorensen Fellowship, Davis Projects for Peace, Eli Segal Citizen Leadership Fellowship, Hiatt Career Center WOW Fellowships, Rapaporte Foundation Grants.
Blog Stories and Profiles
The Office of Global Affairs would like to wish everyone a great winter break!
Check back soon for more blog stories!
2011 Rosalie Katchen Travel Grant Award Recipients
For the fourth year in a row, the Rosalie Katchen Travel Grant was awarded to three distinguished scholars by the Hadassah-Brandeis Institute. This grant is available to junior scholars presenting papers exploring topics related to Jewish women and gender issues at the Association of Jewish Studies Annual Meeting, which will be held on December 18-20 in Washington, DC.
WORLDVIEW: A Sports Culture in Stockholm
"I was settling into my quiet routine of a Tunnelbana commute from the University of Stockholm, listening to "Teenage Dream" on my iPhone and thinking about which Disney movie I would watch with my very adorable and very blond preschool host brothers that evening, when mass chaos ensued."
New Brandeis Magazine analyzes Arab spring
The Fall 2011 issue of Brandeis Magazine is now available online. The cover story draws on the Crown Center's deep well of Middle Eastern scholarship to explore the prospects for democracy in the countries affected by the Arab spring.
Applications for Summer and Fall 2012 Justice Brandeis Semester now available

A Justice Brandeis Semester is an engaging, immersive academic program in which small groups of students explore a thematic topic through inquiry-based courses linked to real-world experiential opportunities. Applications must be submitted on-line by noon on March 16, 2012.