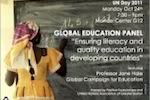 UN Day Global Education Panel: "Ensuring Literacy and Quality Education for All"
Positive Foundations and the United Nations Association of Greater Boston will present a panel on Global Education for all in celebration of United Nations Day. Panelists include Professor Jane Hale, founder of Families Reading Together, a literacy program in Haiti, and representatives from the Global Campaign for Education, which seeks to ensure education for all.
10/24 | 7:30 - 9:00 pm | Mandel Center Room G12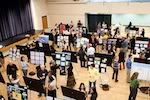 Brandeis undergraduates present their engaged learning experiences to the Brandeis
community. Hear stories, connect with new ideas, see a film, discover opportunities
and funding sources, and build a wider network of opportunity through recent experiences!
10/25 | 4:00 - 8:30 pm | Levin Ballroom, Usdan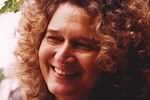 Acclaimed Israeli author Michal Govrin will speak about her newly translated book Hold on to the Sun and offer the opportunity for audience questions and book-signings. In this portrait of the artist as a young woman, Govrin offers a kaleidoscope of stories and essays.
10/26 | 4:00 pm | Rapaporte Treasure Hall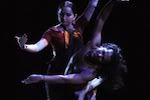 MusicUnitesUS World Music Concert - Navarasa Dance Theater
ENCOUNTER explores different encounters: encounter with the Divine, encounter with Self, encounter with Bob Marley, encounter with Love, and encounter with the Military. ENCOUNTER explores imageries from the history and the world around them: whether it is the Native American history, indigenous peoples' history elsewhere, or a modern day occurrence in Iraq or Afghanistan or Rwanda.
10/29 | 8:00 pm | Slosberg Recital Hall
The Crisis Paradigm: From Weimar to Jerusalem
10/25 | 12:20 - 2:00 pm | Lown 315
Lecture by Nitzan Lebovic, Assistant Professor of History, Lehigh University.
10/25 | 7:00 - 9:00 pm | Rapaporte Treasure Hall
Gyatso spent 33 years in Chinese prison and labor camps, where he was extensively tortured. After his release in 1993, he fled to Dharamsala (Northern India) in exile. Ever since, he has travelled the world speaking against violence and for the cause of human rights in Tibet.

Russian Jewry: On Crossroads of Times and Civilizations

10/26 | 7:00 pm | Heller G2
Lecture by Yigal Kotler, Ed.D. candidate, Jewish Theological Seminary of America.

IGS Conversation: The Global Debt Crisis

10/26 | 7:00 pm | Mandel Center 303
What happens if the European Union can't bail out Greece - or Italy, or Spain? As the world economy teeters, should governments be cutting back, or spending much more? And what effect does fear itself have over faltering economies of the West?

Jefferson's Big Bones: Scientific Knowledge and Colonial Triangulations Between the Americas and Europe

10/27 | 2:00 - 3:30 pm | Mandel Center 303
Lecture by Silvia Spitta, Professor of Spanish and Comparative Literature, Dartmouth College.

Life and Loss in the Shadow of the Holocaust

10/27 | 7:30 pm | Mandel Center Atrium
Author Uta Larkey will explain how she came upon hundreds of handwritten letters and diaries brought to the U.S. by a young émigré from Essen, Germany: the late physician and Holocaust survivor Marianne Steinberg-Ostrand.
Blog Stories and Profiles

MILANA and Advocacy
The following pictures were taken by Brandeis-India Initiative Fellow Melissa Donze '12. Melissa worked in and around Bangalore with MILANA, a small organization founded by HIV-positive women that offers psycho-social support, nutritional and home-based counseling, familial and children's services, prevention and outreach work, as well as advocacy for the rights of those living with HIV.
IBS finds niche with corporate responsibility curriculum

In line with the university's long-standing pillar of social justice, professors at the business school teach students how to expand profit at a firm while simultaneously incorporating corporate responsibility and socially responsible business practices.

Peacebuilding getting a boost on campus and around the world
From the schools and prisons of New Orleans to the community centers of Kabul, people have discovered that theater is an effective tool for peacebuilding, for rallying resistance to injustice and for remembering and healing in the aftermath of mass violence.
Alum reflects on experience in Rwanda
Last Tuesday, Noam Shuster '11 spoke about her experiences volunteering in Rwanda with people affected by the genocide.
"While Paris is excruciatingly beautiful, it is also unsettling and overwhelming. I'd thought the speed of life would be akin to the bustle of New York City, but I was wrong; it's slower than that of New York, but colored with more nonchalance and recklessness."
Join the BPA Steering Committee!
New members are invited to join the Brandeis Pluralism Alliance Steering Committee, which is responsible for advising all of the initiative's activities. The Committee also selects grant recipients for projects addressing issues of identity, pluralism and unity at Brandeis.
Review your internship and win a prize with Hiatt's version of Yelp

Finished an internship recently?

Win a $50 gift card

starting Nov. 1 by reviewing your internship through Hiatt!