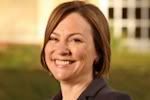 Mutton Dressed as Lamb: Dressing for Middle Age in Georgian England
Lecture by Amand Vickery, Professor of Early Modern History at Queen Mary University of London.
10/19 | 4:00 pm | Olin-Sang 207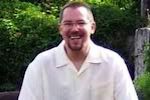 Double Vision: Opposition and Inversion in Taino Representational Art
Lecture by Jay VanderVeen, Assistant Professor, Indiana University South Bend. The Taino, the indigenous population of the Dominican Republic, made pottery that symbolized several ideas at one time, depending on the viewer's perspective. They combined representations of life and death, earth and sea, and male and female in one ceramic vessel or stone figure. Yet it is the interplay between the oppositions that seemed to be important to them.
10/21 | 4:00 - 5:00 pm | Brown 316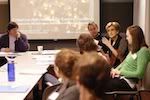 Peacebuilding and the Arts Weekend Intensive - Community Cultural Development
This event is designed for organizers, artists, cultural workers, students, educators and policy-makers in the fields of peacebuilding, the arts, and sustainable community, youth, women's, and economic development. The program opens on Friday evening with a multi-media presentation by Jane Sapp, a cultural organizer and musician based in Atlanta, Georgia, which is free and open to the public.
Open Presentation: 10/21 | 7:00 - 9:30 pm | Slosberg Recital Hall
Biotech, Healthcare & Science Forum
10/18 | 6:00 - 9:00 pm | Sherman Function Hall
Explore careers in science and health-related organizations through direct exposure and discussions with current professionals in related fields. The forum will feature an expert panel presentation followed by round table networking sessions for students, alumni, and employer guests.
10/21 | 7:00 - 9:00 pm | Olin-Sang
Jubilee Project will show a few shorts, debut their 30 minute featurette about college life and speak about important issues affecting us today, how to tackle them, and share a little bit how being Asian American has influenced their lives and talk about their own college experiences.
Blog Stories and Profiles
Reflections on a Mass Murder: Seventy Years after Babi Yar
In the first half of the symposium, the speakers dealt with the event by examining it through the lenses of the current level of knowledge about what happened prior to and during the main massacre, as well as how it was discussed in Yiddish press in the following years and decades.

Brandeis-India Reception celebrates India Initiative Fellows

Students and faculty gathered in the Mandel Center for the Humanities last Monday evening, enjoying a delicious Indian buffet and catching up with friends and colleagues while Brandeis-India Initiative Fellows shared stories from their summers abroad in India.


Global Brandeis Profile: Sarah Van Buren '13

"[My three] passports are kind of a metaphor for me: every single place I go, every single person I meet, they put like a stamp on me, and it imprints and develops how I am."
Bringing business savvy to health care

It was while serving as assistant to the head of a New Orleans community health clinic that IBS alum Muhammad Bagana realized that if he wanted to help change international health care, he would need to learn more about management and how businesses operate.

German dynamo powers innovative energy course
Barbknecht's on-campus talk and guest lecture last year stimulated so much interest that he offered to teach a three-week seminar this fall revolving around international gas markets and related issues of energy and sustainability.
On Sept. 26, the Rhode Island Board of Governors for Higher Education approved a policy change allowing illegal immigrants access to in-state tuition if they have attended high school within the state for at least three years.
HBI Scholar-in-Residence Alumna Ruth Ellen Gruber Awarded the Knight's Cross of the Order of Merit of Poland

The award, presented by President Bronislaw Komorowski, is presented each year to a foreigner for outstanding service to the Polish nation. Ruth has been involved in documenting the history of the Polish people for more than 30 years.