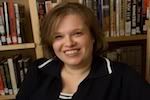 What's Russian about Russian Jews?
Dr. Olga Litvak (Clark University) will explore (and explode!) some common historical myths about the character of Russian Jewry. We will ask why are Russian Jews are so often viewed through a haze of nostalgia for a lost traditional world and analyze critically some of the most important buzzwords in the construction of the Russian-Jewish past, including shtetl and pogrom.
9/26 | 7:00 pm | Shiffman 125
9/26 | 7:00 - 8:30 pm | ASAC Atrium
The goal of this event is to give potential Study Abroad students an idea of the kinds of experiences queer- and ally-identified students have had while studying abroad in prior years. Our hope is that this panel will help answer any questions that potential Study Abroad queer and ally-students may have, and give them a resource in their decision-making.

Year-In-Service Interview Preparation Workshop

9/27 | 6:00 - 7:00 pm | Hiatt Career Center, Usdan
Learn how to interview effectively for Year in Service programs. Several competitive Year in Service programs have priority deadlines in the early fall, including Teach For America, City Year, Citizen Schools, Boston Teacher Residency, SCA/Conservation Corps, Teach For China, and JET.
Blog Stories and Profiles