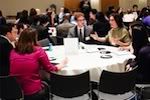 SoJust Forum: Journeys in Social Justice Beyond Brandeis
Committed to social justice and looking to make a career of it? Hear alumni talk about how their years at Brandeis prepared them to pursue careers in public service and engage in social justice in the real world. Follow their journey from their Brandeis experience - from academics, social life, and community service to international experience, internships, and mentorships - to their current career in the public interest.
9/6 | 6:00 - 9:00 pm | Sherman Function Hall, Hassenfeld
UN Recognition of Palestinian Statehood: A New Dawn or Another Debacle?

This September, Palestinian representatives will call for a unilateral declaration of statehood in the United Nations. The implications and consequences of such a step will be explored by two experienced observers and participants in Israeli/Palestinian negotiations: David Makovsky, Ziegler Distinguished Fellow and Director of the Project on the Middle East Peace Process at the Washington Institute; and Ghaith al-Omari, Executive Director at the American Task Force in Palestine and advisor to then Prime Minister Mahmoud Abbas.

9/7 | 5:00 pm | Hassenfeld Conference Center
9/11: How It Has Changed Our Thinking

Marking the 10th anniversary of 9/11, members of the Brandeis community will reflect on this defining moment in American and world history and its ongoing impact. Featuring Kanan Makiya (NEJS), Dan Kryder (POL), Isabella Jean, MA '06 (COEX), Michael Perloff '12, and moderated by Daniel Terris, Director of the International Center for Ethics, Justice and Public Life and Vice President of Global Affairs.



9/7 | 6:00 pm, Shapiro Campus Center Art Gallery
The Vilna Ghetto Theater: Yiddish Poetry Set to Music (1941-1943)
9/8 | 7:00 pm | Rapaporte Treasure Hall
In commemoration of the ghetto's establishment 70 years ago, CGES is presenting moving and witty excerpts from four revue shows composed by gifted composers and lyricists.

Music for 2, 3 and 4: Honoring Irving Fine
9/10 | 8:00 pm | Slosberg Music Center



Join the Lydian String Quartet's Daniel Stepner (violin), Mary Ruth Ray (viola) and Joshua Gordon (cello), and guest Ya-Fei Chuang as they play Fine, Ravel, and Fauré.


Blog Stories and Profiles

Reflections on a summer in The Hague

Students who partook in the Summer 2011 Brandeis in The Hague Program had astounding, life-changing experiences. The post contains a few quotes from participants that demonstrate this amazing journey.
New courses explore terrorism, religion, music

Brandeis is offering 41 new courses this semester, including "The War on Global Terrorism", "Behind the Veil: Religion, Race and Ethnicity in France", and "Music and Culture in the Middle East".

From Boston to Brazil - 6 exciting jobs our students tackled this summer

While students elsewhere may have been vacationing or relaxing at home, returning International Business School students were hard at work all over the globe.

Concert season showcases acclaimed music faculty
The Brandeis Music Department will offer more than 70 performances this year - ranging from classical, jazz, world, funk, and new music - beginning with a tribute to its founder Irving Fine.
Do you like our new look?

You asked, we listened! Thanks to your feedback from our spring survey, we are happy to present our new and improved newsletter. We hope that it is more informative and simpler to read than ever before!

Looking for event funds or publicity?

The International Center for Ethics, Justice and Public Life invites requests for cosponsorship of events relating to their core mission and themes. The first deadline is Friday, 9/9 at 11:00 am.