What IF? Speak-In!

11/15 | 7:30 - 9:00 p.m.
Rappaporte Treasure Hall, Goldfarb Library



The evening will feature a short film, keynote speaker President Elect Fred Lawrence and interfaith dialogue around the value of service.

"A Sea Change" screening and discussion

11/16 | 6:00 - 8:00 p.m.
Location: G12, Mandel Center for the Humanities



A screening of the award-winning documentary. MIT Ocean expert Andreas Klocker will discuss the film afterward.


The Return of the Avant-garde: Art and Architecture in Iran's Street Politics

11/17 | 12:00 - 1:45 p.m.
Levine-Ross, Hassenfeld Conference Center



Lecture by Prof. Talinn Grigor, Assistant Professor of modern and contemporary architecture in the Department of Fine Arts.

A SMALL ACT - Film screening and discussion

11/17 | 6:15 p.m.
Lurias, Hassenfeld Conference Center



Tells the story of two very unlikely philanthropists whose modest acts of charity shine a light on the incredible power of giving-no matter how small the gift.

Returning to the Old New World

11/18 | 12:30 - 2 p.m.
Women's Studies Research Center, Lecture Hall



This talk will describe colorful clashes between the old and new Russia in politics, economics and human behavior on the street.

Discovering the Jewish World: The Polish-Jewish Refugee Crisis, 1648-1683

11/18 | 4:00 - 6:00 p.m.
Lown 315



Lecture by Adam Teller, Brown University.


Shakespeare in World Cinema: "Omkara"

11/18 | 5:00 p.m.
Mandel Center G03



Screening of an Indian version of Othello (in Hindi with English subtitles). Discussion afterward led by Harleen Singh (GRALL) and Govind Sreenivasan (HIST).


Sunday in the Park With George

11/18-11/21 | various times
Spingold Theater



The life and work of Georges Seurat and his most famous painting "A Sunday Afternoon on the Island of La Grande Jatte" come to vivid life in this Pulitzer-Prize winning musical.


MELA

11/20 | 7:00 p.m.
Levin Ballroom



The Brandeis South Asian Students Association (SASA) sponsors this event, the largest annual cultural show on campus.


Brandeis-Wellesley Orchestra

11/21 | 7:00 p.m.
Slosberg Recital Hall



Liszt's "Hungarian Fantasy," Hindemith's "Der Schwanendreher" and Sibelius' Symphony no. 1. Neal Hampton, conductor.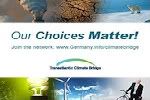 Climate Change Campusweeks to be celebrated on campus
When Germany celebrated the 20th anniversary of the fall of the Berlin Wall in 2009, the German Embassy in Washington D.C. decided to invite college campuses to join in the celebration with events about "Borders Without Walls". It was a huge success, and so this year the Embassy decided to follow up on that with a nation-wide series of "Climate Change Campusweeks" under the title "Choices that Matter". See the events in the left and right sidebars for more information, or click here for the schedule.


GRALL presents "Shakespeare in World Cinema: A Film Series"

This year, the Department of German, Russian, and Asian Languages and Literature is showing films of Shakepeare adaptations from other nations. Next week, you can see Omkara: Othello in Hindi (see more information in the left sidebar). Next semester's features will be: a Chinese Hamlet, The Banquet, on Feb. 17; a Japanese Macbeth, Kumonosu-jo, on Mar. 17; and a German Romeo and Juliet, Kebab Connection, on Mar. 31. All films are shown in their orginial language with English subtitles. Following each film is a discussion led by members of the Brandeis faculty.

Celebrate International Education Week 2010!
International Education Week is an opportunity to celebrate the benefits of international education and exchange worldwide. This joint initiative of the U.S. Department of State and the U.S. Department of Education is part of their efforts to promote programs that prepare Americans for a global environment and attract future leaders from abroad to study, learn, and exchange experiences in the United States. Visit the IEW website to learn more.


Israeli Occupation Awareness Week promoted Israel-Palestine dialogue
This past week (Nov. 8-12), Brandeis observed Israeli Occupation Awareness Week, sponsored by Brandeis Students for Justice in Palestine and Jewish Voice for Peace. This week was part of the former group's efforts "to give a voice to those who are interested in promoting the Palestinian perspective/narrative/point of view on campus." Among the events were a lecture MIT Linguistics Professor and world renowned activist Noam Chomsky, a discussion on boycotts led by activist Alice Rothchild, and an Israel Gourmet Buffet sponsored by the Brandeis Zionist Association.


Ethical Inquiry: Debating "Judicial Activism" - How Far Should Judges Go?
This month's Ethical Inquiry explores the concept of "judicial activism": to what extent should there be a human, personal aspect of judgment when judges are asked to render a final answer to a complex question? Read both sides of this fascinating debate.

Empowering Through Education
This video profiles Shaina Gilbert '10, who founded the organization ETE Camp in her native Haiti - drawing upon her classwork and service work in college.
The Other Side of Home
Sriya Srikrishnan '12 investigates health problems in her native Mumbai.

Global Impact: Preventable Blindness in Rural India
Sammy Icaza '12's involvement in the NGO Unite for Sight was a chance encounter that turned into a perfect match.
Students for Environmental Action Coffeehouse

11/15 | 9:00 p.m.
Chum's



Students for Environmental Action host this kick-off Coffeehouse to begin Climate Change Campusweeks.


Homemade Chinese Food and Bubble Tea! - Ping Pong Tournament

11/18 | 7:00 - 10:00 p.m.
Usdan Game Room



Come join the China Care Club for their kickoff event. Admission is $3, and all the proceeds go to the China Care foundation. You can have a night of fun playing pool, competing with Professor Feng or other students in ping pong, and enjoying authentic homemade Chinese cuisine all while helping orphans in China with special medical needs.
Special Double Issue!

This edition of the Global Affairs Newsletter covers two weeks, from November 15-28, due to the Thanksgiving holiday. Be sure to check the Events page for more events and updates as they are added!
Brandeis Student

receives major award

Congratulations to Casey Golomski (PhD Candidate, Anthropology), who is this year's winner of the Carrie Hunter-Tate Award given by the National Association of Student Anthropologists of the American Anthropological Association, to a student who has demonstrated excellence in academic and professional achievement. Golomski is also the recipient of two Fulbright awards. He is currently in Swaziland, Africa conducting his Fulbright-supported dissertation fieldwork.
Summer Study Abroad Information Session: Focus on CET Catania and Brandeis in The Hague

11/17 | 4:00 - 5:00 p.m.
Multipurpose Room, Shapiro Campus Center



Come learn more about studying abroad over the summer for Brandeis credit! You'll learn about how to choose a program, apply, transfer credit and look for financial aid. Representatives from Brandeis in The Hague and the CET program in Catania, Italy will also be available to answer your questions.


How to Find an Internship Workshop

11/19 | 2:00 - 3:00 p.m.
Hiatt Career Center, Usdan



Come learn about tips and techniques for finding a summer or academic internship. Also, learn about Hiatt's World of Work (WOW) fellowships to fund unpaid internships this summer!


Apply to the Clinton Global Initiative University

CGI U is President Clinton's initiative designed to engage the next generation of leaders on college campuses around the world. Each CGI U student member makes a Commitment to Action: a specific plan of action that addresses a pressing challenge on their campus, in their community, or around the world. Click here to apply.