Heritage Speakers: Adventures in Re-learning

9/21 | 5:00 p.m.
Lown 315

Do heritage speakers who choose to re-learn their home language as young adults have an advantage in it? The short answer is "not always". The talk will show where advantage occurs and where it is absent and will offer several explanations as to why re-learning one's childhood language is no laughing matter.




Film screening and Q&A: "Iron Cross"

9/21 | 7:00 p.m.
Wasserman Cinematheque, Sachar International Center

This is the late Roy Scheider's last film: the story of a man who believes he has found the Nazi official who killed his parents and siblings. Director Joshua Newton, producer Kevin Farr, and actor Zander Newton will take questions. Tickets are free but required for admission.



"State of Peace" Film Screening and Discussion

9/21 | 8:00 p.m.
Golding 110

Without a standing army and with some of the happiest people in the world, Costa Rica has a unique history and culture of peace. However, Costa Rican society is not entirely devoid of violence. "State of Peace" explores the extent to which Costa Rica remains a model of peace for the world.



September Events
Career and Community Service fairs, a Rosenberg Institute guest speaker, an Anthropology colloquium, and a Crown Center Brown Bag Seminar are among the events that close out this month.

Global Event Highlights for 2010-2011
Learn about some of the most exciting upcoming programs of the year!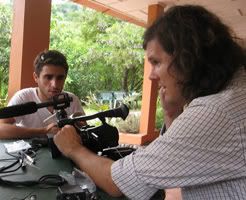 Documentary "State of Peace" to premiere at Brandeis
On Tuesday, Brandeis alumni Jonah Cohen, Ned Crowley, and Alex Epps will be screening for the first time in North America their new documentary film "State of Peace" about Costa Rica's peace movement (see event list, left). The three chose Costa Rica for their documentary because of its incredible record on peace and non-violence: it was the third country in the world to create a Ministry of Peace, and the first non-conflict nation to establish it. A Q&A with the team will follow the screening.

New art exhibit opens at the WSRC

A new exhibit, "No Man's Land: The Women of Mexico" opens this week in the Kniznick Gallery of the Women's Studies Research Center. This exhibition of color photographs by Dana Romanoff explores the changing role of women left behind in rural towns of Oaxaca, Mexico, after their husbands and sons travel to the United States in search of work. In addition to the showcase, there will also be a Reception with the Artist, an Artist's Talk and Video Documentary, and an Immigration Reform Panel.


Tzipi Livni, a former foreign minister of Israel who is currently leader of the opposition in the Knesset and head of the Kadima party, will address Israel-Diaspora relations in a Town Hall meeting-style program at Brandeis on Monday, October 4. Livni's party is the largest in Israel's parliament, and she has become one of the country's leading voices for a two-state solution to the Israeli-Palestinian conflict.
Nurtrition for Kids: Morsels from Japan
Jennifer Lin '09 comments on nutrition in Japanese schools and how it compares to her own childhood in America.



At the Annual Study Abroad Fair
Bryan McAllister-Grande reports from 2010 "Go Away" Study Abroad Fair yesterday. Over 40 program representatives and many students attended, and there was "definitely a spirit of adventure in the room".


Brandeis to Host New England-Israel Life Sciences Summit

On October 18-19, Brandeis International Business School is collaborating with the New England-Israel Business Council to host the New England-Israel Life Sciences Summit, which introduces Israeli life sciences companies to investors, partners, and collaborators in New England.

Film screening: "Au revoir les enfants"

9/21 | 7-9:30 p.m.
Lown 002

Au revoir les enfants (Goodbye, Children), a 1987 film written, produced, and directed by Louis Malle will be shown in French with English subtitles.

AAAS Meet the Majors

9/22 | 4:00 p.m.
2nd Floor, Mandel Center for the Humanities

Come "meet the majors" of the Deparment of African and Afro-American Studies.

KSA Chuseok Event
9/24 | 6:00 - 9:30 p.m.
Ridgewood A Common Lounge

The Korean Students Association will be hosting this event to celebrate Korean Thanksgiving.

Send us videos or photos of your global experience!



Do you have some video footage from a trip abroad? Perhaps some stellar photographs from overseas? We would like to publish it in our blog! Please contact us for more details.

Study Abroad Information Session

9/20 | 4:00-5:00 p.m.
Academic Services Conference Room, Usdan

This session provides an overview of the off-campus study process at Brandeis: tips for researching programs and destinations, the application process, getting credit for your work off campus, financial aid, and other resources and services.

Summer Internship Funding Session

9/21 | 5:00 - 6:00 p.m.
Abraham Shapiro Academic Complex Atrium

Given the chance, how would you change the world? Come learn about different internship funding opportunities for summer 2011.