Greetings! ,

We have officially moved! We are now settled in at our new location at 1175 Woods Crossing Road in the Shops by the Mall shopping center with Fried Green Tomatoes, Five Guys, and Jimmy John's. Thanks again to all of our friends and customers who showed up to help us with the move! If you haven't stopped by yet, please come in and check out our new space.
Store News
When school starts, we'd appreciate it if you could bring in any reading lists that your children's teachers may hand out so that we can make copies and stock up.
Upcoming Events
If you are unable to make one of our author events, you are welcome to reserve signed copies by contacting us in advance, by email at info@fiction-addiction.com or by phone at 864-675-0540. Personalized copies will need to be prepaid.
Thursday, August 9th, 7:00pm: Tracy Crow In-Store Talk & Signing, Free (but RSVPs requested)
Former U.S. Marine Tracy Crow will be discussing and signing her new memoir, Eyes Right: Confessions from a Woman Marine (University of Nebraska Press, hardcover, $24.95), at Fiction Addiction. A clear-eyed self-portrait of a troubled teen bootstrapping her way out of a world of alcoholism and domestic violence, this is also a rare inside look at the Marines from a woman's perspective. You can reserve your spot by emailing us at info@fiction-addiction.com or by calling us at 864-675-0540.
Thursday, August 16th, 7:00pm: Benjamin W. Farley In-Store Talk & Signing, Free (but RSVPs requested)
Professor and author Benjamin W. Farley will be discussing and signing his new historical novel, Three Thousand Days and Nights: A Novel of the French and Indian War (Lydia Inglett, hardcover, $24.95), at Fiction Addiction. Based in history, this fight of freedom tells of many different peoples, deeply affected by the events unfolding around them, each with the common desire for a new life of freedom and independence in this newly settled country. You can reserve your spot by emailing us at info@fiction-addiction.com or by calling us at 864-675-0540.
Monday, August 20th, 7:00pm @ St. Giles Presbyterian Church: Marybeth Whalen Talk & Signing, Free (but tickets required)
North Carolina author Marybeth Whalen will be discussing and signing her new Christian fiction novel, The Guest Book (Zondervan, paperback, $14.99) at St. Giles Presbyterian Church (1021 Hudson Rd., Greenville). After her talk, she will take questions from the audience and then sign books. The event is free and open to the public, but admission tickets are required. You can reserve your ticket by emailing us at info@fiction-addiction.com or by calling us at 864-675-0540.
Book Your Lunch with Courtney Miller Santo: Friday, August 24th, 12:00pm @ The Lazy Goat
Courtney Miller Santo's debut novel, The Roots of the Olive Tree (William Morrow, hardcover, $25.99, on sale 8/21/12), follows the lives of five women from different generations of the same family tree , all living together under one roof. You can purchase tickets online at www.bookyourlunch.com or by calling us at 864-675-0540.
Friday, August 24th, 1-3pm: Lee Patterson In-Store Signing
Upstate South Carolina author Lee Patterson will be signing copies of his novel, The Assassination of the President of Iran (CreateSpace, paperback, $13.99), at Fiction Addiction. The President of Iran is assassinated in a conspicuous place, and the Iranian police can't determine the identity or location of the killer. Enter Rocky Storm to assist in solving the greatest assassination plot and mystery ever conceived.
Book Your Lunch with Robert Leleux: Wednesday, August 29th, 12:00pm @ Southern Fried Green Tomatoes, $20
Texas author Robert Leleux's memoir, The Living End: A Memoir of Forgetting and Forgiving (St. Martin's Griffin, hardcover, $19.99), discusses the surprising love and peace his family discovered in the midst of his grandmother's journey through Alzheimer's. You can purchase tickets online at www.bookyourlunch.com or by calling us at 864-675-0540.
Fiction Addiction Cookbook Club
Monday, September 3rd, 6:30pm @ Wine Styles
Thursday, September 6th, 7:00pm @ Fiction Addiction*
Fiction Addiction's cookbook clubs meet the first week of every month, on Monday at Wine Styles (3935 Pelham Rd. Ste. F) and on Thursday at Fiction Addiction* (1175 Woods Crossing Rd.). From July to September, we will be preparing recipes from and discussing Southern Living Farmers Market Cookbook (Oxmoor House, hardcover, $29.95).
*Please note the change in venue for the Thursday club. We are no longer meeting at Palmetto Olive Oil Co. We are now meeting at Fiction Addiction's new store location at 1175 Woods Crossing Rd.
We have room available in both clubs, so if you're interested in joining, please email us at info@fiction-addiction.com or call us at 864-675-0540 for information or to sign up. You can preview the club agreement here.
Children's Storytime
Join us for storytime every Thursday morning at 10:30am. We will be reading the following titles during August:
2nd: Rat and Roach: Friends to the End by David Covell (Viking, hardcover, $12.99)
9th: Boy + Bot by Ame Dyckman (Alfred A. Knopf, hardcover, $16.99)
16th: Mom, It's My First Day of Kindergarten! by Hyewon Yum (Farrar, Straus and Giroux, hardcover, $16.99)
23rd: Rocket Writes a Story by Tad Hills (Schwartz & Wade, hardcover, $17.99)
30th: Toot and Pop! by Sebastien Braun (HarperCollins, hardcover, $12.99)
A Hundred Flowers by Gail Tsukiyama (St. Martin's Griffin, hardcover, $24.99)
Ten years before the Cultural Revolution, during the Hundred Flower Campaign, Mao encouraged intellectuals and scholars to speak up to help create a stronger China. Unfortunately, it became a ruse to lure out those who would speak against the communist government. In A Hundred Flowers,
Gail Tsukiyama takes you into the lives of a family that has been touched by this campaign.
If you enjoy the works of Lisa See or Amy Tan, you will find A Hundred Flowers a compelling read filled with an intimacy that reflects the true nature of family. An August 2012 Indie Next Pick.
August Store Picks
Little Nelly's Big Book by Pippa Goodhart (Bloomsbury, hardcover, $16.99)
When Little Nelly (the elephant) reads a book one day that describes mice, she's convinced she's a mouse but soon discovers that she's different from the other mice. Then she discovers "zoo mice" that look like her...only to have Micky the mouse tell her that he's not a mouse after all -- he's an elephant. The contradictions in this picture book will have your children rolling with laughter -- and you'll join them after reading the epiphany on the last page. ;)
-Recommended by Melissa Oates, store employee and mother of 2
Sugarhouse by Matthew Batt (Mariner Books, paperback, $14.95)
A funny yet poignant account of how Batt and his wife pursue the American Dream of owning their own home.
They couldn't afford the home they wanted, so they decided to renovate the one they could -- which happened to be a former crack house -- despite neither of them knowing the difference between a flat head and a Phillips head screwdriver.
The descriptions of sitting through Home Depot classes, dealing with contractors, and wrestling an orbital sander had me shamelessly laughing at Batt's adversity.
With a writing style reminiscent of Bill Bryson's
A Walk in the Woods
,
Sugarhouse
was thoroughly enjoyable from start to finish.
-Recommended by Kathleen Perry, store employee
Insignia by S.J. Kincaid (Katherine Tegen Books, hardcover, $17.99)
For those missing Hogwarts, I encourage you to jump into the world of Insignia, a YA science-fictional tale featuring Tom Raines, an abysmal student but extraordinary gamer, who is recruited into the prestigious Pentagonal Spire military academy and offered the chance to finally belong. A Summer 2012 Kids' Indie Next Pick.
-Recommended by Jill Hendrix, store owner

Seraphina by Rachel Hartman (Random House, hardcover, $17.99)
Set in medieval times, Rachel Hartman explores dragonkind and their relationships with humans in her debut novel, imagining dragons in a new and creative way. Seraphina, half human and half dragon, must use her inner strength to find a way to make the peace between the two species last while still struggling to hold on to her own identity. Recommended for fans of Kristin Cashore's Graceling and Christopher Paolini's Inheritance series. A Summer 2012 Kids' Indie Next Pick.
-Recommended by Melissa Oates, store employee

Andrew Henry's Meadow by Doris Burn (Philomel, hardcover, $14.99)
First published in 1965, Andrew Henry's Meadow was my favorite picture book
growing up. Again and again, I would return to the story of creator,
inventor, and thinker, young Andrew Henry, and the neighborhood he built for
himself and his friends as they sought refuge from being misunderstood and
under-appreciated by their families. Once my own children came along, I
shared this treasure with them and it quickly became a family favorite. I
am thrilled to see it re-issued for another generation to enjoy.
-Recommended by Cynthia Clack, store employee and mother of 9

The Care and Handling of Roses with Thorns by Margaret Dilloway (Putnam, hardcover, $26.95)
The title, The Care and Handling of Roses with Thorns, aptly describes the main character, Galilee Garner, who is as prickly as the roses she breeds. Though Gal has been on dialysis for years and her diagnosis is grim, she steadfastly perseveres with her life and unexpected obstacles, like her teenaged niece's surprise arrival for the summer. I recommend this satisfyingly enjoyable novel, which is full of heart and pluck, to bookclubs and fans of Saving CeeCee Honeycutt. An August 2012 Indie Next Pick.
-Recommended by Jill Hendrix, store owner
(seconded by Melissa)
Earth Unaware by Orson Scott Card & Aaron Johnston (Tor, hardcover, $24.99)
The people aboard the asteroid mining ship El Cavador are the first to get a glimpse of a strange alien vessel, but they're not sure of its importance until it completely obliterates another mining family. Now they know what they're up against, but can they stop it? The first in a new series set several generations before Ender, readers are now given a chance to see what the first human contact with the formics was like and how Ender's world came about. Card fans rejoice, as this book is everything you could want it to be, with strong characters, plenty of action, and a great plot.
-Recommended by Melissa Oates, store employee
Upcoming Releases
Love Is the Cure by Sir Elton John (Hachette Book Group, hardcover, $27.99)
In the 1980s, Elton John saw friend after friend perish needlessly from AIDS. In the midst of the plague, he befriended Ryan White, a young Indiana boy ostracized by his town and his school because of the HIV infection he had contracted from a blood transfusion. Since Ryan's death
, Elton has dedicated himself to overcoming the plague and the stigma of AIDS. Love Is The Cure is Elton's personal account of his life during the AIDS epidemic. With powerful conviction and emotional force, he conveys the personal toll AIDS has taken on his life -- and his infinite determination to stop its spread.
See more August Biography & Autobiography releases
See more August Music releases
Regional Fiction

The Best of Me by Nicholas Sparks (Grand Central Publishing, paperback, $14.99)
Though they were from opposite sides of the tracks, the love Amanda Collier and Dawson Cole felt for one another seemed to defy reality. But as their senior year came to a close, unforeseen events would tear them apart, setting them on radically divergent paths. 25 years later, they're summoned home for the funeral of their mentor. As they carry out the instructions left behind for them, they realize that everything they thought they knew was not as it seemed. Forced to confront painful memories, the two former lovers will discover undeniable truths about the choices they have made.
General Fiction

Yankee Doodle Dixie by Lisa Patton (St. Martin's Griffin, paperback, $14.99)
Whether in Vermont snow or in Memphis heat, 34-year-old Leelee Satterfield is never too far from misadventure, calamity, and ultimately love. Having watched her life turn into a nor'easter, Leelee is back home in the South, ready to pick up where she left off. But that's a task easier said then done; she's a single mom, still dreaming of the Vermonter who stole her heart. Accompanied by her three best friends who pepper her with advice, nudging, and peach daiquiris, Leelee opens another restaurant and learns she has to prove herself yet again.
Train Dreams by Denis Johnson (Picador, paperback, $12.00)
Denis Johnson's
Train Dreams
is an epic in miniature, one of his most evocative and poignant fictions. It is the story of Robert Grainier, a day laborer in the American West at the start of the twentieth century -- an ordinary man in extraordinary times. Buffeted by the loss of his family, Grainer struggles to make sense of this strange new world. As his story unfolds, we witness both his shocking personal defeats and the radical changes that transform America in his lifetime.
Misfit by Adam Braver (Tin House Books, paperback, $15.95)
Melding facts with imagination,
Misfit
is centered around the last weekend of Marilyn Monroe's life, which, wanting to get away from the stress of a lawsuit filed against her by Twentieth Century Fox, she spent at Frank Sinatra's resort. Using this weekend as a springboard, the novel explores moments throughout Monroe's career when she altered her persona -- from her childhood, to her famous marriages, to her studies with Lee Strasberg at the Actors Studio, and finally to her role in the film Arthur Miller wrote for her,
The Misfits
.
View more August Literary Fiction releases
View all August Fiction releases
Mystery & Suspense

The Empty Glass by J.I. Baker (Blue Rider Press, hardcover, $25.95)


On August 5, 1962, Los Angeles County deputy coroner Ben Fitzgerald arrives at the home of the world's most famous movie star. There he discovers

Marilyn Monroe's diary, revealing a doomed love affair with a man she refers to only as "The General." In the following days, Ben unravels a wide-ranging cover-up and some heartbreaking truths about the woman behind the celebrity. Soon the sinister and surreal accounts in

the diary

bleed into Ben's own life, and he finds himself, like Monroe, trapped in a deepening paranoid conspiracy.




The Renegades by Tom Young (Putnam, hardcover, $26.95)
An earthquake ravages Afghanistan, and American troops rush to deliver aid, among them Lieutenant Colonel Michael Parson and Sergeant Major Sophia Gold. Meanwhile, a Taliban splinter group is conducting its own campaign -- shooting medical workers, downing helicopters, slaughtering anyone who dares to accept aid. It is up to Parson, Gold, and Parson's Afghan aircrews to try to figure out how to strike back. But they're short of supplies, men, experience, and information -- and the terrorists seem to be nowhere . . . and everywhere.
The Fallen Angel by Daniel Silva (Harper, hardcover, $27.99,

*Signed First Editions Available*

)
The body of a beautiful woman lies broken in St. Peter's Basilica. The Vatican police suspect suicide, though Gabriel Allon believes otherwise. So, it seems, does Monsignor Luigi Donati, private secretary to the Pope. But Donati is fearful that a public inquiry might inflict yet another scandal on the Church, and so he calls upon Gabriel to quietly pursue the truth. Gabriel learns that the dead woman had uncovered a dangerous secret that threatens a global criminal enterprise. But there's more: a mysterious operative is plotting an act of sabotage that will plunge the world into a conflict of apocalyptic proportions . . .
Creole Belle by James Lee Burke (Simon & Schuster, hardcover, $27.99,

*Signed First Editions Available*

)
With morphine playing tricks on his mind, Dave Robicheaux can't be sure whether Tee Jolie Melton, who disappeared weeks ago, actually visited him. When he learns that her sister has turned up dead, and as oil companies continue to risk human lives after an oil spill in the Gulf, Dave begins to see links to the Melton sisters. His ex-partner Clete Purcel helps Dave search for Tee Jolie, but Clete has his own troubles, too; he's discovered an illegitimate daughter who may be working as a contract killer -- and may have set her sights on someone he loves.
See more August Mystery & Detective releases
See more August Suspense releases
See more August Thriller releases
Science Fiction & Fantasy

The Iron Wyrm Affair by Lilith Saintcrow (Orbit, paperback, $13.99)


Emma Bannon, forensic sorceress in the service of the Empire, has a mission: to protect Archibald Clare, a failed, unregistered mentath. It doesn't help that they barely tolerate each other, or that Bannon's Shield might be a traitor himself. Or that the conspiracy killing registered mentaths and sorcerers alike will likely kill

them

.

In an alternate London where illogical magic has turned the Industrial Revolution on its head, Bannon and Clare now face hostility, treason, cannon fire, black sorcery, and the problem of reliably finding hansom cabs.




Countdown: H Hour by Tom Kratman (Baen, paperback, $7.99)
It's hostage rescue time once again for Terry Welch's special operations company. But this is turning out to be one of those missions, topped off by having to endure a rifle company of hated competitors supposedly sent along for reinforcement. But then an attack on both companies' home bases leaves families and friends under threat of death and any available support scurrying to defend. Worse, advance team members sent to reconnoiter have been taken hostage as well. Welch knows there's only one solution: do whatever it takes.
See more August Science Fiction releases
See more August Fantasy releases
Romance

Sweet Talk by Julie Garwood (Dutton, hardcover, $26.95)
Olivia MacKenzie has stumbled into the middle of an FBI sting operation and has reduced it to chaos. Months of surveillance and careful planning down the drain, agent Grayson Kincaid's partner is furious. Olivia isn't intimidated because she's something even scarier than FBI . . . she's IRS. She's on the trail of an elaborate Ponzi scheme, but after she asks questions of the wrong people, her life is suddenly endangered. Smart enough to know when to call for reinforcements, she contacts Grayson Kincaid. Together they make an excellent team.
The Inn at Rose Harbor by Debbie Macomber (Ballantine, hardcover, $26.00, on sale 8/14/12,

*Signed Copies Available*

)
Coping with the death of her husband, Jo Marie Rose purchases a local bed-and-breakfast, ready to begin her life anew.
Her first guest is Joshua Weaver, who has come home to care for his ailing stepfather. The two have never seen eye to eye, and Joshua has little hope that they can reconcile their differences.
The other guest is Abby Kincaid, who has returned to Cedar Cove to attend her brother's wedding. Back for the first time in 20 years, she almost wishes she hadn't come, the picturesque town harboring painful memories from her past.
See more August Romance releases
Children's & Young Adult

Frankenstein by Ludworst Bemonster (Feiwel & Friends, hardcover, $14.99)
This laugh-out-loud funny and devilish send-up of Ludwig Bemelmans's Madeline is for little monsters everywhere. Frankenstein is the scariest of all the monsters in Miss Devel's castle. He can frighten anything -- animals, parents, even rocks. Until one night, Miss Devel wakes up and runs downstairs to find that Frankenstein has lost his head!
Where Things Come Back by John Corey Whaley (Atheneum, paperback, $8.99)
In the summer before Cullen Witter's senior year of high school, his cousin overdoses; his town becomes absurdly obsessed with the alleged reappearance of an extinct woodpecker; and most troubling of all, his 15-year-old brother suddenly and inexplicably disappears. Meanwhile, a young missionary's disillusion in Africa prompts a frantic search for meaning that has far-reaching consequences. As distant as the two stories initially seem, they are woven together through masterful plotting and merge in a surprising and harrowing climax.
Throne of Glass by Sarah J. Maas (Bloomsbury, hardcover, $17.99)
18-year-old assassin Celaena Sardothien is offered her freedom on one condition: she must act as Prince Dorian's champion in a competition to find a new royal assassin. If she beats her opponents in a series of eliminations, she'll serve the kingdom for three years and then be granted her freedom. Things get interesting when the prince starts to show interest in her . . . but it's the gruff Captain Westfall who seems to understand her best. Then contestants start turning up dead. Can Celaena figure out who the killer is before she becomes a victim?
Nevermore by James Patterson (Little, Brown & Co., hardcover, $17.99)
One last chance...
for Max, Fang, and Dylan...
before it all ends. Are you ready for the final chapter? Are you ready for the ultimate flight? Because THIS IS IT. One last incredible, explosive adventure with an astonishing ending that no one could have seen coming. The final book in the Maximum Ride series.


See more August Juvenile Fiction releases
See more August Juvenile Nonfiction releases
Thanks for your continued patronage!
Sincerely,
Jill Hendrix, Owner
Fiction Addiction
1175 Woods Crossing Rd. #5
J.K. Rowling's first book for adults,
The Casual Vacancy
(Little, Brown & Co., hardcover, $35.00), will be released on September 27th!
When Barry Fairbrother dies in his early forties, the town of Pagford is left in shock. Pagford is seemingly an English idyll, but it's not what it first seems. And the empty seat left by Barry on the parish council soon becomes the catalyst for the biggest war the town has yet seen.
2012 SIBA Book Award Winners

Children's Winner

Cookbook Winner

Fiction Winner

Nonfiction Winner

Poetry Winner

Young Adult Winner
Children's Storytime Volunteer Wanted
We're currently looking for a volunteer to help with our weekly children's storytime. At a specified time each week, the volunteer would read picture books to any children who attend, as well as pass out coloring pages and various other activities related to the stories read that day. Storytime currently occurs every Thursday morning at 10:30am, but the day and time can be adjusted after September to suit the volunteer's schedule. If you or someone you know is interested, please contact us for more information, by emailing
info@fiction-addiction.com
or by calling 864-675-0540.
August 9th is Art Appreciation Day

Julia Child's
100th Birthday is August 15th
August 24-26th:

Polly Iyer

The Fiction Addiction Book Club is being revamped! We will be meeting on the third Tuesday of each month* at Fiction Addiction. Here are some of the perks our members will enjoy:

* A FREE Reward Card as long as you're a member (regularly $10 per year)

* A FREE "advance reader copy" from our selection at every meeting you attend

* And more!

Here are the books we have chosen for upcoming meetings:
September 18th

October 16th

TBD
November 13th*
(*Please note that November's meeting will be on the 2nd Tuesday due to the holidays.)
My Bookstore
(Black Dog & Leventhal, hardcover, $23.95) is a new collection of essays releasing November 13th, 2012. These essays are written by great authors about the pleasure, guidance, and support that their favorite bookstores and booksellers have given them over the years, and
Fiction Addiction
is honored to be included in an essay written by Greenville's own
Mindy Friddle
! We have free samplers of the book on display, and we will be celebrating its release by having a joint signing with Mindy and Jill at Fiction Addiction on
Saturday, November 17th, from 2-4pm
.
Pre-order your copy today!
At the Movies

Little Free Library in Greenville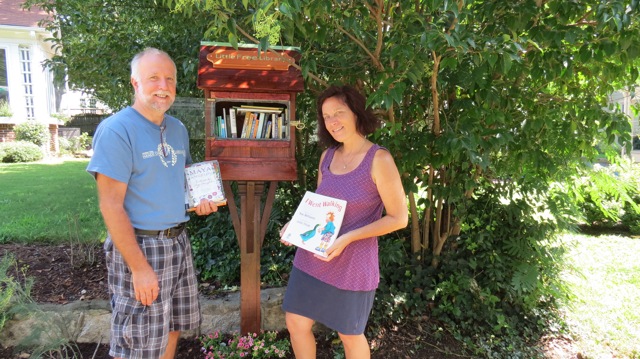 There was an article in USA Today earlier this year about the growing popularity of Little Free Libraries -- miniature buildings placed on lawns and filled with books for people to take for free, though borrowers are asked (but not required) to return a book. Greenville now has its own Little Free Library at the home of Don and Elissa Hudson on West Park Avenue.
Thanks to our friends at The Cook's Station for helping us advertise our Book Your Lunch events! In exchange, please check out their

Girls Night Out Cooking Class: Tues., August 7, 6-8pm, $40

Kids Summer Camp: Cook Outside "The Box": Wed., August 8, 9-11am, $30

"Breads" Hands-On Baking Class: Thurs., August 9th, 6-8pm, $40



Uncorked Wine & Tapas Tasting: Tues., August 14, 6-8pm, $30

Hands-On Sushi II Class: Thurs., August 16, 6-8pm, $40

TD Saturday Market Free Cooking Demo: Sat., August 25, 10:30am @ The Saturday Market

Professional Knife Sharpening Service: Mon., August 27, prices vary by knife type
Fiction Addiction customer Carl Roberts and son have just opened a new craft beer store in Simpsonville,
Crafted
. Stock up on beer for your televised sports parties, holiday gatherings, and gifts for the beer lovers in your life. You can visit the
Crafted
website for more information on new arrivals and beer tasting events.
Spend $50 in one transaction on in-stock merchandise (event tickets excluded), and pick a FREE "advance reading copy" from our selection!
We love to have volunteers help out at the store! Our volunteers receive a free "advance reading copy" for every three hours worked, and a 20% discount on all merchandise. If you're interested in volunteering at Fiction Addiction, please email Jill at
info@fiction-addiction.com
or call 864-675-0540.