This first week of July we not only celebrate our country's independence, but also the independent businesses around the country who work hard to employ your friends and neighbors and keep your hard-earned dollars in your community to pay for roads, schools, and more.

Here's the indie declaration of independence:

"When in the course of human events, it becomes appropriate for communities to assert their independence, to denounce uniformity and celebrate their uniqueness, a respect for freedom and human creativity requires independent businesses and peoples to declare those elements which make them interesting."

The easiest way to celebrate

Independents Week

(July 1st-7th) is to simply shop independent and we've appreciated your patronage this week and throughout the year!
Book Your Lunch / Book Your Tea

We are pleased to announce the launch of our children's author event series: Book Your Tea. These events will be held at Coffee Underground from 2-3:30pm. They will feature children's authors, and both children and adults are encouraged to attend. Here is our upcoming schedule, for both series, from July through October:
Book Your Tea Events
Thurs., 7/14, 2-3:30pm: Karin Lefranc, A Quest for Good Manners, @ Coffee Underground, $10, ages 5 and up
Mon., 8/1, 2-3:30pm: Kathryn Erskine, The Absolute Value of Mike, @ Coffee Undergound, $10, ages 9 and up
Book Your Lunch Events
Ticket prices are per person and must be purchased in advance by calling us at 864-675-0540 or online at
www.bookyourlunch.com
.
We appreciate your support for the Book Your Lunch event program and our new children's Book Your Tea event series!
July Events
If you can't make an event, we'd be happy to get books signed for you! Just call us in advance at 864-675-0540.
Saturday, July 9th: Denise & Jeff Johnson In-Store Signing, 1-3pm
Upstate South Carolina authors
Denise & Jeff Johnson
will be signing copies of their new book,
There Is No Perfect Husband or Wife
(Marriage Solutions Publications, paperback, $12.99), at Fiction Addiction on Saturday, July 9th, from 1-3pm. If you can't make the signing, just give us a call at 864-675-0540 to reserve a copy.
Thursday, July 14th: Book Your Tea with Karin Lefranc @ Coffee Underground, 2-3:30pm, $10 per person
Bring your children or grandchildren to get a lesson in manners from etiquette teacher
Karin Lefranc
and her first children's book,
A Quest for Good Manners
(Beluga Press, hardcover, $16.99) at our first-ever children's Book Your Tea event on Thursday, July 14th, from 2-3:30pm at Coffee Underground in downtown Greenville. Tickets are $10 each and must be purchased in advance at
http://www.bookyourlunch.com
or by calling Fiction Addiction at 864-675-0540. Recommended for ages 5 and up. Children are encouraged to come dressed as princes and princesses.
The Fiction Addiction Book Club is open to the public and meets the 3rd Tuesday of each month. In July, come discuss Robert Goolrick's bestseller,
A Reliable Wife
(Algonquin Books, paperback, $14.95).
Get a taste of Southern author and chef
Rick McDaniel
's new cookbook,
An Irresistible History of Southern Food
(The History Press, hardcover, $24.99) at our first-ever weekend Book Your Lunch event on Saturday, July 23rd, from 12-2pm at Soby's in downtown Greenville. Tickets are $25 each and must be purchased in advance at
http://www.bookyourlunch.com
or by calling Fiction Addiction at 864-675-0540.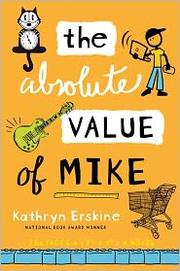 Monday, August 1st: Book Your Tea with Kathryn Erskine @ Coffee Underground, 2-3:30pm, $10per person

Join us for a rare chance to meet
Kathryn Erskine
, author of
Mockingbird
(Puffin, paperback, $6.99)
,
which won the 2010 National Book Award for Young People's Literature and was just named the 2011 SIBA Children's Book Award Winner. Ms. Erskine will be discussing both
Mockingbird
and her new children's book,
The Absolute Value of Mike
(Philomel, hardcover, $16.99). This event is recommended for children ages 9 and up, parents, teachers, and media specialists.
Children's Storytime
Join us for storytime every Thursday morning at 10:30am. We will be reading the following titles during
July:
21st:
Chamelia
by Ethan Long (Little, Brown and Company, hardcover, $16.99)
28th:
Argus
by Michelle Knudsen (Candlewick Press, hardcover, $15.99)
July Store Picks
A Dance with Dragons by George R.R. Martin (Spectra, hardcover, $35.00, on sale 7/12)
Song of Ice and Fire fans, rejoice! The fifth installment is FINALLY here! Whether you've been a fan of the series from the publication of A Game of Thrones in 1996 or just recently became hooked by the first season of the HBO series, you won't want to miss A Dance with Dragons. Catch up with all your favorite characters and find out what they've been up to. And if you want to re-read (or read for the first time) the first four books, we have those, too.
- Recommended by Melissa Oates, store employee
Iron House by John Hart (St. Martin's Griffin, hardcover, $25.99, on sale 7/12)
John Hart has done it again. His writing continues to amaze me. Iron House was not anything like I thought it would be. I didn't think I could identify with or like a character who was a mobster. But by the time Hart is through you truly understand who Michael really is. Abigail, Michael, Elena and Julian are all survivors. Their story is haunting and dark and takes some very unexpected and surprising turns, but Hart manages to make us understand and feel their pain and desperation. Everyone can identify with trying to protect the ones they love and this is a story of family, love, and survival.
- Recommended by Nancy McFarlane, store employee
The Reservoir by John Milliken Thompson (Other Press, paperback, $15.95, *SIGNED FIRST EDITIONS AVAILABLE*)
John Thompson weaves a beautifully written tale around the true facts of a death and a trial that took place in Richmond, Virginia in 1885. The description of daily life, the morals and mores of the time and the way the justice system worked was fascinating. Every time I thought I knew what really happened he gave us another piece of information that contradicted my previous notion. We are left with enough information to guess what might have really happened but the truth will probably forever remain a mystery
.
- Recommended by Nancy McFarlane, store employee

The Homecoming of Samuel Lake by Jenny Wingfield (Random House, hardcover, $25.00, on sale 7/12)
Jennifer Winfield tells the story of the honest Moses family so well that I am sure I grew up with some of these people. Honesty born from a deep faith doesn't preclude the complexities of life however and I found myself shuddering at the evil lurking outside the family circle but there is a shadow of evil within as well. Tears, laughter and quiet cheering accompanied each page turning and in the end there is the most beautiful portrait of sacrificial love. Inspiring!
- Recommended by Cyndi Clack, store employee
Long Gone by Alafair Burke (HarperCollins, hardcover, $24.99)
What do you do when you are being framed for murder and the evidence against you is so compelling that you know you will be arrested? This is the predicament facing Alice Humphrey in Alafair Burke's new standalone. This is her best work yet, and I have been a fan of her other two series. Great characters, great writing and a riveting story. It is obvious that she is very familiar with the criminal justice system and the way a criminal mind works
.
- Recommended by Nancy McFarlane, store employee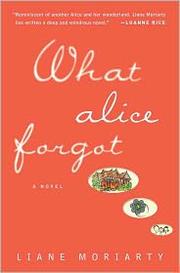 What Alice Forgot by Liane Moriarty (Penguin, hardcover, $24.95)

Alice falls in the gym and hits her head. When she wakes up she's lost 10 years of her life and thinks she's madly in love with her husband and pregnant with her first child, when in reality she's the mom of 3 and in the midst of a bitter divorce. We all wish we could have a do-over in life sometimes and Alice's injury gives her the perfect opportunity. This unputdownable read is recommended to fans of Sophie Kinsella, but don't write it off as just a light chick-lit read; it's got wonderful substance as well as great style. I'm the one reviewing this title, but it's really a family pick. Mom read it first and handed it to me; I devoured it, then gave it to my sister Emily who also fell in love.

- Recommended by Jill Hendrix, store owner

Upcoming Releases
Nonfiction
The Subtle Body by Stefanie Syman (Farrar, Straus and Giroux, paperback, $17.00)
Yoga's history in America is longer and richer than even its most devoted practitioners realize. It was present in Emerson's New England, and by the turn of the twentieth century it was fashionable among the leisure class. And yet when Americans first learned about yoga, what they learned was that it was a dangerous, alien practice that would corrupt body and soul. A century later, you can find yoga in gyms, malls, and even hospitals, and the arrival of a yoga studio in a neighborhood is a signal of cosmopolitanism. How did it happen? It did so, Stefanie Syman explains, through a succession of charismatic yoga teachers, who risked charges of charlatanism as they promoted yoga in America, and through generations of yoga students, who were deemed unbalanced or even insane for their efforts. The Subtle Body tells the stories of these people, including Henry David Thoreau, Pierre A. Bernard, Margaret Woodrow Wilson, Christopher Isherwood, Sally Kempton, and Indra Devi. From New England, the book moves to New York City and its new suburbs between the wars, to colonial India, to postwar Los Angeles, to Haight-Ashbury in its heyday, and back to New York City post-9/11. In vivid chapters, it takes in celebrities from Gloria Swanson and George Harrison to Christy Turlington and Madonna. And it offers a fresh view of American society, showing how a seemingly arcane and foreign practice is as deeply rooted here as baseball or ballet.
Stealing Rembrandts by Anthony M. Amore & Tom Mashberg (Palgrave, hardcover, $25.00)
Today, art theft is one of the most profitable criminal enterprises in the world, exceeding $6 billion in losses to galleries and art collectors annually. And the masterpieces of Rembrandt van Rijn are some of the most frequently targeted. In Stealing Rembrandts, art security expert Anthony M. Amore and award-winning investigative reporter Tom Mashberg reveal the actors behind the major Rembrandt heists in the last century. Through thefts around the world--from Stockholm to Boston, Worcester to Ohio--the authors track daring entries and escapes from the world's most renowned museums. There are robbers who coolly walk off with multimillion dollar paintings; self-styled art experts who fall in love with the Dutch master and desire to own his art at all costs; and international criminal masterminds who don't hesitate to resort to violence. They also show how museums are thwarted in their ability to pursue the thieves--even going so far as to conduct investigations on their own, far away from the maddening crowd of police intervention, sparing no expense to save the priceless masterpieces.
View more July art releases
Turn Right at Machu Picchu by Mark Adams (Dutton, hardcover, $26.95)
July 24, 1911, was a day for the history books. For on that rainy morning, the young Yale professor Hiram Bingham III climbed into the Andes Mountains of Peru and encountered an ancient city in the clouds: the now famous citadel of Machu Picchu. Nearly a century later, news reports have recast the hero explorer as a villain who smuggled out priceless artifacts and stole credit for finding one of the world's greatest archaeological sites. Mark Adams has spent his career editing adventure and travel magazines, so his plan to investigate the allegations against Bingham by retracing the explorer's perilous path to Machu Picchu isn't completely far-fetched, even if it does require him to sleep in a tent for the first time. With a crusty, antisocial Australian survivalist and several Quechua-speaking, coca-chewing mule tenders as his guides, Adams takes readers through some of the most gorgeous and historic landscapes in Peru, from the ancient Inca capital of Cusco to the enigmatic ruins of Vitcos and Vilcabamba. Along the way he finds a still-undiscovered country populated with brilliant and eccentric characters, as well as an answer to the question that has nagged scientists since Hiram Bingham's time: Just what was Machu Picchu?
View more July travel releases
Pocket Posh Brain Games 3 by The Puzzle Society (Andrews & McMeel, paperback, $7.99)
Pocket Posh Brain Games 3 combines 100 word and number games such as Mini Fit, Pathfinder, Futoshiki, and Smart Sums to exercise your thinking skills. The Puzzle Society is the Web's premier source for challenging, professionally constructed puzzles and games. Updated daily and boasting a gaming archive of more than 8,000 puzzles, the Puzzle Society offers more than 70 nationally syndicated puzzles, including the Washington Post Crossword, L.A. Times Crossword, Universal Crossword, Universal Jigsaw, and Daily Jumble.
A single day in Paris changes the lives of three Americans as they each set off to explore the city with a French tutor, learning about language, love, and loss as their lives intersect in surprising ways. Josie, Riley, and Jeremy have come to the City of Light for different reasons: Josie, a young high school teacher, arrives in hopes of healing a broken heart. Riley, a spirited but lonely expat housewife, struggles to feel connected to her husband and her new country. And Jeremy, the reserved husband of a renowned actress, is accompanying his wife on a film shoot, yet he feels distant from her world. As they meet with their tutors--Josie with Nico, a sensitive poet; Riley with Phillippe, a shameless flirt; and Jeremy with the consummately beautiful Chantal--each succumbs to unexpected passion and unpredictable adventures. Yet as they traverse Paris's grand boulevards and intimate, winding streets, they uncover surprising secrets about one another--and come to understand long-buried truths about themselves.
Smokin' Seventeen by Janet Evanovich (Bantam, hardcover, $28.00, *SIGNED FIRST EDITIONS AVAILABLE*)
Where there's smoke there's fire, and no one knows this better than New Jersey bounty hunter Stephanie Plum. Dead bodies are showing up in shallow graves on the empty construction lot of Vincent Plum Bail Bonds. No one is sure who the killer is, or why the victims have been offed, but what is clearis that Stephanie's name is on the killer's list. Short on time to find evidence proving the killer's identity, Stephanie faces further complications when her family and friends decide that it's time for her to choose between her longtime off-again-on-again boyfriend, Trenton cop Joe Morelli, and the bad boy in her life, security expert Ranger. Stephanie's mom is encouraging Stephanie to dump them both and choose a former high school football star who's just returned to town. Stephanie's sidekick, Lula, is encouraging Stephanie to have a red-hot boudoir "bake-off." And Grandma Bella, Morelli's old-world grandmother, is encouraging Stephanie to move to a new state when she puts "the eye" on Stephanie. With a cold-blooded killer after her, a handful of hot men, and a capture list that includes a dancing bear and a senior citizen vampire, Stephanie's life looks like it's about to go up in smoke.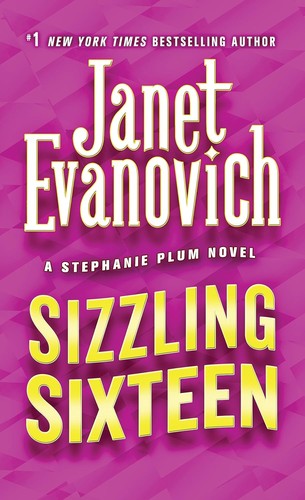 Sizzling Sixteen by Janet Evanovich (St. Martin's Press, paperback, $8.99)
Trenton, New Jersey, bounty hunter Stephanie Plum has inherited a "lucky" bottle from her Uncle Pip. Problem is, Uncle Pip didn't specify if the bottle brought good luck or bad luck.... Vinnie, of Vincent Plum Bail Bonds, has run up a gambling debt of $786,000 with mobster Bobby Sunflower and is being held until the cash can be produced. Being in the business of tracking down people, Stephanie, office manager Connie, and file clerk Lula have an advantage in finding Vinnie. Finding a safe place to hide Vinnie turns out to be harder than raising $786,000. Not even local stoner Walter "Moon Man" Dunphy is up to the task. Between a bonds office yard sale, Mooner's Hobbit-Con charity event, and Uncle Pip's lucky bottle, they just might raise enough money to save the business, and Vinnie, from ruin. Saving Vincent Plum Bail Bonds means Stephanie can keep her job as a bounty hunter--and keep hunting down a man wanted for polygamy, a turnpike toilet paper bandit, and a drug dealer with a pet alligator named Mr. Jingles. Being a bounty hunter comes with its perks, namely Trenton's hottest cop, Joe Morelli, and the dark and dangerous security expert, Ranger. With any luck at all, Uncle Pip's lucky bottle will have Stephanie getting lucky--the only question is...with whom?
View more July mystery releases
View more July thriller releases
Heaven's Shadow by David S. Goyer (Ace, hardcover, $25.95)
The science fiction epic of our time has arrived. Three years ago, an object one hundred miles across was spotted on a trajectory for Earth's sun. Now, its journey is almost over. As it approaches, two competing manned vehicles race through almost half a million kilometers of space to reach it first. But when they both arrive on the entity, they learn that it has been sent toward Earth for a reason. An intelligent race is desperately attempting to communicate with our primitive species. And the message is: Help us.
The Reluctant Mage by Karen Miller (Orbit, paperback, $7.99)
It's been many months since Rafel ventured over Barl's Mountains into the unknown, in a desperate bid to seek help for their ravaged land. With his father's Weather Magic exhausted, there seemed no other hope. Now this too has died. Only Deenie believes Rafel still lives, sensing her brother in tortured dreams. She also knows she must try to find him, as only Rafel's talents could heal their land. The prospect terrifies Deenie, yet she sees no other choice. She soon learns of a dangerous new power. Deenie comes to suspect that not only is her brother involved, but that the evil their father destroyed is somehow reborn. And if she can't save Rafel, then through him, Morg's vast power could once again command their world.
What Distant Deeps by David Drake (Baen, paperback, $7.99)
#8 in the best-selling RCN military science fiction series. Master and Commander to the stars. Captain Daniel Leary and master spy Adele Mundy must once again save the Cinnabar Republic despite itself. The jackals are moving in! The barbarians of the outer reaches intend to play both Cinnabar and Cinnabar's sworn enemy, the totalitarian Alliance, against each other and bring both empires down like an enormous house of cards. The barbarian pirates have commandeered and hot-rodded starships that can outmaneuver even Captain Leary's trusty RCN corvette. But speed and tech don't count for everything. The Princess Cecile has the incomparable Daniel Leary and his trusted aide and friend Adele Mundy in command. Faced with such grit, bravery and intelligent misdirection the pirates might find they've bitten off more than they can chew.
Mission of Honor by David Weber (Baen, paperback, $7.99)
The hottest military science fiction series of all time continues with book #12 in the legendary Honor Harrington saga. This time, it's all or nothing for Honor. She imagined she might rest on her laurels. Settle down. Spend years with her loved ones. But the galaxy had other plans. As the nearly-unstoppable juggernaut of the mighty Solarian League allies with the Star Kingdom's bitter enemies and closes in, millions die and billions are on the chopping block. Defeat and slavery to a nasty enemy looms. But Honor Harington has tasted defeat before and come back to win ultimate victory. The task is dauting: she must save her family, preserve the life she has built - and once again rescue the constitutional order of her beloved Star Kingdom. The solution? To brave utter annihilation in a desperate move to defeat her gathered enemies and win freedom for freedom for her people and the kingdom she has given her life and blood for time and again.
Saltation by Sharon Lee & Steve Miller (Baen, paperback, $7.99)
#12 in the Liaden« space opera series. Theo, star pilot wannabe and troubled misfit has been accepted, against all her expectations, to Anlingdin. It's the Hogwarts of star piloting academies, and Theo has been selected to train there with the best-of-the-best. Even better--she can finally leave behind the gawky, misfit days of teenage angst her previous life so complicated before. Great Liaden star pilots are born with a bang and not a whimper--and Theo has set a course to graduate from misfit to genuine maverick.
1635: The Tangled Web by Virginia DeMarce (Baen, paperback, $7.99)
Long-time Eric Flint collaborator and Stanford-educated historian Virginia DeMarce delivers an intricate web of interrelated adventures in alternate history master Eric Flint's hugely popular "Ring of Fire" series. A cosmic accident sets the modern town of Grantville, West Virginia, down in war-torn seventeenth century Europe and a new nation is forged. Now bewildered down-timers and freedom-loving future folk who lived near the "displaced" form the future must learn to weave their lives together. 21st century ideals run head-on into medieval skullduggery--along with a few admirable ancient customs that aren't going to crumble overnight. Or ever. Up-timer and down-timer alike fight it out, strike deals, and forge a new nation. To do so, both sides must break a few mind-forged manacles in the process.
View more July science fiction releases
View more July fantasy releases
Romance & Supernatural Romance
Eat, Slay, Love by Jesse Petersen (Orbit, paperback, $7.99)
Sarah and David have survived the zombie apocalypse. They stood side by side and fought the undead, mad scientists, and even bionic monsters until the unthinkable happened. A zombie bite. But not even that could stop them. Now, with a possible cure in hand, they're headed east, looking for a safe zone behind the rumored "Wall." They're feeling pretty optimistic. That is until Dave stops sleeping and starts lifting huge objects. Eat. Slay. Love. Because they haven't got a prayer.
Thanks for your continued patronage!
Sincerely,
Jill Hendrix, Owner
Fiction Addiction
1020A Woodruff Rd.
Greenville, SC 29607
864-675-0540
Signed Copies!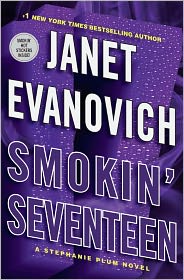 We have signed first edition copies of
Smokin' Seventeen
by Janet Evanovich (Bantam, hardcover, $28.00)!
2011 SIBA Book Award Winners
Children's Winner

Nonfiction Winner
Young Adult Winner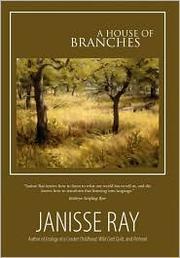 Poetry Winner
The newest book in our "We Love This Book!" promotion. Nancy and Jill read and loved
What Alice Forgot
(Amy Einhorn Books, hardcover, $24.95) from Australian author Liane Moriarty.
Your satisfaction is guaranteed on any "We Love This Book" reads. If you didn't enjoy it, bring it back in sellable condition and we'll swap it out for another book of equal value.
Our Signed First Editions Club is in full swing! For more information on joining, click here. These are the upcoming books:
July:
August:
September:
Are you a fan of The World Cup?
When:
Saturday 10/15/11, 12pm
to
Sunday, 10/16/11, 2pm

Where:

Mariner's Landing Resort and Conference Center
1217 Graves Harbor Trail
Huddleston, Virginia 24104

$500
(Includes everything except transportation and books)
Register
here
and use referral code:
fictions

Featured Authors:
*Note: There have been some changes to he featured authors since our first announcement.

Questions: