Happy New Year!
I'd like to thank everyone for their patronage in 2010. We greatly appreciate those who shop locally, which keeps more money in the Greenville community as well as keeps us in business!
I'd also like to thank everyone who offered to help us find a home for the kitten I found in the lot behind the store. It turned out that our employee Cyndi was fated to adopt him -- the day before I found him her daughter had said, "Mom I want a black kitten and I'm going to call him Stanley". And then lo and behold she comes to work and there's a male black kitten needing a home :)
Signed Books
The Sentry by Robert Crais (Putnam, hardcover, $26.95), the 3rd book in the Joe Pike series, releases on Jan. 11th. I will be getting in 12 signed copies. They will go to the first 12 people who pre-pay for them by stopping by the store or calling in their payment info to us at 864-675-0540.
January Events
Tuesday, Jan. 18th, 7pm: Fiction Addiction Book Club
@ Java Jolt, 1099 E. Butler Rd, Mauldin

We've had several customer ask if we knew of a book club they could join, so Fiction Addiction employees Cyndi Clack and Melissa Oates have kindly opened their new book club up to any Fiction Addiction customer who wishes to participate. The club will meet the 3rd Tuesday of each month and will choose books based on a rotation of classics and contemporary fiction. Please feel free to bring your book suggestions for consideration to any book club meeting.
On January 18th, the club will be discussing and contrasting the societies presented in
1984
by George Orwell and
Lord of the Flies
by William Golding.
The book for February 15th will be John Hart's New York Times Bestseller and Edgar Award Winner for Best Mystery Novel,
The Last Child
.


Mon., Jan. 24th, 7pm @ Chicora Alley: Emrys Reading Room Featuring Susan Hasler and Lou Dischler
$5/person
(free for
Emrys
members)
The books that the authors will be reading from --
Intelligence
by Susan Hasler (Macmillan, hardcover, $24.99) and
My Only Sunshine
by Lou Dischler (Hub City Press, hardcover, $21.95) -- can be purchased from Fiction Addiction in advance or at the event. The authors will be happy to sign them that evening.
Children's Storytime

Store Picks
The Gourmet Cookie Book by the editors of Gourmet Magazine (HMH, hardcover, $18.00)
If you're not all cookied out yet, try this cookbook from the editors of Gourmet magazine, which includes their favorite cookie recipe from each year of publication. In addition to recipes, you can also learn a bit of cookie history--i.e., how honey was used instead of sugar during the WWII era due to sugar rationing, but they still managed to make great cookies! -Melissa Oates, store employee


The Hidden Man by David Ellis
(Berkley, paperback, $9.99)
Edgar-award winner David Ellis introduces his first series character in attorney Jason Koleric, who has gone through the highest of highs after winning a very high profile case, and the lowest of lows with the tragic accidental death of his wife and child. The character of Koleric, shown by detours into his past, and the elegant plot full of twists and subtle misdirection make this one of the best legal thrillers I have read in a long time.
-Nancy McFarlane, store employee
Battle Hymn of the Tiger Mother by Amy Chua
(Penguin, hardcover, $25.95, releases 1/11/11)
Not since
The Glass Castle
has there been such a controversial parenting memoir, though this parenting example goes to the other extreme. When her own two daughters were born, Amy Chua decided to re-create the strict Asian parenting methods she grew up under. I'm still trying to figure out how a Yale Law School Professor could have so much time and energy to oversee every aspect of her children's lives
.
-Jill Hendrix, store owner
Read This Next by Howard Mittelmark (HarperCollins, paperback, $14.99)
Looking for your next BEST read? Start with this one. Not just a compilation of book suggestions and reviews,
Read This Next
is a GREAT read itself. Very funny and informative and offers a good mix of titles I was and wasn't familiar with. I read it through in two sittings and started my 2011 to-be-read list immediately.
-Cyndi Clack, store employee
Blacklands by Belinda Bauer
(S&S, paperback, $14.00, avail 1/11/11)
Blacklands
is the beautifully written story of 12-year-old Steven, who wants nothing more than to try and make his family whole again. It is a haunting tale of the toll that grief can take on a family across generations and the determined innocence of a child who hopes to bring closure by finding the body of his uncle Billy, who disappeared as a child years ago and was assumed to be the victim of a convicted pedophile.
- Nancy McFarlane, store employee




Unearthly by Cynthia Hand
(HarperCollins, hardcover, $17.99)

This young adult paranormal romance stars Clara, a charming, smart, funny, and sometimes a little snarky teenage girl who is also part angel. She's torn between fulfilling her *purpose* in this world and pursuing what she truly desires, which gets complicated by her entanglement in a love triangle. This is a fun, enjoyable read recommended for fans of
Twilight
and
Nightshade
.
-Emily McFarlane, store reader

Upcoming Releases
The O2 Diet: The Cutting Edge, Antioxidant-Based Program That Will Make You Healthy, Thin and Beautiful
by Keri Glassman (Rodale, paperback, $15.99)
Kick-start weight loss and boost beauty with an easy 4-day cleanse and a delicious 4-week antioxidant-based program from CBS's The Early Show nutrition contributor. In The O2 Diet, nutritionist Keri Glassman translates cutting-edge science into an easy-to-do program that will leave dieters energetic, healthy, and beautiful. Glassman shows how dieters can (and should) indulge in foods like Caramelized Pear and Pecan French Toast and Flank Steak with Chimichurri Sauce and actually lose weight!
The G-Free Diet: A Gluten-Free Survival Guide by Elisabeth Hasselbeck
(Center Street, paperback, $14.99)
For years, Elisabeth Hasselbeck couldn't figure out what was making her sick. It wasn't until spending time in the Australian Outback, living off the land on the grueling Survivor TV show, that, ironically, her symptoms vanished. Returning home, she pinpointed the food that made her sick - gluten, the binding element in wheat. By simply eliminating it from her diet, she was able to enjoy a completely normal, healthy life. But that wasn't all. Hasselbeck discovered the myriad benefits that anyone can enjoy from a gluten-free diet: from weight loss and increased energy to even the alleviation of the conditions of autism.
The New Normal: An Agenda for Responsible Living by David Wann (St. Martin's Press, paperback, $14.99)

For Wann, our current "old normal" lifestyle -- buying water in disposable bottles, allowing the government to ignore global warming -- will not preserve the planet. To nurture our world, he challenges us to rethink our lives, stand up for a healthy planet and move towards a "new normal" lifestyle.
General Fiction
Alice I Have Been by Melanie Benjamin
(Bantam, paperback, $15.00)

Part love story, part literary mystery, Melanie Benjamin's spellbinding historical novel leads readers on an unforgettable journey down the rabbit hole, to tell the story of a woman whose own life became the stuff of legend. Her name is Alice Liddell Hargreaves, but to the world she'll always be known simply as "Alice," the girl who followed the White Rabbit into a wonderland of Mad Hatters, Queens of Hearts, and Cheshire Cats. Now, nearing her eighty-first birthday, she looks back on a life of intense passion, great privilege, and greater tragedy.
Keys to the Castle by Donna Ball
(Berkley, paperback, $14.00)
When a dashing French poet swept forty-something workaholic Sara Graves off her feet, she did something completely unexpected: She married him. Then three weeks later he died, leaving her a house she can't afford to keep in a country she's never been to. Traveling to France to settle the estate, Sara is shocked to discover that the estate he left her is a 400-year-old crumbling castle in the Loire Valley. Now Sara must sell Chateau Rondelais before it (not to mention her late husband's disarmingly handsome lawyer and best friend) makes her question her decision to leave--and opens her heart to change and all its unexpected possibilities.
One Amazing Thing by Chitra Divakaruni
(Voice, paperback, $13.99)
Late afternoon sun sneaks through the windows of a passport and visa office in an unnamed American city. Most customers and even most office workers have come and gone, but nine people remain. When an earthquake rips through the afternoon lull, trapping these nine characters together, their focus first jolts to their collective struggle to survive. There's little food. The office begins to flood. Then, at a moment when the psychological and emotional stress seems nearly too much for them to bear, the young graduate student suggests that each tell a personal tale, "one amazing thing" from their lives, which they have never told anyone before.
Then Came Evening by Brian Hart
(Bloomsbury, paperback, $15.00)
Bandy Dorner, home from Vietnam, awakes with his car mired in a canal, his cabin reduced to ashes, and his pregnant wife preparing to leave town with her lover. Within moments, a cop lies bleeding on the road. Nearly two decades later, Bandy is released from prison, and on the family's Idaho ranch, he faces an unexpected reunion. Tracy, his now teenage son, has come to claim the father he's never known. Iona, Bandy's ex-wife, has come on the heels of her son. Haunted and hardened, the three struggle toward a shared future and a sense of family in this beautiful novel of devastating power.
Imprisoned and tortured for months by Pinochet's henchmen for teaching political poetry to his students, Bernardo Greene is visited by two angels, who promise him that he will survive to experience beauty and love once again. Months later, at the Torture Rehabilitation Center in Copenhagen, the Chilean exile befriends Michela Ibsen, herself a survivor of domestic abuse. In the long nights of summer, the two of them struggle to heal, to forgive those who have left them damaged, and to trust themselves to love.

Roses by Leila Meacham
(Grand Central, paperback, $13.99)
Spanning the 20th century, the story of Roses takes place in a small East Texas town against the backdrop of the powerful timber and cotton industries, industries controlled by the scions of the town's founding families. Cotton tycoon Mary Toliver and timber magnate Percy Warwick should have married but unwisely did not, and now must deal with the deceit, secrets, and tragedies of their choice and the loss of what might have been-not just for themselves but for their children, and children's children.
Mysteries & Romantic Suspense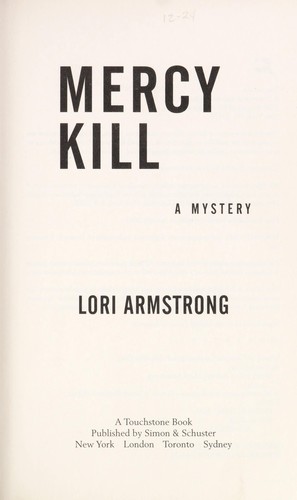 Mercy Kill by Lori Armstrong (Pocket, paperback, $15.00, avail 1/11/11)

Former sniper Mercy Gunderson isn't adjusting well to civilian life on her family's ranch in South Dakota. Then Titan Oil, a Canadian company proposing to run an underground pipeline through Eagle River County, sends Jason Hawley, Mercy's former army buddy, to the area to convince ranchers to get behind the project. After ugly threats and multiple altercations escalate tensions in the county, Mercy discovers Hawley's brutally mutilated body in the bar parking lot. When it appears Sheriff Dawson cares more about campaigning for reelection than investigating the case, Mercy vows to find Hawley's killer - even if she has to run for sheriff to ensure justice is served.
The Poison Tree by Erin Kelly
(Pamela Dorman, hardcover, $26.95)
Told in flashbacks from ten years in the future, The Poison Tree is a dark, psychological study of three friends who spend a fateful summer together in an old mansion in London in 1977. Karen is a naive but sensible college student. She is a dutiful daughter, a good student, a loyal friend and in her opinion leads a very boring life. But her life becomes anything but boring when she meets Bilba and her brother Rex and moves in with them for the summer. Reminiscent of
Beautiful Malice
by Rebecca James but with a much more satisfying ending and a better understanding of what influenced the characters.
Gideon's War by Howard Gordon
(Touchstone, hardcover, $24.99, avail 1/11/11)
Gideon Davis is a UN peacekeeper who has spent his career denouncing violence in any form. When he is told he has 24 hours to bring in his rogue spy brother before his brother is killed he thinks justice will prevail. But being chased through jungles of SE Asia by various militant groups and trying to prevent terrorists from blowing up a deep water oil rig soon dispel that belief. Thrill-a-minute action as expected from an executive producer of 24.
View more January mystery releases
View more January thriller releases
Romance &
Supernatural Romance
Mercy Blade by Faith Hunter
(Roc, paperback, $7.99)
When Jane is attacked by a pack of marauding werewolves, she is thankful for the help of a mysterious stranger named Girrard. He explains that he used to be Leo's "Mercy Blade," a sacred position charged with killing vampires who have gone insane. What Jane doesn't know is why this powerful assassin left New Orleans - or, more troubling, why he's now returned.
Science Fiction, Fantasy & Horror
Torch of Freedom by David Weber & Eric Flint(Baen, paperback, $8.99)

As the slavemasters of Mesa plot against the Star Empire of Manticore and the newly liberated slave planet of Torch, Anton Zilwicki and the notorious Havenite secret agent Victor Cachat set off on a dangerous mission to uncover the truth concerning a wave of mysterious assassinations that have been launched against Manticore and Torch. Most people are sure that the Republic of Haven is behind the assassinations, but Zilwicki and Cachat suspect others of being the guilty party.
Children's and Young Adult

Tony Baloney
by Pam Munoz Ryan
(Scholastic, hardcover, $16.99)

Tony Baloney is a macaroni penguin. He loves fish tacos, Little Green Walrus Guys, his stuffed animal, Dandelion, and anything with wheels. He does not love trouble . . . but trouble loves him. Sometimes, when he is tired of Bossy Big Sister Baloney and exasperated with the Bothersome Babies Baloney, Dandelion behaves badly. And then, Tony must say he is sorry, which is not always easy for him.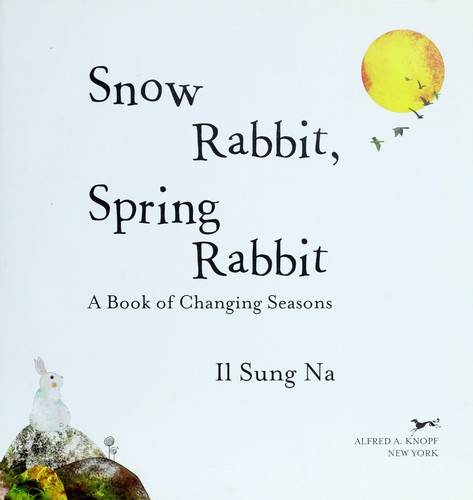 Snow Rabbit, Spring Rabbit: A Book of Changinge Seasons by Il Sung Na (Knopf, hardcover, $15.99, releases 1/11/11)
What do the animals do when the snow falls to the ground and all the trees are bare? Some fly long distances, while some swim to warmer waters. Some take a long, warm sleep where they live, while others have a thick, cozy coat and can stay in the snow! As with Il Sung Na's previous books, Snow Rabbit, Spring Rabbit is filled with rich illustrations, charming animals, and a simple, lyrical text-all wrapped up in a gorgeous package. It's a gentle introduction to the ideas of adaptation, hibernation, and migration, and an exuberant celebration of changing seasons.
Young Fredle by Cynthia Voigt
(Knopf, hardcover, $16.99, releases 1/11/11)
Cynthia Voigt crafts a novel about discovery, perspective, and the meaning of home-all through the eyes of an affable and worried little mouse. Fredle is an earnest young fellow suddenly cast out of his cozy home behind the kitchen cabinets-into the outside. It's a new world of color and texture and grass and sky. But with all that comes snakes and rain and lawnmowers and raccoons and a different sort of mouse (field mice, they're called) not entirely trustworthy. Do the dangers outweigh the thrill of discovery?
Puss in Boots by Charles Perrault
(Square Fish, paperback, $7.99)
Charles Perrault's
Puss in Boots
has been an irresistible magnet for countless illustrators ever since this classic French tale was first published in 1697. Long regarded as the preeminent designer of book jackets in America, Fred Marcellino provides an unstinting visual feast in his first full-color picture book. The adventures of that rascal, Puss, and his master, the miller's son are portrayed in a lavish series of illustrations that range from sumptuous grandeur to comedy both boisterous and sly.
Another Whole Nother Story by Dr. Cuthbert Soup (Bloomsbury, hardcover, $16.99)
The plan was simple. Ethan Cheeseman, along with his three smart, polite, and relatively odor-free children, would travel back in time to end an ancient family curse and save their mother. Now that the LVR (a super-secret time machine) is in working order, it should be easy peasy. Except they didn't account for one basic rule of science: Murphy's Law, where everything that possibly could go wrong, does. So the Cheeseman family finds themselves on another madcap adventure, this time through stormy seas and haunted castles.
Red Riding Hood by Sara Blakeley-Cartwright (Little Brown, paperback, $9.99)

When Valerie learns that her sister has been killed by The Wolf, she finds herself at the center of a dark mystery, one that has plagued her village for generations. It is revealed that the werewolf lives among them, and everyone in the village immediately becomes a suspect. Could her secret love Peter be behind the attacks on her town? Is it her betrothed, Henry? As the men in the village hunt for the beast, Valerie turns to her grandmother for help, who gives her a handmade red riding cloak. The basis for the forthcoming movie by Catherine Hardwicke, director of
Twilight
.
Shadowspell by Jenna Black
(Griffin, paperback, $9.99)
With his homicidal appetite and immortal powers, the Erlking and his minions known as the Wild Hunt have long been the nightmare of the Fae realm. A fragile treaty with the Faerie Queen, sealed with a mysterious spell, is the one thing that keeps him from hunting unchecked in Avalon, the only place on Earth where humans and Fae live together. Which means Dana's in trouble, since it's common knowledge that the Faerie Queen wants her - and her rare Faeriewalker powers - dead. The smoldering, sexy Erlking's got his sights set on Dana, but does he only seek to kill her, or does he have something much darker in mind?
Entice by Carrie Jones
(Bloomsbury, hardcover, $17.99)
Zara and Nick are soul mates, meant to be together forever. But that's not quite how things have worked out. For starters, well, Nick is dead. Supposedly, he's been taken to a mythic place for warriors known as Valhalla, so Zara and her friends might be able to get him back. But it's taking time, and meanwhile a group of evil pixies is devastating Bedford, with more teens going missing every day. An all-out war seems imminent, and the good guys need all the warriors they can find.
Across the Universe by Beth Revis
(Razorbill, hardcover, $17.99, releases 1/11/11)
Seventeen-year-old Amy joins her parents as frozen cargo aboard the vast spaceship Godspeed and expects to awaken on a new planet, three hundred years in the future. When Amy is awakened 50 years early, she quickly realizes that it was no mere computer malfunction. Someone -- one of the few thousand inhabitants of the spaceship -- tried to kill her. Amy must race to unlock Godspeed's hidden secrets or her parents will be the next targets. But out of her list of murder suspects, there's only one who matters: Elder, the future leader of the ship and the love she could never have seen coming.
View more January juvenile fiction releases
View more January juvenile nonfiction releases
Graphic Novels
Hetalia Axis Powers 2
(Tokyopop, paperback, $10.99)
All of the fan favorite world powers are back to... celebrate Christmas?! How will Germany react when he finally meets the famous Roman Empire only to discover he's exactly like his grandson? And what other hijinx will the Axis Powers get into? Volume 1 has sold more than a million copies in Japan and was released for the first time in English in September, 2010.
Thanks for your patronage in 2010 and we hope to continue to meet your book buying needs in 2011!
Sincerely,
Jill Hendrix, Owner
Fiction Addiction
What's Your New Year's Resolution?


2011 Book Your Lunch Events
(with more to come)
Heather Newton
Tues., Feb. 15th
Thurs., April 28th
January's #1 Indie Pick


Left Neglected
by Lisa Genova (Gallery, hardcover, $25.00)
Sarah Nickerson is a career-driven supermom living in an affluent Boston suburb with her husband and three children. Sarah manages every minute of her life like an air traffic controller. Until one fateful day, she looks away from the road for one second too long. In the blink of an eye, all the rapidly moving parts of her jam-packed life come to a screeching halt as a traumatic brain injury completely erases the left side of her world.
Christmas Sale
All Christmas-related merchandise 25% off!

This discount will be taken at the register. Online prices show original retail; online customers ask for discount in Comments during checkout.
Clearance Items
(50% or more off list price)

2011 Calendars
2011 is the 150th anniversary of the onset of The Civil War
Ready for Tax Season?
Jan. 16th is Appreciate a Dragon Day!
Fiction Addiction's 2010 Top Sellers