Greetings!,

Our 2011 wall calendars are now in stock!
Our shipment of 2011 wall
calendars
has just arrived and are
on sale for $8.99
each. These calendars usually retail for $12.99-16.99. Shop early while the selection is good. Once they sell, they're gone -- we will not be getting any more calendars until next October!
Act Quickly -- Signed Ken Follett books!
We've just gotten in 12 signed first edition copies of

Fall of Giants

by Ken Follett (Dutton, $36.00), the first novel in the author's new Century trilogy. These copies will go to the first 12 customers who pay for them, either by calling in your credit card info to us at 675-0540 or stopping by the store and purchasing in person. Limit 1 copy per customer.
In-Store Events

If you are unable to make one of our author events, you are welcome to reserve signed copies by calling us in advance at 864-675-0540. Personalized copies will need to be prepaid.

Zaria Garrison will be signing copies of her new Christian fiction novel, Losing It (Kensington, paperback, $14.95), at Fiction Addiction on Saturday, October 9th from 2-4pm. Grammy award-winning gospel singer and Christian actress Sharmaine Cleveland is having a bad year. She has been arrested and charged with the attempted murder of her husband, Leon. Will she go under, or will God be able to pick her back up and put the pieces back together?

Thursday, October 14th: Wine Meetup
6:30-8pm: In-store event, $15/person

Fiction Addiction will be hosting the Greenville Wine Meetup for a night of beer, wine, chili and books. We will be providing chili made from
The Veselka Cookbook
and Jake Morris, of Ararat Imports, is going to be providing Ukrainian beer to pair with the chili, along with a line-up of central European wines you will NOT have tasted elsewhere. In addition, Richard Peck, the meetup organizer, will be discussing his
favorite wine book
s. Cost is $15 per person and space is limited. Sign up
via the Wine Meetup group
!
In a book club? Thinking about joining or starting a book club? Like to read "book club-type books"? In honor of
National Reading Group Month
, please join us for our third annual free book club party! We will be serving wine and cheese as we present current and upcoming titles that would make good book club picks. We will also be giving away a number of free "advance reading copies".
Pamela Swyers will be signing copies of her new fantasy novel,
Dylan's Cause
(Swyers Publishing, hardcover, $24.99), the first installment in the Tryta Chronicles. In
Dylan's Cause
Diana and Dwyn, two angelics who live in a region called Tryta in the Heavenly Realm, are living the perfect Heavenly life together. Then Dwyn's dark side begins to strengthen, and soon he transforms into a demon and is cast out. Soon after, Diana finds out she is with child. The Tryta Chronicles follows all of little Dylan's life. He is a new creature, the only one of his kind; half angel and half demon. What will become of him? Which life will he choose: good or evil?
Store Picks
Hypothermia
by Anraldur Indridason

(Minotaur, hardcover, $24.99)
A haunting mystery solved by the dogged determination of Detective Erlendur, who is himself haunted by the disappearance of his young brother and the dismal mess he has made of his family life. Erlendur is not a typical detective. He truly cares about the victims and wants to find out what made them tick, why they were in the wrong place at the wrong time.
Hypothermia
provides us with another wonderful glimpse of a meticulously developed literary detective.
- Recommended by Nancy McFarlane
Jellicoe Road
by Melina Marchetta

(HarperCollins, paperback, $8.99)
Taylor Markham is a reluctant leader in a conflict that is laced with clues to her unknown past where she not only discovers who she was, but who she is. Beautifully written, enthralling, heartbreaking, inspirational. Easily one of the best young adult books I have ever read.
- Recommended by Cyndi Clack



Cryoburn
by Lois McMaster Bujold
(Baen, hardcover, $25.00, releases 10/19)
I've been busying re-reading the series in anticipation of this newest Miles Vorkosigan novel, the first in 7 years! Miles is such a fantastic character that I named our original store cat after him: Miles Vor-cat-igan (Miles the cat now lives with my mom and is happily enjoying his retirement from the store). Bujold is one of the most beloved authors in the field, winning 4 Hugos and 2 Nebulas, among other awards.
- Recommended by Jill Hendrix
The Guernsey Literary and Potato Peel Pie Society by Mary Ann Shaffer and Annie Barrows
(The Dial Press, paperback, $14.00)
After her WWII newspaper columns are wildly successful, writer Juliet Ashton is at a loss as to what to write about next...until she receives a letter from a member of the Guernsey Literary and Potato Peel Pie Society, which begins new friendships and inspirations as she researches the German occupation on this often overlooked Channel Island. Told in a series of letters, and in turn humorous and somber, this book will appeal to history buffs and idealists alike.
- Recommended by Melissa Oates
Bury Your Dead
by Louise Penny
(St. Martin's Press, hardcover, $24.99)

If you have not yet met Chief Inspector Armand Gamache you are truly in for a treat. While coming to grips with a very emotional and tragic episode involving the Surete du Quebec, Gamache and his agent Jean Guy Beauvoir each find themselves involved in mysteries with roots in the past. It was fascinating to learn about Samuel de Champlain and the history of the French and English conflicts in the province of Quebec through the eyes of Gamache. A beautifully written book with wonderfully rich characters and a satisfying village mystery, or two.
- Recommended by Nancy McFarlane
The Network by Jason Elliot
(Bloomsbury, hardcover, $24.00)

I was not expecting to like this British spy thriller set just before 9/11, but just as ex-army officer Anthony Taverner gets slowly drawn into a plot to destroy a cache of US stinger missiles in Taliban-controlled Afghanistan, I too found myself enwebbed in the novel and unable to escape. This powerful debut thriller is recommended to fans of Alex Berenson and Vince Flynn.
- Recommended by Jill Hendrix
Upcoming Releases
Please email us at
info@fiction-addiction.com
if you would like to reserve a copy of any of the following:
Fiction
By Nightfall by Michael Cunningham
(FSG, hardcover, $25.00)

Peter and Rebecca Harris: mid-forties denizens of Manhattan's SoHo, nearing the apogee of committed careers in the arts--he a dealer, she an editor. They are admirable, enviable contemporary urbanites with every reason, it seems, to be happy. Like his legendary, Pulitzer Prize-winning novel,
The Hours
, Michael Cunningham's masterly new novel is a heartbreaking look at the way we live now. Full of shocks and aftershocks, it makes us think and feel deeply about the uses and meaning of beauty and the place of love in our lives.
The Lost and Forgotten Languages of Shanghai by Ruiyan Xu (St. Martin's Press, hardcover, $24.99, releases 10/12)
Li Jing, a successful, happily married businessman, is dining at a grand hotel in Shanghai when a gas explosion shatters the building. A shard of glass neatly pierces Li Jing's forehead--obliterating his ability to speak Chinese. The only words that emerge from his mouth are faltering phrases of the English he spoke as a child growing up in Virginia. Suddenly Li Jing finds himself unable to communicate with his wife, Meiling, whom he once courted with beautiful words, as she struggles to keep his business afloat and maintain a brave face for their son. The family turns to an American neurologist, Rosalyn Neal, who is as lost as Li Jing--whom she calls James--in this bewitching, bewildering city, where the two form a bond that Meiling does not need a translator to understand.

Whistlin' Dixie in a Nor'easter by Lisa Patton
(Griffin, paperback, $13.99)
Leelee Satterfield seemed to have it all: a gorgeous husband, two adorable daughters, and roots in the sunny city of Memphis, Tennessee. So when her husband gets the idea to uproot the family to run a quaint Vermont inn, Leelee is devastated...and her three best friends are outraged. But she's loved Baker Satterfield since the tenth grade, how can she not indulge his dream? Plus, the glossy photos of bright autumn trees and smiling children in ski suits push her over the edge...after all, how much trouble can it really be?

View more fiction releases




Historical Fiction
The Dressmaker by Posie Graeme-Evans
(S&S, paperback, $16.00, releases 10/12)
Ellen Gowan is the only surviving child of a scholarly village minister and a charming girl disowned by her family when she married for love. In time, she will become the witty, celebrated, and very beautiful Madame Ellen, dressmaker to the nobility of England, the Great Six Hundred. And if the beautiful Madame Ellen is not quite what she seems, the strength of her will sees her through to the truth, and love, at last.

View more historical fiction releases


Nonfiction

The Vertical Farm: Feeding the World in the 21st Century by Dickson Despommier
(St. Martin's, hardcover, $25.99, releases 10/12)
When Columbia professor Dickson Despommier set out to solve America's food, water, and energy crises, he didn't just think big -- he thought up. Despommier's stroke of genius, The Vertical Farm, has excited scientists, architects, and politicians around the globe. In the tradition of the bestselling The World Without Us, this is a totally original landmark work destined to become a classic. With stunning illustrations and clear and entertaining writing, this book will appeal to anyone concerned about America's future.

The Adventurer's Handbook by Mick Conefrey
(Palgrave, paperback, $12.00, releases 10/12)
What makes a good explorer? Adaptability, ambition, stamina, self-confidence, curiosity, optimism, authority-and fund-raising ability. Award-winning documentarian Mick Conefrey pulls practical advice from their original diaries and logs, like how to survive an anaconda attack (wait until it has swallowed your legs, then reach down and cut its head off), and how to keep morale up (according to Ernest Shackleton, "A good laugh doesn't require any additional weight"). In addition to the wonderful characters and stories, this book offers many lessons on how to set sail without a clear path home.

View more nonfiction releases




Humor

The Onion Presents a Book of Jean's Own! by Jean Teasdale (St. Martin's, paperback, $14.99, releases 10/12)
A few words from Jean Teasdale: "Hi Jeanketeers and Jeanketeers-to-be!! As The Onion's very own Humor and Human-Interest columnist, I've been entertaining readers for 15 years with kooky tales of life with my hubby and our two feline children. Now for the first time, li'l ol' me shines front-and-center in a book of my very own! A Book of Jean's Own! features all-original, never-before-published material, and if that wasn't impressive enough, marks the very first Onion book by a solo writer! Historical, huh?

View more humor releases


Biographies & Autobiographies

The Adderall Diaries by Stephen Elliott
(Graywolf, paperback, $14.00)
In this groundbreaking memoir, Stephen Elliott pursues parallel investigations: a gripping account of a notorious San Francisco murder trial, and an electric exploration of the self. Destined to be a classic, The Adderall Diaries was described by The Washington Post as "a serious literary work designed to make you see the world as you've never quite seen it before."

View more biography and autobiography releases


Mysteries & Thrillers

Tears of Pearl by Tasha Alexander
(Minotaur, paperback, $13.99)
Looking forward to the joys of connubial bliss, newlyweds Lady Emily and Colin Hargreaves, diplomats of the British Empire, set out toward Turkey for an exotic honeymoon. But on their first night in the city, a harem girl is found murdered, strangled in the courtyard of the sultan's lavish Yildiz Palace. Sir Richard St. Clare, an Englishman who works at the embassy in Constantinople, is present and recognizes the girl as his own daughter who was kidnapped twenty years earlier. Emily and Colin promise the heartbroken father that they'll find her killer, but as the investigation gains speed, they find that appearance can be deceiving-especially within the confines of the seraglio.

On Target by Mark Greaney
(Penguin, paperback, $9.99)
Court Gentry, the renowned assassin known as the Gray Man is again on the job. He was betrayed by his only friend, is still hunted by his past CIA comrades and has had to take work from people he doesn't like or trust just to survive. This time he needs to not kill his target (the Sudanese president who is responsible for much of the ethnic cleansing and killing in Darfur and who Court definitely thinks deserves his bullet) in order to try and prevent the even worse tragedy that would occur if the parties fighting over territory and power in Sudan are turned loose to battle it out.

View more mysteries and thrillers releasing in October




Science Fiction & Fantasy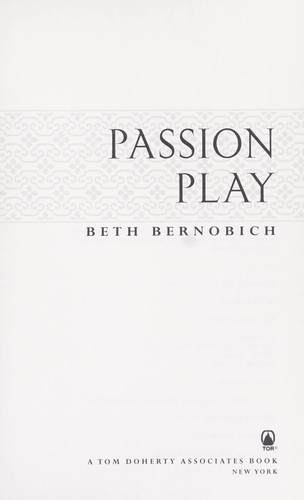 Passion Play by Beth Bernobich
(Tor, hardcover, $24.99, releases 10/12)
Ilse Zhalina is the daughter of one of Melnek's more prominent merchants. But there are dark secrets, especially in the best of families. Ilse has learned that for a young woman of her beauty and social station, to be passive and silent is the best way to survive. When Ilse finally meets the older man she is to marry, she realizes he is far crueler and more deadly than her father could ever be, and she chooses to run. This choice will change her life forever. Recommended for fans of Jacqueline Carey's Kushiel's Legacy series.

Monster Hunter Vendetta by Larry Correia
(Baen, paperback, $7.99)
Accountant turned professional monster hunter, Owen Zastava Pitt, managed to stop the nefarious Old One's invasion plans last year, but as a result made an enemy out of one of the most powerful beings in the universe. Now an evil death cult known as the Church of the Temporary Mortal Condition wants to capture Owen in order to gain the favor of the great Old Ones. The Condition is led by a fanatical necromancer known as the Shadow Man. The government wants to capture the Shadow Man and has assigned the enigmatic Agent Franks to be Owen's full time bodyguard, which is a polite way of saying that Owen is monster bait.

View more science fiction and fantasy releases




Romance & Paranormal Romance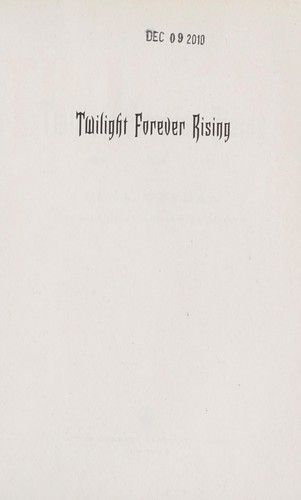 Twilight Forever Rising by Lena Meydan
(Tor, paperback, $15.99)
Darel Ericson of the Dahanavar clan is a rarity among his vampire brethren: he's an empath, strong enough to occasionally read thought as well as emotion. For centuries, his power has given the Dahanavar a significant advantage against the machinations of the other vampire families, an advantage which makes Darel both a powerful tool and a highly visible target. Darel, and the human woman he loves, become central to the House of Nachterret's scheme to plunge the Houses into all out war. Darel is ultimately forced to face the question: is one young woman's life too high a price to pay for peace?

View more romance releases




Children's & Young Adult

Personal Demons by Lisa Desrochers
(Tor, paperback, $9.99)
Frannie Cavanaugh is a good Catholic girl with a wicked streak. She's spent years keeping everyone at a distance--even her closest friends--and it seems her senior year will be more of the same...until Luc Cain enrolls in her class. No one knows where he came from, but Frannie can't seem to stay away from him. What she doesn't know is that Luc works in Acquisitions--for Hell--and she possesses a unique skill set that has the king of Hell tingling with anticipation. All Luc has to do is get her to sin, and he's as tempting as they come. Frannie doesn't stand a chance.

Chick 'n' Pug by Jennifer Sattler
(Bloomsbury, hardcover, $12.99)
Chick lives for adventures. Pug lives for, well, sleep. In Chick's eyes, however, Pug can do no wrong. In fact, he is WONDERPUG! But with danger around every corner and a hero who's a little low on energy, it may be up to Chick to save the day and earn the prized role of sidechick (er, sidekick . . .) From an exceptional new talent, this is a funny, heartwarming story of misplaced hero worship as well as the beginning of a beautiful friendship.

Harry Potty and the Deathly Boring by Stefan Petrucha (Papercutz, paperback, $6.99)
The creative team behind the hit Tales from the Crypt #8 "Diary of a Stinky Dead Kid" team up again to launch this new parody series from Papercutz! Following the killing of their mentor Dumb-as-a-door by the seemingly traitorous barista Frappe, Harry Potty, Don Measley and Whiny Stranger must find a way to defeat the nose-less dark lord Value-Mart (He-Whose-Prices-Can't-Be-Beat) and his followers, the Odor Eaters in order to avenge the death of Harry Potty's parents and bring balance to the world of magic.

View more children's and young adult releases




Graphic Novels

Demon Sacred #1 by Natsumi Itsuki
(Tokypop, paperback, $5.99)
There is a sickness called Return Syndrome that causes one to physically regress toward infancy until they vanish. When Mona's sister, Rina, is infected with this rare disease, Mona will go as far as beyond human means to save her! And when the inhuman comes in such gorgeous packaging, it might be hard to resist! Join Mona, K2, Rina, Mika, and Shinobu as they fight against the Return Syndrome, dark company secrets, and enemies - both human and inhuman!

View more graphic novel releases

Store News
2010 Holiday Catalog
It's hard to believe, but the holidays are creeping up on us again.
Shop in leisure this year -- pick up a copy of our holiday catalog, circle the books you want, and then drop it back off. We'll order in your gifts, wrap them, and then call when they're ready!
Here're a few of the children's books we're featuring this year:
Cool Robots
by Sean Kenney

(Holt, hardcover, $12.99)
Sean Kenney is back once again with even more original creations of Robotopolis -- robots, transformers, and spaceships of all sizes, colors, and features. Complete with select model instructions, insider tips, and landscape designs for new LEGO fans as well as diehard enthusiasts.
Potato Chip Science Book & Stuff
by A. Kurzweil (Workman, $17.95)
This is an irresistible introduction to the pleasure of science for 8- to 12-year-olds. Here are 29 incredible experiments-plus one edible project-that use potato chips, potatoes, potato chip bags, tubes, and lids. It's a book-with-stuff that is alive with possibilities, merging creative fun, and completely safe activities, with lessons drawn from ecology, biology, forensics, acoustics, aeronautics, optics, and more. All packaged inside a potato chip bag!
View the video trailer
Robots
by Steve Weston
(Kingfisher, hardcover, $16.99)

Collect samples from the crater of a red-hot volcano using a robotic investigator. Guide a landing rover across the surface of Mars, and search for lifeforms. Ride with medical nanobots through the human body, and observe a sunken shipwreck through the cameras of an ROV (remotely operated vehicle). Use the whizz-kid guide to find out what's what in every scene.
Thanks for your continued patronage!
Sincerely,
Jill Hendrix, Owner
Fiction Addiction
Don't miss out on the author luncheon events everyone's talking about --
sign up
now for our Fall 2010 events!

Participate in the Read for the Record and earn your place in the Guinness Book of World Records!

October Is Breast Cancer Awareness Month


Spooky Reads for Halloween