Village Board Meeting Highlights
The Village Board held its regular meeting on Monday, October 2. The Board:
Approved the special privilege permit for existing plantings in the public right of way, property owner Yea-Feb Chen and Cahn-Yahn Huang, 2201 E. Beverly

Approved the Village Bicycle Study and Implementation Plan

Approved the replacement of the mechanic for the Department of Public Works
~~~~~~~~~~~~~~~~~~~~~~~~~~~~~~~~~~~~~~~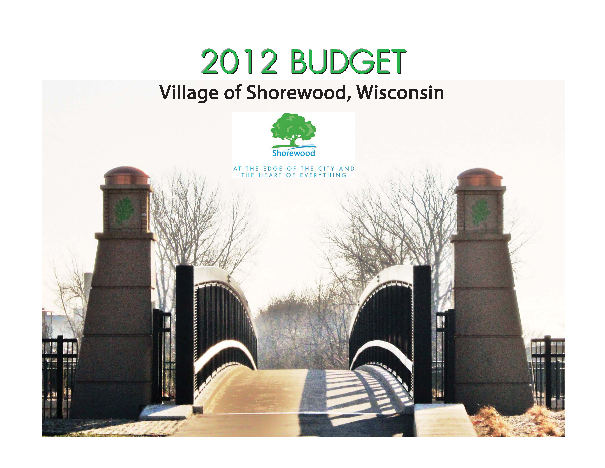 Budget Review Meetings

Village Board and staff is continuing to discuss the 2013 Village budget. The next meetings will be on Tuesday, October 16 and Thurdsay October 18 at 6 p.m. and will cover Police, Fire, Planning and Zoning and Library on the 16th and Clerk, TIF, Parking, Debt, Wrap-up on the 18th.The preliminary 2013 Budget is available for review here and a hard copy is available for review at the customer service desk.
~~~~~~~~~~~~~~~~~~~~~~~~~~~~~~~~~~~~~~~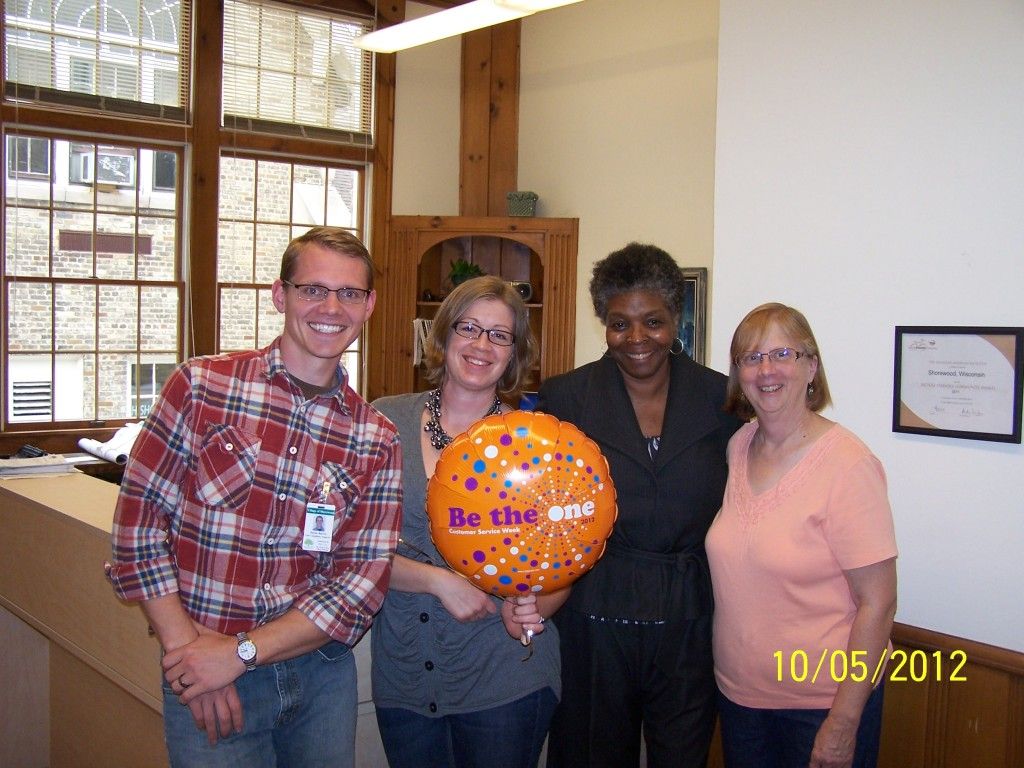 Village Employees Celebrated!
This past week, October 1-5, was national Customer Service Appreciation Week where we had the privilege to celebrate the hard work and accomplishments of our 96 employees. The theme, "Be the One," encouraged staff to continue to take advantage of opportunities to "be the one" to make the difference in the lives of the people they touch everyday-especially our residents. The week's activities included games, food and service tips that will be valuable far into the future. Great job Village staff!!

The Village is ALWAYS seeking feedback from our customers. If you'd like to comment on a service you received or make a suggestion for improvement, please feel free to visit our website and complete a Customer Service Survey by clicking here.
~~~~~~~~~~~~~~~~~~~~~~~~~~~~~~~~~~~~~~~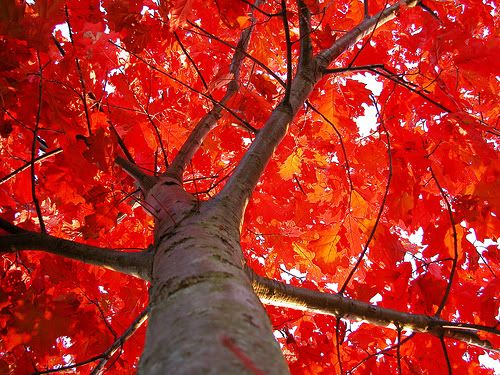 2012 Fall Leaf Collection

Fall leaf collection is approaching fast. Leaf collection by vacuum machines normally begins on the third Monday in October and continues through the first Friday in December. These dates may be adjusted depending on the leaf fall each particular year. For more info, please view the annual handout here.

Also, as a reminder from the Conservation Committee, please try not to rake leaves into the street as leaf nutrients leached out by rain end up flowing into storm sewers and into our lake and river - rake collection piles onto the parkway. We also want to encourage residents to mulch leaves by mowing them into their lawns to reduce the collection effort as much as possible. Chopped up leaves feed lawns and reduce need for chemical fertilizers.
~~~~~~~~~~~~~~~~~~~~~~~~~~~~~~~~~~~~~~~
The Shorewood Foundation Annual Dinner will be held on November 3.
Shorewood residents are invited to attend the Shorewood Foundation's Annual Dinner which will be held on Saturday, November 3, 2012 at the Hubbard Lodge in Shorewood. The proceeds from this event support the activities of many worthy civic groups, improvements for the Shorewood Schools, the annual "Ten Gardens Tour", Shorewood beautification and improvement efforts, the Public Art Projects and last but certainly not least, the annual 4th of July Fireworks Celebration at Atwater Park.
Tickets for the dinner are $100 each and may be purchased by contacting Michael McCauley at Michael.McCauley@quarles.com or Kristen Fraser at kfraser@earthlink.com or 414.962-2275
~~~~~~~~~~~~~~~~~~~~~~~~~~~~~~~~~~~~~~~
Wilson Drive Improvements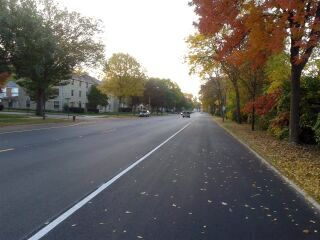 In addition to the plethora of sewer and street improvements on and around Wilson Drive this year, a minor improvement that has had a major impact on that street was recently completed. You may have noticed the solid white lines (called fog lines) that run along both sides of Wilson Drive from Capitol to Glendale. Fog lines are used to demarcate the division between the driving lane and the parking lane. As is the case with Wilson Drive, most drivers could not decide whether to treat the road as a two-lane or four-lane road. The new fog line identifies Wilson Drive as a two-lane road thereby improving driver safety and providing a safe zone for bicyclists.
~~~~~~~~~~~~~~~~~~~~~~~~~~~~~~~~~~~~~~~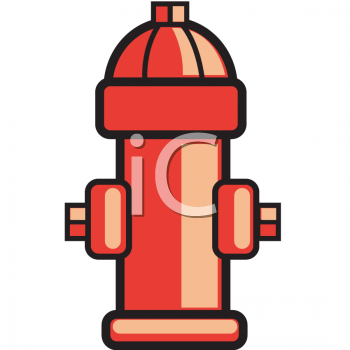 Hydrant Flushing

The Water Utility will be flushing fire hydrants between 7 a.m. and 3 p.m. until October 12. Please refrain from washing clothes between the hours of 7 a.m. and 3 p.m. during the week your hydrants are scheduled for flushing. For more info, including a map and schedule, click here.


~~~~~~~~~~~~~~~~~~~~~~~~~~~~~~~~~~~~~~~
"I Love Shorewood" Hearts Still on Sale
Check out the hearts on display at the Shorewood Library. Some of the hearts from our summer public art event still need good homes. These remaining hearts will be on display throughout the month of October. If you are interested in placing a bid, call Catherine at 414.332.3361. Think about how fabulous one of our custom-decorated hearts will look in your garden, on a patio or covered porch. They have all been clear-coated to make them last outdoors. And your purchase benefits the Shorewood Foundation! Several of the hearts will be auctioned off at the Foundation's annual dinner/auction on Saturday, November 3 - don't miss this fun event that raises vital funds for the Foundation's important work.
~~~~~~~~~~~~~~~~~~~~~~~~~~~~~~~~~~~~~~~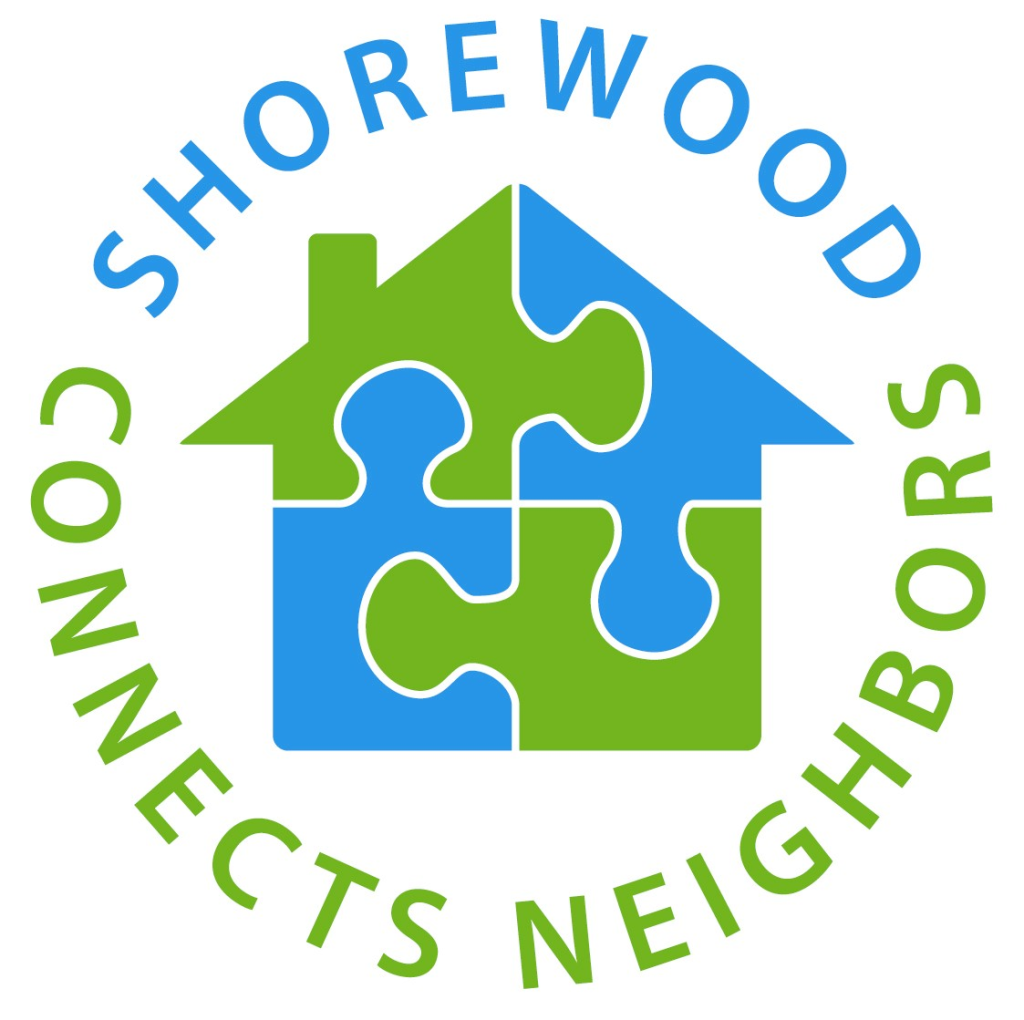 First Saturday in November is Shorewood Connects' Yard Clean-Up Day
Saturday, November 3, is scheduled as the fifth annual "Shorewood Connects" Yard Clean-Up Day, linking neighborhood volunteers with older adults and disabled adults who need help winterizing their yards. Volunteers are sought between 9 a.m. and 12 p.m. to rake leaves, clean out garden beds, trim hedges, and empty hoses at the homes of older and disabled adults for whom these tasks would prove difficult. Organizers are hoping to recruit 150 neighborhood volunteers this year to meet the need for services.
Older and disabled adults seeking more information about yard clean-up should contact Elizabeth Price of the Shorewood Senior Resource Center (414) 847-2727. Village residents interested in volunteering are asked to pre-register with Sue Kelley, Shorewood Connects Facilitator at skelley1@wi.rr.com or (414) 961-7262. It's a great opportunity to build community!
~~~~~~~~~~~~~~~~~~~~~~~~~~~~~~~~~~~~~~~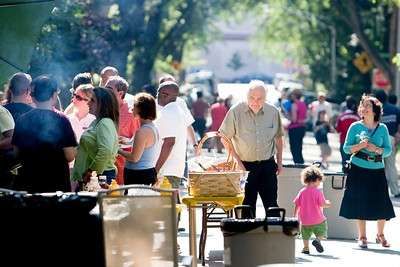 Measuring Community Involvement

As part of the Village staff's goal to continually improve our service to residents, we have been tracking our performance in several areas. One of the areas that we have been tracking is how the Community interacts with each other. A useful way of measuring this is keeping track of block party permits. For the last five years, the number of block party permits has looked like this:
2008- 48
2009-45
2010-32
2011-45
2012 (1st six months)-21
Since 2008, residents have been very active throwing block parties, which allow neighbors to get to know each other better and add to the small town feel of Shorewood. Keep up the good work!!



~~~~~~~~~~~~~~~~~~~~~~~~~~~~~~~~~~~~~~~
Village Code of the Week



§ 220-3. Landscaping, plantings and other decorative surface treatments; lawns; natural lawn plans.

A. Landscaping, plantings and other decorative surface treatments, including common species of grass, shall be installed, if necessary, and maintained to present an attractive appearance on every lot, place or parcel of land in the Village and in accordance with the provisions of § 220-1 of this chapter. Except with prior application to and approval of a natural lawn land management plan from the Village's Planning and Development Department, lawns shall be maintained to a height not to exceed six inches in length. Plantings shall be maintained so as not to present hazards or nuisances to adjoining properties or to persons or vehicles traveling on public ways and shall be maintained so as to enhance the appearance and value of the property on which located and thereby the appearance and value of the neighborhood and the Village.
~~~~~~~~~~~~~~~~~~~~~~~~~~~~~~~~~~~~~~~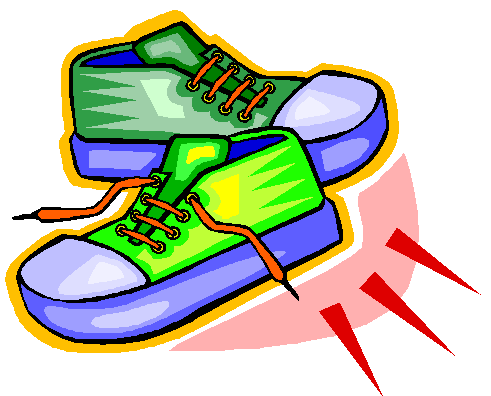 Recycling Tips from the Wisconsin Department of Natural Resource
Do you know that you can recycle old sneakers? Nike's Reuse-a-shoe program turns any brand of old athletic shoes into playground and athletic surfaces, such as basketball courts and running tracks. Go to nikereuseashoe.com to find drop-off locations in Wisconsin or learn about hosting a shoe drive.
~~~~~~~~~~~~~~~~~~~~~~~~~~~~~~~~~~~~~~~

Flu Shots
North Shore Health Department is again providing seasonal flu immunizations.
Clinics will be held as follows:
North Shore Library, 6800 N. Port Washington Road, Glendale from 4-6 pm on Thurs., Oct. 18

Fox Point Police Department, 7300 N. Santa Monica Blvd., Fox Point, from 4-6 pm on Tues., Oct 23

Brown Deer Village Hall, 4800 W. Green Brook Drive, Brown Deer, from 9-11 am on Sat., Nov. 3.
Can't make these clinics? Make an appointment by calling the Health Department at 414-371-2980.
While supplies last, both shots and nasal mist will be provided. The cost for child/adolescent flu vaccine is $5. The cost for adult vaccine varies from $30 to $35, depending on the type of vaccine. Payment must be by cash or check. Claims will be submitted to Medicare for participants with original Medicare Part B.
Routine immunizations are still offered for children and adults with no health insurance or whose health insurance does not cover immunizations. Please call 414-371-2980 for an appointment for either of these clinics:
- at the Brown Deer office: Tuesday, October 9, 10-11 am.
- at the Shorewood office: Thursday, October 11, 3-4:30 pm.
~~~~~~~~~~~~~~~~~~~~~~~~~~~~~~~~~~~~~~~

Electronics Recycling
Saturday, October 6, 8:00 a.m - 2:00 p.m

DPW Yard, 3801 N. Morris Blvd.

Midwest Computer Recyclers will be at DPW on October 6. Shorewood residents may recycle most electronic equipment at the DPW yard from 8:00 a.m.-2:00 p.m.

Fly Fishing and Casting Clinic

Saturday October 6 11 a.m.- 3 p.m.

Hubbard Park

The Shorewood Waters Project invites us to join them ,rain or shine, at the river to fish or learn to fish and see the amazing salmon run up the river. Meet anytime between 11 a.m and 3 p.m. at Hubbard Park. We'll have gear or bring your own. No RSVP needed.

St. Robert's Centennial Anniversary Celebration

Sunday, October 14, 2 p.m.

St. Robert Church, 4019 N Farwell

Come and join the parishioners of St. Robert Church as they celebrate the church's 100th anniversary. The Most Reverend Jerome E. Listecki, Archbishop of the Archdiocese of Milwaukee, will officiate mass with a brief reception to follow. All are welcome.

Trick or Treat

Sunday, October 28 2:00 p.m - 4:00 p.m

Throughout the Village

The Village's Annuals trick or treat day will be held on Sunday, October 28 from 2:00- 4:00 p.m.




Board of Appeals
Tuesday, October 9, 2012 at 5:30 PM
Court Room

Parks Commission

Tuesday, October 9, 2012 at 5:30 PM
Committee Room



Pedestrian and Bike Safety


Tuesday, October 9, 2012 at 7:00 PM
Committee Room



Library Board Meeting

Wednesday, October 10, 2012 at 4:30 PM
Village Center

Design Review Board
Thursday, October 11, 2012 at 5 pm.
Court Room



Village Board Meeting

Monday, October 15, 2012 at 7:30 PM
Court Room



Budget and Finance Committee Meeting

Tuesday, October 16, 2012 at 6:30 PM
Committee Room



Budget and Finance Committee Meeting

Thursday, October 18, 2012 at 6:30 PM
Committee Room



Quote of the Week

Success is not final, failure is not fatal: it is the courage to continue that counts.

Winston Churchill
Health Tip
During flu season, the CDC recommends that anybody over the age of six months old gets a flu shot. But if you don't get the shot, please don't come to work if you have the flu. You should stay home until your fever has been gone for 24 hours.
Environmental Tips
If you drive your kids to school,try carpooling or taking public transportation. You can also give your kids permission to try walking, biking, or skating. All of these solutions reduce the amount of fuel and will decrease traffic near schools.