Featured
Products
The MOST
Dangerous Cult
In this DVD Eric Barger carefully documents the rise of the Cult of Liberalism within the walls of the Christian Church.
This message will shake those lost in deceptive "Churchianity" with the uncompromising truth that not all who claim to be Christians and not every church that professes to be a "house of worship" are preaching the authentic gospel that transforms man and leads to everlasting life!
Today, many precious saints have been forced to leave their churches due to truly biblical or doctrinal disputes. If you have, you are NOT alone!

With alarming numbers of once-trustworthy denominations and leaders trumpeting varieties of Liberalism and Emergent and other heresies, what is the dedicated Bible-believer to do? Should we stay or must we go? In this important message, Eric Barger utilizes biblical apologetics as he approaches the problem, offers solutions, and outlines reasons to both leave and stay in a congregation.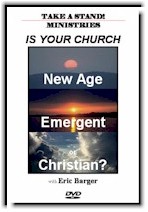 Is Your Church New Age,
Emergent, or Christian?
This comparison of New Age and Emergent beliefs against the backdrop of biblical Christianity will not only expose the many likenesses shared by New Age and Emergent philosophies but it will also help equip viewers with discernment in understanding and recognizing real, authentic Christianity.
CLICK HERE for More
Emergent philosophy has invaded nearly every once-safe denomination. In this seminar DVD, Eric defines Emergent thinking and terms, concisely exposing the leaders and errors of the Emergent Church.
Watch Eric's most recent four week series of "Christ in Prophecy" TV programs with Dr. David Reagan and Nathan Jones!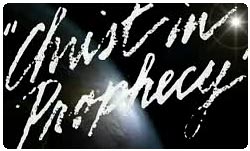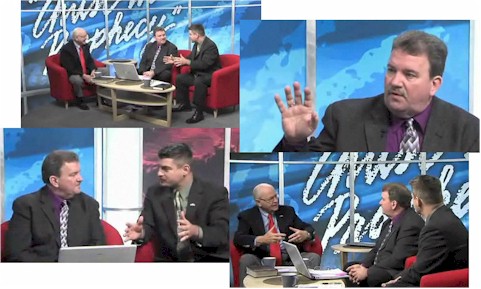 "Dangers of The Emergent Church Movement"

"The Importance of Christian Doctrine"

"The Validity of the Bible"

"Eric's Testimony" (coming soon)

View past "Christ in Prophecy" programs featuring Eric
"Christ in Prophecy" is seen each week worldwide on several Christian networks such as Daystar, Inspiration, The Church Channel, the NRB Network and others.
PRAYER NEEDED

Ongoing TV and Radio Outreach...

In the past month literally hundreds of folks from around the world have contacted us seeking information, counsel, ministry materials, and prayer.

Each day, we're experiencing the powerful effects from my recent (and ongoing) TV appearances on "Christ in Prophecy" with Dr. David Reagan and my affiliation, as both a guest and a host, on "Understanding the Times" Radio with my good friend, Jan Markell. How grateful we are for these and other media ministries that have amplified the voice of our discernment and evangelistic ministry.

As is our practice when things are "quieter," we are reading each and every email and listening to every phone message from calls made to our office. Though my time must be spent fulfilling other aspects of the ministry, I am currently setting aside hours each day to personally respond to every email and phone call that I possibly can as well. The problem is that we seem to run out of hours before we run out of correspondence and Melanie, our assistant Kellie, and I have been running on overload quite a bit. We would greatly appreciate your prayers. We estimate that this week alone we'll be mailing some 400-500 packages - perhaps the most ever for any single week in our ministry's 28-year history. Did I mention the time needed for ministry research and development, the writing of our next newsletter, updating our website, and various other aspects of our work?

Yes, we'll surely appreciate your prayers for us during this hectic season. Let me also interject that we need your financial support to sustain this increased outreach, too. Your help literally makes every part of what we do a reality.


As always, you can give safely and securely at our website (

click here

), by calling me personally at 214-289-5244, or by mailing a contribution to our Rowlett, Texas, address (shown below).

Thanks very much for standing with us. We appreciate it so much. God bless you!

PS...In the coming weeks I'll be sharing some very exciting news concerning the direction of Take A Stand! Ministries. Be sure to watch your email inbox for more.
Bring Eric to Your Church or Community!




NOTE: Ministry Opportunity

Eric has just one opening for a four day teaching and evangelistic series this fall.

Dates: November 6-9 (Sunday-Wednesday)

Place: Anywhere in the Mid South (between Texas and North Carolina)

If you or your church are interested in hosting Eric's cutting-edge "Take A Stand! Conference" please contact us immediately. Email here or call 214-289-5244.

-------------------------

"I believe Eric is one of the premier Christian Apologists traveling the country today."

- Rev. Bob Fort, Chairman, United Evangelical Churches

"We have invited Eric to speak 17 times since 1987. I highly recommend his ministry."
- Pastor Milton Hubbard

"Eric's articulate presentation of carefully researched information is solidly based in Scripture and life-changing in its impact."
- Rev. Jim Keys

"Over the years we have had Eric at our church many times. We have always found his ministry to be balanced and to the point. He has helped our church stay focused and walk in the will of God."
- Pastor Sam Buckingham
SPECIAL!




Want an assortment of Eric's teachings to share with others or enjoy again and again?

Order our
One of Everything Special!




Includes:



- 20 of Eric's full-length seminar DVDs
- 10 CD messages by Eric
- 5 Books

$250

(a $449 value)

Great for home use, Christian and home school study, Bible studies, small groups, Sunday School, church libraries and anyone just wanting a collection of Eric's DVDs, his most current Books plus others and an assortment of his teaching CDs.

Order online

or call 214-289-5244

You may also mail your request to:

Take A Stand! Ministries

PO Box 1485 - Rowlett, TX 75030