Today, many precious saints have been forced to leave their churches due to truly biblical or doctrinal disputes. If you have, you are NOT alone!

With alarming numbers of once-trustworthy denominations and leaders trumpeting varieties of Liberalism and Emergent and other heresies, what is the dedicated Bible-believer to do? Should we stay or must we go? In this important message, Eric Barger utilizes biblical apologetics as he approaches the problem, offers solutions, and outlines reasons to both leave and stay in a congregation.

This timely message holds important apologetic insight to help you identify the many cultic versions of Jesus being promulgated today. Mormonism, Jehovah's Witnesses, Christian Science, The New Age Movement - they ALL have a "Jesus."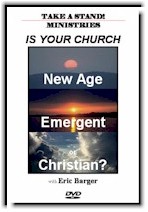 Is Your Church New Age,
Emergent, or Christian?
This comparison of New Age and Emergent beliefs against the backdrop of biblical Christianity will not only expose the many likenesses shared by New Age and Emergent philosophies but it will also help equip viewers with discernment in understanding and recognizing real, authentic Christianity.
CLICK HERE for More
Emergent philosophy has invaded nearly every once-safe denomination. In this seminar DVD, Eric defines Emergent thinking and terms, concisely exposing the leaders and errors of the Emergent Church.
This DVD explains theological Liberalism, how this insidious philosophy rose to power, how it has destroyed the once-great mainline denominations and above all, what the Scripture proclaims about it. One of our most important teachings, which clearly exposes the most dangerous of the cults, which operates right inside the Church.
Contemplative Mysticism promoted to Evangelicals...again
"Strange Disciplines" from Christianity Today
Over the years the editors of Christianity Today haven't tried to veil their increasingly liberal views and now - once again - they are serving up a heaping plate of contemplative mysticism aimed at Church leaders.

It is no secret to most observers that Christianity Today has been a harbinger of every idea - whether biblical or not - to come through the Church. Liberals, cultists, Emergents, and true bible believers have had their say in its pages. When favorably citing articles from CT that actually present a biblical viewpoint, I have found myself qualifying the fact that indeed something worth reading is occasionally found in its pages. However rare that may be, the proverbial blind squirrel does indeed find an acorn to munch on from time to time. There's my disclaimer, now on to the issue at hand.


For some time I have been receiving newsletters from "Building Church Leaders - Leading Outreach," a division of Christianity Today International.
Without doing much investigating, I have been suspiciously uncomfortable with much of the advice found in these
communiques. This week those troubling inklings were more than confirmed.


The Building Church Leaders newsletters are produced by Drew Dyck, the managing editor of BuildingChurchLeaders.com. Dyck manages the Leader Training Team at Christianity Today International and oversees four online publications geared for ministry leaders.
In the re
cent Building Church Leaders newsletter, Drew Dyck has endorsed what he once referred to as "strange practices." He wrote,
"When I first started to hear about 'spiritual disciplines,' they made me nervous.
Lectio Divina sounded strange, even a little New Age. Walking the labyrinth seemed like something people in a cult might do.
Don't laugh! Coming from a low-church, evangelical
background, this was all new stuff to me. Fortunately, in recent years, I've come to deeply appreciate these ancient Christian practices and recognize their powerful potential for enriching my walk with God. Learning a couple key Latin phrases helped ease my fears as well."
Drew should have stuck to those original feelings. It may have actually been the Holy Spirit softly warning him of the spiritual mine-field that lay ahead.

At first glance, many of the things mentioned in the offer from Christianity Today sounds fine and I'm sure some of it may be. However, the more one investigates, the more mysticism one finds being advocated as "normal" Christianity.


Packaged at a special "combo" price of $44.95, here are just a few of the resources Mr. Dyck is advocating to help "Build Church Leaders."


An Introduction to Solitude
Practical wisdom on giving God our undivided attention
by Henri Nouwen
Keeping Your Clock Ticking
A primer on the benefits and practices of solitude
by John Ortberg
Silence and Solitude for Beginners
Here's how to break through common barriers to these necessary disciplines.
by Ruth Haley Barton
What Is Contemplative Prayer?
Understanding the practice and purpose of an ancient method of prayer.
Adele Calhoun
What Is Lectio Divina?
Understanding the practice, purpose, and art of spiritual reading.
Adele Calhoun
Accepting the Embrace of God
Experience a deep and transforming connection with God through Lectio Divina.
Fr. Luke Dysinger
A Parable of Devout Indifference
Here's why your current approach to studying the Bible doesn't seem to be working.
Eugene Peterson
Lectio Divina and Contemplative Prayer in Small Groups
A practical discussion on two countercultural methods of spiritual growth.
Adele Calhoun
Listening for God
How an ancient method of prayer can deepen your teenager's faith.
Tony Jones
Two Approaches to Group Lectio Divina
Practical methods of incorporating lectio divina into your small group experience.
Fr. Luke Dysinger
Answering the Objections
Teaching your people about spiritual disciplines often starts with dispelling myths.
Paul Anderson
(Note: This last one may well instruct congregations not to listen to people like Yours Truly!)
Eric Responds


I don't respond to everything I read but in this case I let my thoughts be known to Drew Dyck. In a letter to him this week I wrote:


Strange is right, Drew.
The integration of Lectio Divina and labyrinths is leading many in the professing Evangelical Church down the garden path into spiritual disaster. What is wrong with just staying with the Scripture, nothing more, nothing less? We are culpable to the Bible alone and one day we'll have to account for how we handled God's finished and sure Word. In the end, it alone is what we will be judged by. I firmly believe that this is the root problem in the Church today, Drew. A majority of modern Evangelicals have a disturbingly low view of Scripture and a breathtaking ignorance for doctrine. If those in the Church knew and cared to actually follow their Bibles, most wouldn't consider following the erroneous materials and leaders you are advocating. Experience is fine and justified - as long as it is tested by Scripture and found sound. However, the quest for spiritual goosebumps that many Evangelicals are currently on is a dangerous journey leading into mysticism instead of to the feet of the Savior.
As I looked over the list of materials you've offered as "Spiritual Disciplines Essentials," I was reminded of just how unhinged from our once-strong biblical foundation Evangelicals have become. Why would biblical thinkers even consider the advice found in the Emergent/Contemplative Spirituality of folks like Richard Foster, Tony Jones, Lynne M. Baab, John Ortberg, Ruth Haley Barton, and the catholic "mystic," Henri Nouwen? The collective teaching of these people rejects the absolute supremacy of the Bible, is flawed with the concept that experiences are the goal rather than the result of our faith, and present a counterfeit religion described nowhere in Scripture. Worse yet, instead of pointing us to the Throne Room, they unabashedly point in the direction of Rome. Where are men like Coverdale, Hus, Luther, and Tyndale when we need them!? The Reformers gave their lives for His truths and to deliver us from the sort of stuff currently being delivered up as "Evangelical." Shame on us for not only allowing it but for endorsing such, as well.
I am praying that biblically-minded leaders will loudly reject your unfortunate advice to incorporate these many practices into the life of their churches. This is nothing short of "strange fire" kindled upon the altar of a different god.
In the name of Sola Scriptura,
Eric Barger
Take A Stand! Ministries
Rowlett, TX

I wonder how many uninformed or unaware pastors, youth pastors, or lay leaders will be enticed into following Dyck's advice to jump into the Emergent pool. Sadly, many of them will not delineate between the moving of the Holy Spirit and the allure of a counterfeit.

Contemplative mysticsim is something to avoid at all cost. Drew Dyck and countless others are embracing practices and ideas that may titillate but actually lead away from the Cross, the blood of the Lamb, and the triumph of God's flawless Word. While it's true that these practices make the participants feel "spiritual" and intellectually superior, many of those involved in contemplative stuff haven't bothered to ponder (or have no understanding) that the various deceptions enticing the Church are rarely going to appear overtly evil and dark. The wares
delivered by an "angel of light" usually
have elements of illumined spirituality in them - but when put to the test they never stand up against the scrutiny of Scripture.


For those who suppose that my criticism is unwarranted, it's likely because for the past few years we've been conditioned by any number of plans, programs, books, and manuals that have together accomplished a satanic goal - making us illiterate about and even causing a abhorrence of doctrine and the careful study of Scripture that instructs us in it.

We've had a change in the way those in leadership views their role; in particular, the very mission of leadership in the Church has shifted. Many have gone from the biblical mandate to "preach the word" (II Tim 4:2) to following the plans of Rick Warren and Bill Hybels without having stopped to consider what this has really meant. Enamoured by the sheer numbers some have drawn and the notoriety they've garnered, many leaders in the modern Church seem to have become starstruck by the worldly ethic of success. Change in leadership is something the Apostle Paul spoke about as he addressed the Ephesian elders for the final time in Acts 20. In verse 27, Paul states that he had never hesitated to proclaim to them the entire will and counsel of God. I don't think there is any doubt that Paul drilled the Ephesian Church with doctrine, doctrine, and more doctrine, because that alone is what weatherproofs the Christian against our three enemies - the world, the flesh and the devil.
Note that Paul never offered yoga classes, lessons of the labyrinth, or "centering" prayer based in mysticism! In verse 28, he dictates that the shepherds follow his lead. He says, "Take heed therefore unto yourselves, and to all the flock, over the which the Holy Ghost hath made you overseers, to feed the church of God, which he hath purchased with his own blood." Immediately he gives them a stunning warning of what will accompany the impending change of leadership upon his departure. "For I know this, that after my departing shall grievous wolves enter in among you, not sparing the flock. Also of your own selves shall men arise, speaking perverse things, to draw away disciples after them. Therefore watch, and remember, that by the space of three years I ceased not to warn every one night and day with tears." (v. 29-31.)

Don't suppose that those Paul describes here as "wolves" immediately began to teach against the doctrines of the faith or encouraged the people of Ephesus to embrace satanism. No, I believe it was a slow slide, powered by charismatic personalities who may not have actually even realized exactly what they were doing. It is just such an order of events that has brought us to where we are in the modern evangelical movement. Leaders have elected (or been instructed by an assortment of smooth-sounding wolves in our seminaries) to downplay or even ignore doctrine and have replaced sound biblical preaching with something suitable to the flesh of their hearers. The result is that biblical truths are increasingly viewed as "old-fashioned," holiness is disdained as "legalism," and biblical Christianity has been emptied of its power as another gospel slowly grows over the authentic one in much the same way that St. Augustine grass, when given free rein, overtakes Bermuda grass in the hot Texas sun.


My advice to Mr. Dyck and every Emergent follower is to abandon mystical practices and those who have revived them and return to God's sure and tested Word for their direction. Just as in New Age and occult thinking, simply because something "works" doesn't make it "right." And contemplative practices "work" only because the powers of darkness empower them to do so. Surely, you've read the warning, haven't you?
Now the Spirit speaketh expressly, that in the latter times some shall depart from the faith, giving heed to seducing spirits, and doctrines of devils...
- I Timothy 4:1
Bring Eric Barger and Take A Stand! Ministries to Your Church!
Now scheduling seminars and conferences for
2011 and beyond!
Connect with us on Facebook!
Click the Facebook button here or log on and search for:
"Eric Barger/Take A Stand! Ministries"
New Videos on our YouTube Channel
New uploads include info on:
- The Emergent Church
- Islam
- "The Shack"
- Universalism in the Church
- Bible Prophecy and the Occult
- Discernment or Deception
- Brit Hume and Tiger Woods
Click Here
We depend upon the gifts and offerings of those who believe in our mission. Thanks for considering a gift now.





Want an assortment of Eric's teachings to share with others or enjoy again and again?

Order our
One of Everything Special!







Includes:



- 20 of Eric's full-length seminar DVDs
- 10 CD messages by Eric
- 5 Books

$250


(a $449 value)

Great for home use, Christian and home school study, Bible studies, small groups, Sunday School, church libraries and anyone just wanting a collection of Eric's DVDs, his most current Books plus others and an assortment of his teaching CDs.

Order online

or call 214-289-5244

You may also mail your request to:

Take A Stand! Ministries

PO Box 1485 - Rowlett, TX 75030