Warning: Get ready to scream...
Charles Bolden, the chief of the North American Space Administration (NASA), was interviewed recently by the Muslim news service, al Jazeera, in Cairo. Bolden said that, under direction by President Obama his "foremost" mission as the head of America's space agency is to improve relations with the Muslim world.
"When I became the NASA administrator - or before I became NASA administrator - he [Obama] charged me with three things. One was he wanted me to help re-inspire children to want to get into science and math, he wanted me to expand our international relationships, and third, and perhaps foremost, he wanted me to find a way to reach out to the Muslim world and engage much more with dominantly Muslim nations to help them feel good about their historic contribution to science...and math and engineering."
Huh? What has this to do with NASA's mission? Can someone remind me of how Islam (or any noted Muslim scientist or country) has aided space exploration? Only in the mind of Obama can space exploration and Islam come together.
This is nothing more than another example of the over-the-top efforts of the Obama administration to forward its obvious pro-Muslim, globalist and anti-American agenda.
One blogger caught the gist of this:
The NASA that JFK missioned to send Americans to the moon is now missioned by Obama to suck-up to the people that harbors and supports our enemies who have declared war upon us and killed thousands of Americans and continue to attack us in every way they can.
(
http://roanokeslant.blogspot.com/2010/07/obama-nasa-islam.html
)

Somebody may think that the tailgate of this truck from Virginia is too much, but let's never forget the day America was introduced to Islam.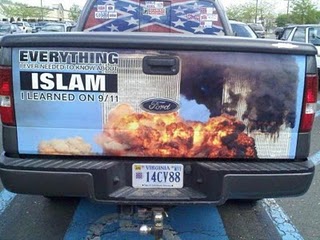 It says "Everything I've needed to know about Islam I learned on 9/11."
Related:
More on Proposed NYC Ground Zero Mosque
AUDIO FILE: Listen as Eric, Dr. Larry Spargimino and the commentators from Southwest Radio Church discuss this important topic on Southwest Radio Church's weekly live web broadcast (June 23, 2010 edition).
Click Here to listen live.
(Note that due to your connection speed it may take a moment or two for the file to load and begin playing.)
To download this file follow these steps:
(1) "Right click" on the link above. (2) Select "Save Target As" and direct the file to be saved into the appropriate folder on your computer. (3) From there you may click on the file and listen anytime.
Bring Eric Barger and Take A Stand! Ministries to Your Church!
Connect with us on Facebook!
Log on and search for:
"Eric Barger/Take A Stand! Ministries"
New Videos on our YouTube Channel
New uploads include info on:
- The Emergent Church
- Islam
- "The Shack"
- Universalism in the Church
- Bible Prophecy and the Occult
- Discernment or Deception
- Brit Hume and Tiger Woods
Click Here
We depend upon the gifts and offerings of those who believe in our mission. Thanks for considering a gift now.