Greetings!

We have about 40 newps in Part 2 of our ANA New Purchases. Highlights include three PCGS 1828 Large Date dimes, a low-grade 1873-CC dime, an EF 1818 B-5 quarter, an affordable PCGS Good-6 1807 O-127a half (R-6+), a gorgeous PCGS XF-45 1807 O-112 half from the Witham collection: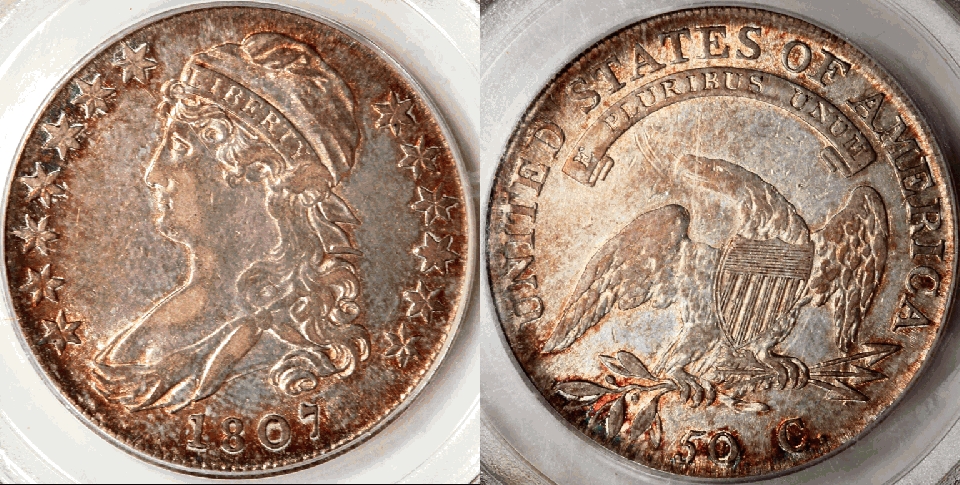 Also, a PCGS F-15 1828 O-123a half (R5+), a wonderfully toned PCGS MS-62 1837 Reeded Edge half from the Dale Friend collection: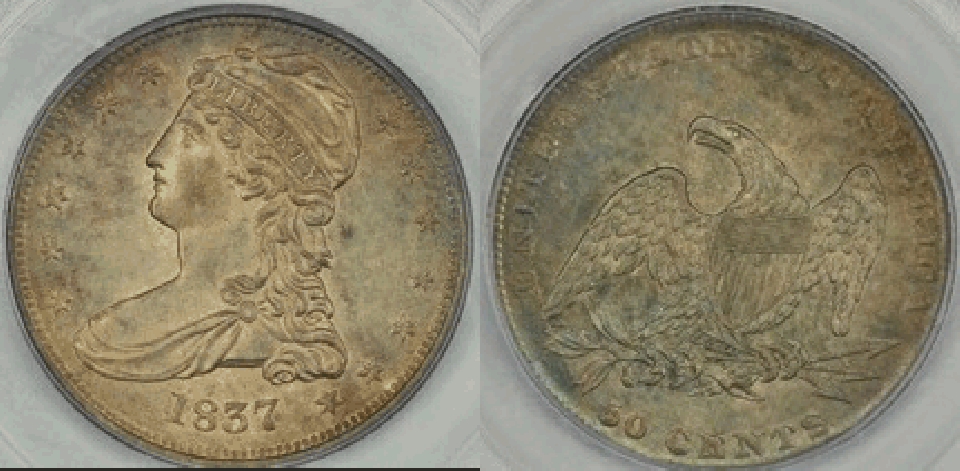 And, a VF-35 1840-(O) Medium Letters half (the rare 2nd marriage), a nice MS-62 1877-S Trade dollar, and a stunningly toned 1938-D Buffalo nickel (professional photo, but the colors are much more vibrant in person):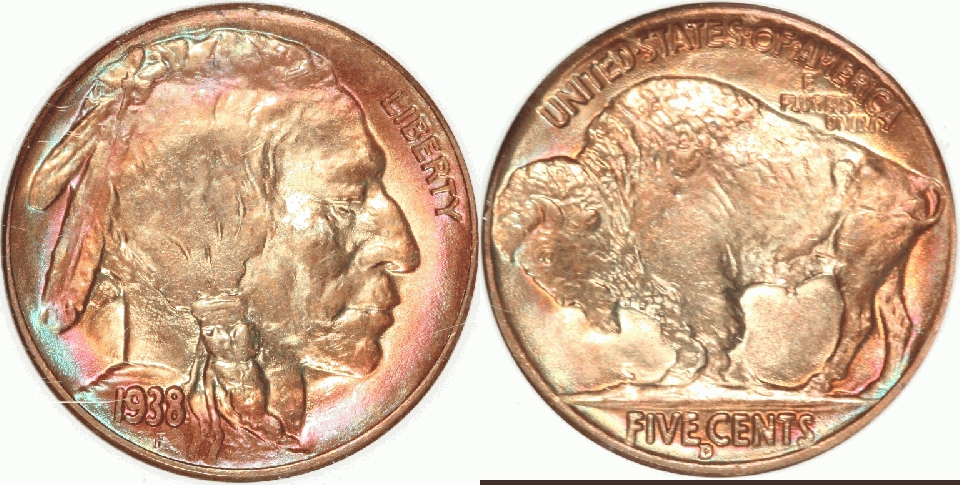 All of our coins including the following newps are posted on our website
www.richuhrichcoins.com
.
If you see any coin(s) of interest, please call (717)533-2935 or (717)579-8238 (cell) or e-mail us at richuhrichcoins@comcast.net to reserve the coin(s)
that you want.
Also, please keep an eye out for our full-page color ad in upcoming issues of both Coin World and Numismatic News.

We are also distributing the new book "A Registry of Die Varieties of Reeded Edge Half Dollars" by Dick Graham. Mr. Graham has collected and researched this series for over 15 years, and the book is excellent! Up until now, the only reference for this series was a rather difficult to use monograph by the late Jules Reiver.
Our newps are:
| | | |
| --- | --- | --- |
| Bust Half Dimes | 1829 LM-7.1 R-4 AU-58 | 295 |
| Bust Half Dimes | 1830 LM-9.1 R4 PCGS AU-55 | 450 |
| Seated Half Dimes | 1846 VG-10, 3 letters of LIBERTY, scr. | 1,125 |
| Bust Dimes | 1824/2 JR-2 R5+ VG-8, 1st one | 675 |
| Bust Dimes | 1828 Large Date PCGS VF-30 CAC | 1,400 |
| Bust Dimes | 1828 Large Date PCGS VF-30 | 1,300 |
| Bust Dimes | 1828 Large Date PCGS F-15 | 800 |
| Seated Dimes | 1863-S VF-20 | 350 |
| Seated Dimes | 1873-CC PCGS Gen., G det., dmgd. | 2,250 |
| Seated Dimes | 1886-S PCGS VF-35 | 375 |
| Bust Quarters | 1818 B-5 R-4+ EF-45 | 1,650 |
| Bust Quarters | 1831 B-5 R3 Lg Letters F-15 | 180 |
| Bust Quarters | 1837 B-2 R1 VF-30 | 140 |
| Bust Quarters | 1837 B-4 R4 EF-45 LDS | 350 |
| Bust Quarters | 1838 Bust B-1 R-1 AU-53 | 600 |
| Seated Quarters | 1839 Very Long Claws VF-20 | 300 |
| Seated Quarters | 1841 VF-20 | 300 |
| Seated Quarters | 1844-O F-12 | 75 |
| Seated Quarters | 1847 AU-55 | 275 |
| Seated Quarters | 1855-O EF-40+ | 1,000 |
| Seated Quarters | 1873 W/Arrows, NGC AU-55 | 525 |
| Bust Halves | 1806 O-127a R-6+ PCGS Good-6 | 4,950 |
| Bust Halves | 1807 Capped 50/20 O-112 PCGS XF-45 Witham | 2,250 |
| Bust Halves | 1807 Capped O-112 R1 F-12/close, scrs. | 375 |
| Bust Halves | 1819/8 O-102 R-2 NGC XF-40 nice toning | 925 |
| Bust Halves | 1825 O-106 R3 NGC AU-55 | 1,795 |
| Bust Halves | 1828 O-123a R5+ PCGS F-15 | 1,695 |
| Bust Halves | 1835 O-107 R1 VF-30 | 90 |
| Bust Halves | 1837 PCGS MS-62 Friend | 2,950 |
| Seated Halves | 1840- (O) Med. Lett. VF-35, lt. clnd., 2nd obv. | 1,250 |
| Seated Halves | 1843 NGC AU-58, bisecting die cracks both sides | 1,000 |
| Seated Halves | 1869-S VF-35 | 300 |
| Seated Halves | 1889 AU-50, v. lt. cleaned | 775 |
| Seated Dollars | 1846 PCGS AU-50 | 1,200 |
| Seated Dollars | 1850 VG-8 | 1,050 |
| Seated Dollars | 1857 VG-8, very lt. clnd., attractive | 975 |
| Seated Dollars | 1867 PCGS VF-25 | 875 |
| Trade Dollars | 1877-S Trade MS-62 | 1,350 |
| Half Cents & Cents | 1853 Half Cent MS-64RB | 575 |
| Nickels | 1887 NGC AU-53 | 150 |
| Nickels | 1938-D MS-67 Star NGC gorgeous toning | 2,650 |
| Tokens & Medals | 1838 HT-81, Am I Not A Woman, NGC VF-20 | 350 |