Look Who's Gathering

Registration for "Crossing the Divide"

We've had online registration open for a month, but so far only 16 people have used it to sign up for Gathering 2008. A few others have registered by emailing me (Brent Laytham) directly. I admit I'm starting to worry that many of you aren't coming this year. So please read the following carefully.

First, we really need you to register as soon as possible. So we'll bribe you. Everyone registered by June 1 will be eligible for a drawing to receive a $100 book voucher from one of our booksellers. We'll have at least 2 (perhaps even 3) lucky winners.

Second, to register online, you need to be logged into our website (that's just how it works). If you don't want to log in or find that you cannot, please email me to get registered.

Third, some of you are waiting to register because you don't want to send the deposit yet. At this point, I'd rather have you register now and send the deposit later.

So who is coming? Here's the list, and if you think your name should be on it but don't find it here, let me hear from you. Beth Newman, Brent Laytham, Debra Dean Murphy, Gabriel Alejandro Santos, Heather Bunce, James Lewis, Joel James Shuman, Jon Stock, Kelly Johnson, M. Therese Lysaught, Michael Joe Bowling, Monica Laytham, Nancy Bullock, Jeff Bullock, Philip D. Kenneson, Ryan Bunce, Stan Wilson, Chris Broussard.




Congregational Formation Initiative Round 2 Set to Launch

We are hoping to launch a second cohort of congregations on their journey through the Congregational Formation Initiative (CFI) this fall. Toward that end we will be holding a one-day orientation session in connection with the summer gathering in July. If you believe your congregation might be interested in being part of that cohort, please email CFI director Phil Kenneson as soon as possible for further information (or call 423-461-8797).

"Christian Wisdom: Desiring God and Learning in Love"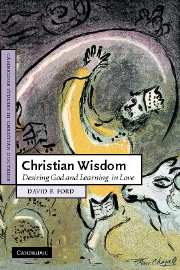 Normally, a reviewer should finish the work reviewed before recommending it. Forget that. I'm currently in the middle of reading David Ford's fascinating new book, Christian Wisdom: Desiring God and Learning in Love (Cambridge, 2007). Opening with a look at "wisdom crying" in the text of Luke- Acts and moving forward using Job as the core wisdom text of the book, Ford explores a Christian way of uniting love of wisdom with wisdom in love. Does he pull it off? I'll let you know when I finish, but the book has proven insightful and provocative.

Here is a sample: "Desire is in many ways the embracing mood of a life immersed in history and oriented towards the fulfillment of God's purposes. In desire the indicatives, imperatives, interrogatives and subjunctives are taken up into a dynamic that orders them towards their fulfillment yet without pretending that we are there yet. This guards against allowing any of them to dominate inappropriately: whether a literalist dogmatism of 'This is so!' or a moral absolutism of 'Do this!' or an openness of questioning, doubt, and confusion without any definiteness; or an endlessly experimental exploration of attractive possibilities."

"This has important consequences for theology. Theology desires a wisdom that is true to God and God's desires; that lives in the midst of life while hoping in God's future; that takes as its main guide the scriptures interpreted in the Spirit and in community with Christians and with others who seek wisdom; and that seeks to ring true to the great cries that arise in scripture and in life. Theology is called to be ceaselessly attentive to these cries and to exercise discernment while being gripped by them."

Reviewed by Jon Stock

editor's note: Jon, this is easily the most expensive book ever reviewed in the EP newsletter!

Friends of EP

Conferences and Courses Join our confreres for conferences and courses this summer:

The Jesus Radicals will be hosting their annual conference Swords into Plowshares: Anarchism, Christianity and Principles of Peace, August 10-11, 2007 at Loras College in Dubuque, Iowa.

The New Monasticism folks now offer a Sc hool for Conversion, theological education and practical formation for the sake of conversion into a new way of life.

Bridgefolk's summer conference entitled "Holiness the Road: Saints and the Spirituality that Sustains Them" will be at St. John's Abbey in Collegeville, MN, July 25-27, 2008.

If you have news that you'd like us to share with EPers, please email Brent Laytham.

Notes from your editor

John McFadden After Fox News sliced and diced 36 years of faithful preaching by my UCC colleague, Jeremiah Wright, into a 25 second sound bite, I had lunch with the senior pastor of the Appleton Alliance church. I asked: "Dennis, how many of your sermons would I need to review before I found something that made you look like a complete fool?" He pondered the question a moment before replying: "three, at most." It is fair to guess that Dennis and Jeremiah would agree on very little beyond the goodness of God and the Lordship of Christ, but certainly they both understand that a faithful sermon attempts to bring God's Word to a particular congregation on a specific day: very few sermons travel well, nor are they meant to be broken down into fifteen-second sound bites. Here in the YouTube era, preachers -and the Gospel they serve - have become vulnerable to distortion and abuse.

I suspect that when we come together at the Gathering to ponder "Race, Racism and the Body of Christ" there will be much conversation about this incident, and about the prophetic witness of the African-American pulpit. Meanwhile, Randy Cooper points us to another important dimension of this "incident" in his thoughtful piece on bLOGOS, which can be read he re.