The Best Way to Run Faster...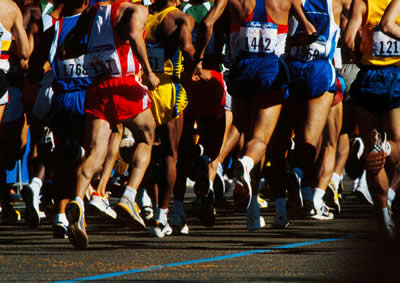 ...Is To Run Faster!!
Are you a road racer or casual runner who would love to run a little faster but just can't seem to do it? The best way to run faster is to do some speed training in your workouts...and the best place to start is on the track. For runners that have been coached at the high school and collegiate level, track work is a familiar thing, but the vast majority of people running road races today have never been coached. Some simple track work, picking a pace that you WANT to run at to set your personal best for that 5K is the way to go. This month we have attached a grid of "split times" that you can shoot for while running on a track and some sample workouts...so
click here
, print it out, hit the track and set that personal best this fall!
All About Knee Replacement Surgery
Another Trend For Baby Boomers...
In 2030, there will be nearly three times as many people over the age of 65 than there were in 1980 [source: American Hospital Association]. This means boomers, as a group, will be needing -- and receiving -- more medical attention than any previous same-aged demographic. One of the areas that is seeing the most trending up joint replacements.
The demand for total joint replacement is expected to increase so dramatically in the next 25 years that there may not be enough orthopaedic surgeons to perform the surgeries, as indicated by results from recent research on the topic. It has been projected that knee replacement surgeries would jump by 673 percent - to 3.48 million - in 2030..Want to know what happens in a knee replacement surgery?? Click on the photo above to be taken to our online patient education portal where you can view videos of procedures and find answers to all of your questions.