Soquel Camp Meeting
July 12-21, 2012
5 Life Lessons
All that truly matters in the end is that you loved.
Envy is a waste of time. You already have all you need.
The best is yet to come.
No matter how you feel, get up, dress up and show up.
Take a deep breath. It calms the mind.
The Truth Is ...
"My time at MBA was the pivotal experience in my life. Today, sixty years later, my life is still guided by the spiritual orientation instilled through the ministry of MBA to a troubled teen. The ministry that I am still involved in - being a Christian author and a pastor to the church of the unchurched (The Good News Rescue Mission) - had its origins in the Godly nurture I received at MBA so long ago."
Pastor James V. Potter. Ph.D.
Class of 1954
"Monterey Bay Academy has filled a pivotal role in not only my own education, but also in my wife. The legacy of spiritually-based teaching and mentorship, superb musical organizations, and a continued commitment to academic excellence makes MBA truly one of a kind!"
Joe L. Wheeler, Ph.D.
Class of 1954


Author, Christmas in My Heart book series
"My conversion to Christ at MBA set my life in a direction that cannot be described in words, because it has been an experience. I could never repay the valuable training and life preparation I received at MBA."
Jose Rojas, Class of 1978
Director, Volunteer Ministries, North American Division of SDA
"I am indebted to the teachers and leaders that I now realize were making great sacrifices to work at MBA. The education, discipline, and life-long friendships from my years at MBA are invaluable assets that will live with me forever."
Scott Nelson, M.D., Class of 1988
Medical Director, CURE International, Haiti and Santo Domingo
"The atmosphere at MBA is very warm and supportive, the teachers are very Christ centered, the school offers many interesting opportunities for a variety of activities, and the campus is an idyllic place to attend school."
Lindsey Henning, Class of 2011
Sonora, CA
"I feel a certain pride toward MBA. I feel it is a school that really develops a child's character. Compared to other schools I have seen, MBA seems so personal and because of the boarding school experience, it is like a family. I feel very attached to MBA and being at MBA makes me feel like part of a kind of special 'club', a club connected with God that has many members that all have that same feeling."
Danica Betts, Class of 2011
Development Office
(831) 728-1481
Assistant Director of Development
I really like this YouTube commercial by Tide for the 2012 Olympics:
Before the Gold, Silver, and Bronze, it's the red, white and blue. At the Olympic Games, it's not the color you go home with that matters, it's the colors you came in. When colors mean this much, trust them to Tide.
When Colors Mean This Much - Tide Anthem
So, too, for our Christian life, only in reverse:
It doesn't matter what color you you came with. It matters what color you go home in.
Cheers and Happy Fourth of July!
Marci Scott
Assistant to Charlotte Henderson, Director of Development
Where Land Sea Unite to Inspire
(Quote of the Month)
MBA News
Soquel Camp Meeting, July 12-21, 2012. Monterey Bay Academy will be at Soquel Camp Meeting with a special gift for our alums. MBA will also be hosting a watermelon feed on July 21, 2012. Stop by the MBA trailer near the cafeteria.
Congratulations to Kristian Leukert, MBA's Director of Music, for being named a 2012 Teacher of Excellence by the Alumni Awards Foundation. He was one of ten teachers in America selected from SDA academies. Kristian is the 9th teacher from MBA in 10 years to receive this prestigious award.
Left to Right: Kristian Leukert, Director of Music and Arpad Karoly Soo, Alumni Awards Foundation Representative
Congratulations to Ruth (Rufus) Nobuhara for winning the Staff Member of the Year 2012 award. The Staff Member of the Year award is given to a faculty/staff member who has shown exceptional service and dedication to the students and to their fellow colleagues, demonstrated a commitment to Monterey Bay Academy, and communicated the unconditional love of Jesus Christ to others. Recipients of the award receive $500 and their name on the perpetual plaque that hangs in the lobby of Grunke Hall. This award has been presented by the MBA Alumni Association for the past 19 years.
Left to Right: Tim Kubrock, Principal,
Ruth Nobuhara, Landscaping
Charlotte Henderson, Alumni/Development
Maranatha Work Bee (June 15-22, 2012) A special thanks to all those who volunteered during the Maranatha work bee at MBA, including the Lodi Fairmont and Sonora SDA churches. Special projects included painting the new computer rooms in the dorms, painting faculty homes, and landscaping.
The Laugh Factory
Here are a few 4th of July jokes by kids (and one grownup) from all over the country. Source
Q: What did one flag say to the other flag?
A: Nothing. It just waved!
From Eloise, age 9, Charlottesville, VA
Q: Why did Paul Revere ride his horse from Boston to Lexington?
A: Because the horse was too heavy to carry!
From Betty, age 9, CT
Q: How is a healthy person like the United States?
A: They both have good constitutions!
From Tom P., age 8, KY
Q: What did King George think of the American colonists?
A: He thought they were revolting!
From Scott, age 11, Colorado
Q: Do they have a 4th of July in England?
A: Yes. That's how they get from the 3rd to the 5th.
From Big Al, a grownup, Frankfort, KY.
What July Fourth Means to Me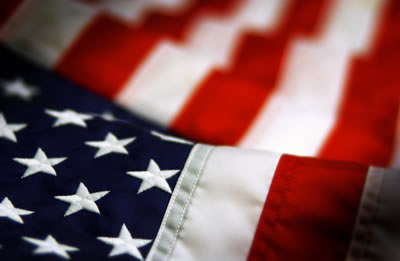 There is a legend about the day of our nation's birth in the little hall in Philadelphia, a day on which debate had raged for hours. The men gathered there were honorable men hard-pressed by a king who had flouted the very laws they were willing to obey. Even so, to sign the Declaration of Independence was such an irretrievable act that the walls resounded with the words "treason, the gallows, the headsman's axe," and the issue remained in doubt.
The legend says that at that point a man rose and spoke. He is described as not a young man, but one who had to summon all his energy for an impassioned plea. He cited the grievances that had brought them to this moment and finally, his voice falling, he said, "They may turn every tree into a gallows, every hole into a grave, and yet the words of that parchment can never die. To the mechanic in the workshop, they will speak hope; to the slave in the mines, freedom. Sign that parchment. Sign if the next moment the noose is around your neck, for that parchment will be the textbook of freedom, the Bible of the rights of man forever."
He fell back exhausted. The 56 delegates, swept up by his eloquence, rushed forward and signed that document destined to be as immortal as a work of man can be. When they turned to thank him for his timely oratory, he was not to be found, nor could any be found who knew who he was or how he had come in or gone out through the locked and guarded doors.
Well, that is the legend. But we do know for certain that 56 men, a little band so unique we have never seen their like since, had pledged their lives, their fortunes and their sacred honor. Some gave their lives in the war that followed, most gave their fortunes, and all preserved their sacred honor.
There have been revolutions before and since ours. But those revolutions simply exchanged one set of rules for another. Ours was a revolution that changed the very concept of government.
Let the Fourth of July always be a reminder that here in this land, for the first time, it was decided that man is born with certain God-given rights; that government is only a convenience created and managed by the people, with no powers of its own except those voluntarily granted to it by the people.
We sometimes forget that great truth, and we never should.
Happy Fourth of July.
--Ronald Reagan, 40th President of the United States (Excerpt from a piece Ronald Reagan wrote for Independence Day in 1981)
If you know the answer to this month's MBA trivia question, email your answer ASAP to
alumni@montereybayacademy.org
. The first person with the correct answer will be this month's winner and that name will be placed in our grand-prize annual drawing for a free weekend stay at Monterey Bay Academy. Click on Contest Details for more information.
Answer to Question for June 2012
Who were the first civilians to live on the MBA campus?
Answer: The Grunke Family--Darlene, Leal and Ruth. (left to right)
Winner: Betty Baerg, former faculty. Betty will be added to our drawing to win a free weekend stay at Monterey Bay Academy.
Question for July 2012
How much was tuition only (not including room and board) for MBA in 1950?
Announcements
Camp Meeting (July 12-22, 2012) We are looking for volunteers to be at the MBA booth during camp meeting. Contact Marci Scott if interested. mscott@montereybayacademy.org or 831-728-1481 ext. 1246.
Calling for Memorabilia MBA is looking for your memorabilia for our alumni museum. You can send your class shirts, jackets, sweaters, and other MBA memorabilia to Monterey Bay Academy, Alumni Department, 783 San Andreas Rd. La Selva Beach, CA 95076. Nadeen Irvine, '62, donated her sweater during alumni weekend. Roger Williams, '52, just donated all the letters he had written to his parents while a student at MBA. His mother had saved each and every letter.
63rd Alumni Weekend April 25-28, 2013 Looking forward to seeing you during MBA's 63rd Alumni Weekend! Remember, Alumni Weekend is always the fourth weekend in April.
You are receiving this email because you are a friend or alum of Monterey Bay Academy.



Waves Gone By

is sent monthly to inform MBA alumni and friends of upcoming events and other news and thoughts.





For further information


Marci Scott


Assistant Director of Alumni and Development




Editor,

Waves Gone By
mscott@montereybayacademy.org