Disaster in Gulf is Stark Reminder of Links between Oceans and Human Health
The real-time videos of oil spewing into the Gulf of Mexico and daily news feeds from the ongoing disaster provide stark reminders of how oceans and human health are linked. While much of the focus is on the visible impact of oil along the coastal marshes and fouling of wildlife there has been much less attention on the long term effects of the oil diffusing throughout the ocean ecosystem, and impacts of the dispersants now being used to limiting direct impacts.
Some workers and residents along the coast have reported headaches, nausea, coughing and throat irritation. Dr. Gina Solomon, senior scientist for the Natural Resources Defense Council (NRDC) observed that: "The risks include acute health effects from the air pollution from the oil itself. It also includes health effects from burning the oil contamination of the food chain which can result in a long-term health concerns." Those most directly at risk are the workers involved in the clean up.

Representative Charlie Melancon from Louisiana reportedly has asked the department of Health and Human Services to open mobile clinics to treat the fisherman. There is also the serious threat of contaminated fish and shellfish. The biggest wildcard is the long term sub-lethal affects on wildlife and fisheries. Volatile organic compounds and chemicals in the oil and dispersants being used chemicals can cause acute health effects.
The more the oil hits shore the greater the risk to the public. The Environmental Protection agency has increased testing for impact on air pollution, while local officials are raising concerns about short and longer term health problems from tainted drinking water and seafood. A hugh expanse of the Gulf has been closed to fishing, and states have begun to increase sampling to track any increases in contaminant levels that may result in future limits on fishing. There are many, many uncertainties; however, this disaster is a reminder of how fragile the ocean ecosystem can be and how much more we need to learn about potential exposure and public health issues.
Let us know how we can assist and engage you in the future. Feel free to send a note to
amacdona@monmouth.edu
or pick up the phone (732-263-5392).
Tony MacDonald, Director of Urban Coast Institute
Tony MacDonald is the Director of the Urban Coast Institute (UCI), at Monmouth University in West Long Branch, New Jersey. Mr. MacDonald was previously the Executive Director of the Coastal States Organization (CSO). Special Counsel and Director of Environmental Affairs at the American Association of Port Authorities. Tony has also practiced law working on environmental and legislative issues, and served as the Washington, DC environmental legislative representative for the Mayor of the City of New York.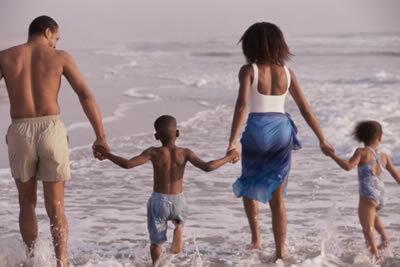 Making Sure It is Safe to Go in the Water
by Tony MacDonald, NJ-OHHI

As the summer beach season approaches, it is a good time to time to turn our attention to reducing health risks from swimming in the oceans. Surfers continue to raise anecdotal concerns about increases in ear and skin infections; while environmental groups keep track of continued annual beach closing and advisories - more than 20,000 in 2008 (NRDC, 2009). Runoff from sewage and stormwater systems and unregulated runoff after rain storms is the source of beach water pollution. New Jersey continues to issue 'preemptory beach closures after rain events anticipating pollution, and recognizing that results from current tests not available until 24 hours or more after the storm event. Beach water quality has improved markedly over the last 20 years; however, reports still document illnesses including skin rashes, pinkeye, respiratory infections, meningitis and hepatitis. Current testing and standards are focused on gastrointestinal illnesses such as the stomach flu. The current rules NJ close beaches after two-days of high bacterial levels that indicate fecal pollution. The delay in testing and beach closure essentially means that much of there is risk of exposure before any action is taken.
While the US Environmental Protection Agency is in the process of updating its 20-year-old beach water quality standards by 2012, there is no requirement to use the rapid-testing methods being developed by EPA. The National Oceanic and Atmospheric Administration's Ocean and Human Health Initiative is also funding research into improving beach water quality testing and technology development. Legislative reforms proposed in the Clean Coastal Environment and Public Health Act, which would require states to begin using rapid-water tests and provide funding for studies of sources of beach water pollution, continue to languish in Congress.
The best way to reduce health risks from water contamination is to prevent it by implementing and enforcing better controls and best stormwater management practices that reduce pollution at the sources. If we do not get a better handle on the problem of beach water quality now it threatens t get worse. Climate change and the predictions of more frequent and intense rainstorms and temperature increases will lead to increased stormwater runoff, combined sewer overflows and pathogens in nearby waterways. In particular, climate change is anticipated to affect the presence of microbes that cause stomach flu, diarrhea, skin rashes and neurological and blood infections in America's beach water, according to the report. The American Clean Energy and Security Act (ACES) would help communities prepare for the impacts of climate change on coastal communities, such as flooding, sea level rise, increased stormwater pollution and sewer overflows, in addition to capping global warming pollution.


Project Update: Marine Biotech Cluster and Workforce Opportunity

by Steve Dillingham, Strategro International, LLC


The Marine Industry survey project is nearing completion, with many stakeholders weighing in (near 40 survey responses and interviews completed thus far). However, we continue to reach out to members within all marine industries sectors, include researchers, companies, and government entities involved in seafood harvesting and processing, aquaculture, marine biotechnology, marine natural products & ingredients, research, drug discovery and development, ocean policy and environmental management -- all related to Oceans and Human Health in some way.
We hope to keep gaining responses from the sectors groups involved, and have had a particularly strong response rate from the fishing and aquaculture sectors to-date.
The feedback we have gained thus far paints a broad picture of some of the issues and bottlenecks present which are affecting certain marine-related industries, and reveals some specific needs for these industries to develop and support more robust business opportunities. Respondents have offered ideas and paths forward for potentially solving longstanding industry problems, and provided suggestions for forging new collaborations with related industry groups associated both vertically and horizontally within the value-chain.
Through the interviews and open-ended survey questions, we have been able to get a preliminary sense of some of the industry frustration and passion for bringing NJ in line with other seafood-producing states, to become more productive, economic engines of the local economy. Most all respondents voiced interest in joining a more formalized effort to bring together various stakeholders of the related marine industry sectors in the State, to jointly increase visibility (both within and external to the State), collaboration, communication, and to maximize limited State resources.
We ask all those who have not taken the time to complete our survey to please do so. You can access the questionnaire via this link. NJ Marine Survey.
Dolphin Health Linked to Human Health
by Karen A. Choy, NJ-OHHI

Recently, the American Association for the Advancement of Science (AAAS) unveiled research results on the similarity of dolphin health to human health when exposed to contaminated coastal waters or seafood. Both humans and dolphins suffer from similar common colds, viruses and infections. Dolphins are even stricken with symptoms that resemble the signs of diabetes. These similarities have alerted officials to study common factors - the quality of water and safety of the fish or foods both humans and dolphins consume from the ocean. A focus on the dolphins and their health may provide a key to improving some areas of human health.
The National Oceanic and Atmospheric Administration, which is the agency is responsible for management of marine mammals, also provides funding for research projects aimed at investigating ocean and human health concerns. According to NOAA Oceans and Human Health Initiative, "our ecological and physiological similarities make dolphins an important 'sentinel species' to not only warn us of health risks, but also provide insight into how our healthy can benefit from new medical discoveries". The Centers for Disease Control and Prevention (CDC) is investigating whether coastal dolphin populations and human communities sharing the same seafood resources can experience similarly from exposures. Additional evidence resulting from their studies show that humans and dolphins may share similar chronic disease outcomes that could result from effects of water quality. For more information on the research click here.

Drugs in Waterways Impact Fish Reproduction

Tom Fote has long been a leader in New Jersey's fisheries community serving as one of New Jersey's Commissioners to the Atlantic States Marine Fisheries Commission, the Legislative Chairman for the Jersey Coast Anglers Association and the New Jersey State Federation of Sportsmen's Clubs.

On April 28, 2010, Tom Fote was honored for his environmental stewardship at the NJ State Governor's Jefferson Awards.The Jefferson Awards were "established to honor individuals for their achievement and contributions through public and community service." Previously, he was honored by the Monmouth University Urban Coast Institute as a true Ocean Champion with a Volunteer of the Year Award in 2005.
Also, Tom is a retired Army Captain and disabled Vietnam Veteran, whose personal experiences with agent orange inspired him to make a life-long commitment to environmental issues, That experience has also led him to become one of the most knowledgeable and vocal advocates raising concerns about recent studies documenting the significant negative impact of chemicals and nontraditional pollutants on fisheries and potentially human health. Tom has testified both before Congress and the New Jersey Legislature about this emerging issue. Tom is also leading the fight to educate the public on the proper disposal of drugs.
In his article titled "The Consequences of Good Intentions", Tom wrote on how most chemicals we deal with today are not deliberately put into the system with the good intention, but can has unintended negative consequences. Examples include PCB's and asbestos. Tom's recent efforts have focused on exposing evidence that drugs dumped into New Jersey waterways are posing a serious impact on fish reproduction and other aquatic species.

As Tom acknowledges in his testimony to Congress in 2009, he became aware of the impacts of chemicals in part through the studies of Dr. Judith Weiss from Rutgers. Dr. Weiss and her graduate students have done numerous studies looking at eating, predatory and other behavior for various fish and crabs in different chemical environments. She found that fish in Newark Bay where there are significant chemical pollutants (PCBs, mercury, dioxin and estrogen) behaved differently. In all studies, they found similar behavior patterns. When they transferred fish from cleaner areas to more polluted areas the fish soon developed the same inappropriate behaviors. The fish transferred to cleaner waters improved slightly but never returned to normal.
Another emerging concern Tom is raising is the increasing scientific evidence that the impact of endocrine disruptors on changing the sex ratio of fisheries and limiting reproduction.
Tom observed in his previous testimony that: "Many of the drugs we take for health problems are prescribed in large doses because our bodies don't absorb them well. This means that our bodies are discharging significant percentages of the drugs we take, some as high as 90%. We are one of the chief polluters. The pharmaceutical companies need to research more efficient and effective delivery systems for these medications. The medical profession must stop over-prescribing and do a better job of explaining how drugs are best used to their patients. More is not necessarily better for your health and is certainly not better for the environment."
Tom has a lifetime of experience, and an uncommon commitment to finding solutions to the complex issue those effect healthy oceans, fisheries and human health. Perhaps we all should start listening to his advice.
14th International Conference
on Harmful Algae
Hersonissos, Crete (Greece)
November 1-5, 2010

Click here to register
***
Open Science Meeting
on Harmful Algal Blooms in Benthic Systems
Honolulu, HI
June 21-24, 2010
***
Vibrios in the Environment 2010 - Beau Rivage Resort - Biloxi, Mississippi
November 7-12, 2010
***
If you are interested in having
your event listed in a future
newsletter, please email
kchoy@monmouth.edu
with details.
***
If you are interested in having your event listed in a future newsletter, please email
kchoy@monmouth.edu
with details.
***