Secrets from Latil's Landing at Houmas House
Beet and Crab Salad with Candied Bacon
Serves 4


12 Strips of bacon
1 cup brown sugar
1 cup white granulated sugar

Pre heat oven to 350 Degrees. In a mixing bowl combine brown and white sugar.
Dredge each strip of bacon in the sugar mixture, being sure that the bacon is coated on each side. Shake off any excess sugar and place bacon on a baking sheet pan. Bake bacon in the oven for 15 minutes or until golden brown. Remove bacon from oven and transfer the strips of bacon onto a clean baking sheet pan and allow the bacon to cool. Serve with BLT salad.

1/2 pound Fresh beets
1/2 cup Extra-virgin olive oil

Cut the tops and bottoms off the beets. Place the beets in a small roasting pan and fill the pan with water coming 1/3 of the way up the pan. Cover the pan with aluminum foil. Place the pan in the oven and roast for about 30 to 35 minutes or until the beets are tender.

1 pound Jumbo-lump Crab meat, picked
1/4 cup mayonnaise
2 tablespoons Sour cream
2 tablespoons Minced shallots
Salt and pepper to taste

In a mixing bowl, toss the crab meat, mayonnaise, sour cream, shallots and horseradish together. Season the salad with salt and pepper.

3 tbsp extra virgin olive oil
2 tbsp red-wine vinegar
2 tbsp balsamic vinegar
2 tbsp fresh lemon juice
2 tbsp Creole mustard
2 tbsp honey
2 tsp minced garlic
1 tsp sugar
1/4 cup finely chopped fresh purple basil
8 cups salad greens
Salt and Pepper to taste

In a Salad bowl, whisk oil, vinegars, lemon juice, mustard, garlic, sugar, honey,
and purple basil. Season with salt and pepper. Add salad greens and gently toss in the dressing.

To assemble, divide the beet slices into equal portions. Cover the center of each plate with the beet slices. Mound the crab salad on one side and lettuce on another, over the beet slices on each plate. Place 3 stripes of candied bacon on top each each salad.
Recipe courtesy of Jeremy Langlois,
Executive Chef, Latil's Landing and Cafe'Burnside.
Houmas House Offers New Tour
Houmas House Plantation is now making it easier to travel back in time and experience the South the way it was meant to be.
Old South Tours now offers daily transportation from New Orleans to Houmas House.
Luxury buses will pick up guests from various locations in the French Quarter and transport them to another era.
Visitors will have three hours to live like the wealthy Sugar baron's in the 1800's. Time will fly as they tour the mansion, take in the 38 acres of lush gardens, and browse the unique giftshop. Lunch is available at Burnside Cafe' located on site.
Imagine life in the opulence of the mid 1800's when Sugar was King, and Houmas House was the Sugar Palace. Were there ghosts in the next room? It's up to you to set the tone for the indulgence of a lifetime, and Houmas House can customize the menu and wine pairings from our well stocked wine cellars which offer over 700 varietals.
Houmas House Plantation now offers a special all- inclusive dinner package that is sure to impress and amaze you and your guests.
Your evening will start with cocktails from our famous Turtle Bar nestled in our lush gardens, followed by a private tour of the mansion. Then, your party is seated in the mansion dining room where you are served a seven course meal specially prepared by award winning Chef Jeremy Langlois, of Latil's Landing Restaurant.
This is the perfect way to celebrate your anniversary, birthday, or special event.
Thanksgiving at Houmas House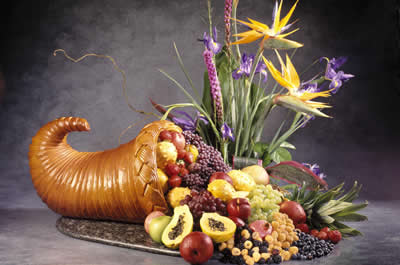 Feast your eyes on the most elegant Thanksgving buffet your family has ever seen. Houmas House celebrates Thanksgiving by offering a special buffet lunch on Thanksgiving Day. For $55 per adult and $25 for children, you can celebrate with family in the pavillion located on the grounds of Houmas House.

Seating is limited so make reservations soon by calling 225-473-9380.
Open Daily
Daily Tours: Monday, Tuesday 9 AM- 5 PM
Wednesday- Sunday 9 AM-7 PM
Cafe' Burnside: 11 AM- 2 PM daily
Latil's Landing: Wednesday through Saturday 6 PM- 9 PM, Sunday Brunch 2 PM- 8 PM; Reservations Required