Private Events in the Tea House
Events at Houmas House are magical in the gardens surrounding the historic mansion. And now a new addition makes them even more memorable. The Tea House is now open for private events. In this spectacular structure you can host the most elegant bridal shower, small luncheon, or evening reception. Complete with lighting and a constant breeze, the Tea House can accomodate groups up to 60.
An all-inclusive price includes four courses complete with everything from smoked salmon to chocolate truffles to champagne.
The Tea House is situated on a cliff with a cascading waterfall and is fully landscaped. It overlooks several of the manicured gardens and lily ponds and provides guests with a unique view of Houmas House and its grounds.
Your guests will be impressed with your style and elegance when they attend your event in our newest addition. Book soon to take advantage of the upcoming Fall season.
The Ghost of Houmas House
When Houmas House was undergoing a renovation in 2003, constuction crews reported seeing a young girl with dark eyes and a blue dress descending the stairway. A cursory check of the legion of workers who came and went each day produced no identity for the little girl, or any claim to her.

In the excitement of bringing the house back on line to the public, the mystery of the little girl was set aside, out of mind for those at the house every day welcoming visitors, guiding guests and maintaining the house and gardens.
Amid the hustle and bustle, there's another visitor in the hallway, and on the stairs, according to tour guides and guests who have seen the little girl...in the blue dress...with the dark eyes and brown hair. She is usually sighted in the morning or later in the afternoon. She seems curious about all the activity and all the people, but disappears when approached.
There is evidence in the history of the house to suggest her identity.
Daily Tours: Monday, Tuesday 9 AM- 5 PM

Wednesday- Sunday 9 AM-7 PM
Cafe' Burnside: 11 AM- 2 PM daily
Latil's Landing: Wednesday through Saturday 6 PM- 9 PM, Sunday Brunch 2 PM- 8 PM; Reservations Required
Secrets from Latil's Landing at Houmas House
Chicken and Andouille Gumbo

Serves 8

1/2 pound andouille sausage, cut into 1/4-inch slices
8 tablespoons vegetable oil, divided
1 3-pound chicken, cut into pieces
1 1/2 quarts water
1/2 cup all-purpose flour
1 cup chopped onion
1 cup chopped celery
1 cup chopped green pepper
2 garlic cloves, minced
2 tablespoons chopped fresh parsley
2 bay leaves
1/2 teaspoon chopped thyme
1 teaspoon Louisiana hot sauce
Salt and pepper to taste
1/2 cup chopped green onions
Cooked rice

In 3-quart Dutch oven, over medium-high heat, brown sausage in 4 tablespoons oil, about 7 minutes. Remove with slotted spoon and set aside. Add chicken pieces and cook until golden brown, about 10 minutes, turning occasionally. Add water, cover and cook until chicken is tender, about 30 minutes. Remove chicken, leaving liquid in pan, and when chicken is cool enough to handle, discard skin and bones and dice meat into 1/2-inch cubes.

In another 3 quart- Dutch oven, over medium heat, mix remaining 4 tablespoons oil and flour and cook, stirring constantly, until roux turns dark brown, about 30 minutes. Add onion, celery, green pepper, garlic and parsley and cook about 10 minutes or until vegetables are tender. Add the liquid used to cook the chicken into the saucepan along with bay leaves, thyme, hot sauce, salt and pepper. Bring to a boil, reduce heat and simmer, uncovered, 45 minutes. Add chicken and sausage and simmer another 15 minutes.

Remove pan from heat, add green onions and adjust seasoning. To serve, mound of rice in each soup bowl, then ladle gumbo around rice.
Recipe courtesy of Jeremy Langlois,
Executive Chef, Latil's Landing and Cafe'Burnside.

Thanksgiving at Houmas House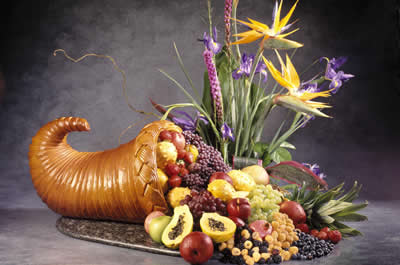 Feast your eyes on the most elegant Thanksgving buffet your family has ever seen. Houmas House celebrates Thanksgiving by offering a special buffet lunch on Thanksgiving Day. For $55 per adult and $25 for children, you can celebrate with family in the pavillion located on the grounds of Houmas House.

Seating is limited so make reservations soon by calling 225-473-9380.
Houmas House Offers New Tour
Houmas House Plantation is now making it easier to travel back in time and experience the South the way it was meant to be.
Old South Tours now offers daily transportation from New Orleans to Houmas House.
Luxury buses will pick up guests from various locations in the French Quarter and transport them to another era.
Visitors will have three hours to live like the wealthy Sugar baron's in the 1800's. Time will fly as they tour the mansion, take in the 38 acres of lush gardens, and browse the unique giftshop. Lunch is available at Burnside Cafe' located on site.
Art Gumbo this Saturday from 10 am- 2 pm. Free festival featuring art and tastings from Latil's Landing. For more information, call 225-473-9380