Transit of Venus, June 5th 2012
Transit of Venus
Last Tuesday I found out that we were going to have the opportunity to witness the transit of Venus across the Sun. At first I thought that this was just another one of those ridiculous chain emails, but after a little digging, I found out that not only was it really going to happen, but I also discovered that it wasn't going to happen again for another 105 years. I decided right away that I wanted to document this rare astrological occurrence and decided to use a Canon 500 f/4 and a 2x doubler with my EOS 7D. Right away I ran into two problems. The first was supporting this heavy setup, the second was filtering the light so I didn't damage my sensor. I solved the first one rather quickly by using the Long Lens Support package on our PG-02 LLR Pano-Gimbal head on a TVC-33 tripod.
The wind was gusting fiercely and I needed to make the system as stable as possible. I found two large cars and set up the tripod in between them to help shelter from the wind. Then I extended the tripod legs only about half way per section to maximize rigidity. I got it about as stable as I could and was very pleased with the setup. I used a wireless remote,
"Live Mode" to lock the mirror up
and waited for lulls in the wind to reduce as much camera movement as possible.
The second probl

em required a little more creativity to solve. We didn't have any filters on hand for the 500mm, but I had several for my smaller lenses. After a little brainstorming, I decided to try find a way to mount those filters to the hood
of 500mm. My solution? 1) Cut a piece of cardboard for the front of the lens hood, 2) cut a hole
in
the
center to mount the stacked filters and then 3) tape it all
up with black gaffers tape. Elegant? Not exactly. But it worked remarkably well. In fact, I had too many filters on
during
the first few images I took and I had to take half of them off. I ended up using a 6-stop B+W with a circular polarizer (for an extra couple of stops) and at f/40 and 1/8000th it was stopped down plenty, not putting the sensor in danger.
The shot below is one of the last ones that I took that evening. If you click on the picture to view the enlarged image, you will find that the edges of the Sun and Venus are jagged. I don't know what caused this, but my guess is atmospheric interference. If you know what the actual cause is, please email us and we'll post the explanation in our next Newsletter with a link to your site

(if you want us to).
RRS Customer LensCoat Promo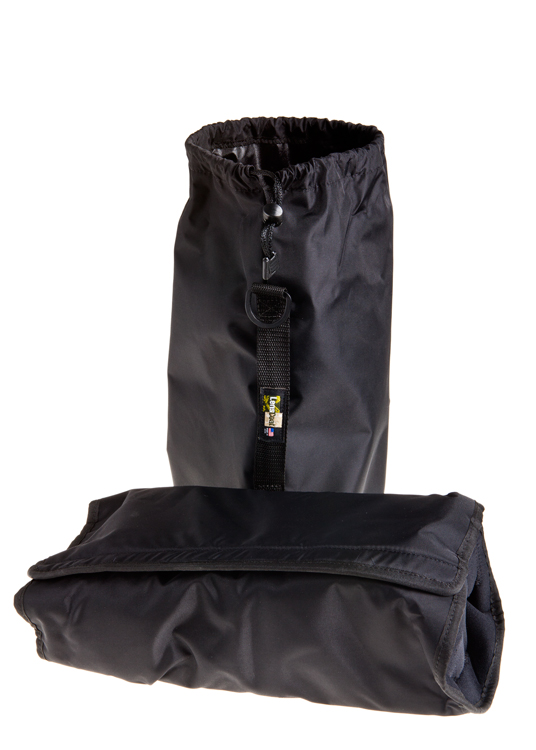 Scott over at LensCoat has been working with us on some of their products and has informed me that they will be offering our customers a special discount.
RRS customers who purchase a LensCoat RRS PG Pouch between now and June 15th will get a free LensCoat Micro Fiber Cloth for each pouch purchased. All they have to do is put the RRS PG Pouch into their cart along with any other items they would like and during the checkout process type in coupon code "rrsrocks" and click redeem. The LensCoat Micro Fiber Cloth will be added.