How To Submit Your Information for the UBA Top Ten
We want to ensure that we are promoting you the best and most accurate way we can!
In order for us to ensure that your information is included in the Top Ten correctly, please use the following criteria:
A title for your event or promotion

A catchy tag line (if not supplied, we will make one up for you)

One picture
A 3-5 sentence description
A contact number, e-mail OR website

Date of event (if applicable)

Time of event (if applicable)

Place of event (if applicable)

Address of event (if applicable)
Admission fee (if applicable)

To be included in an upcoming issue,
you must submit this information TWO WEEKS prior to your event
(if it is an information submission, by every Monday). If it is not in this format, we will ask you for a re-submission.
Send your information to: tyla@urbanabusiness.com
Greensky Bluegrass with Chicago Farmer and Bob & Pricilla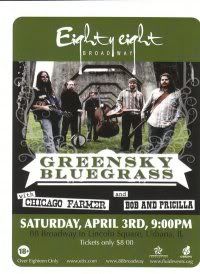 Winners of the 2006 Telluride Bluegrass Festival Band Competition, Michigan's own Greensky Bluegrass is earning recognition nationwide as a growing force in acoustic roots music...Come out to 88 Broadway to experience it yourself! Special guests Chicago Farmer and Bob & Pricilla will help rock the night away!
For more information, call (217) 359-6960 or
send an e-mail
.
Saturday, April 3 2010
9:00 pm
88 Broadway, Lincoln Square Mall
142 Lincoln Square, Urbana
To make reservations, call (217) 328-3402
Make Your Reservation for Sunday, April 4, 2010
Silvercreek Restaurant
10:00 am - 2:30 pm
402 North Race Street, Urbana
4 Week Beginner Yoga Course at YICU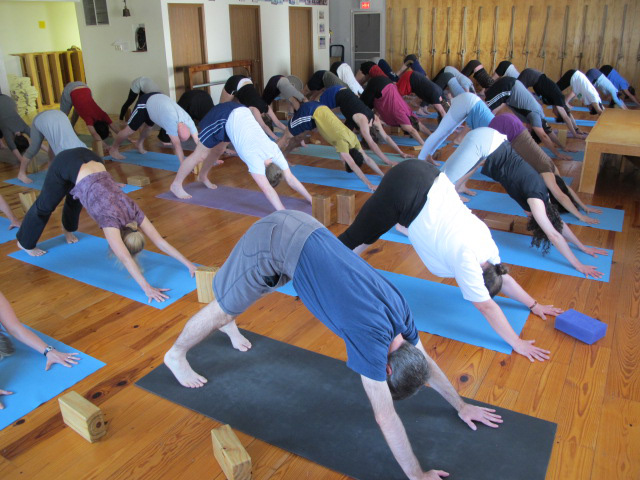 Try us once or for 4 weeks. Yoga is different than exercise. Not only does it increase strength and flexibility, but it exercises the organs of the body that are vital to health. Instruction includes fundamentals of body alignment and building a daily practice.
For more information, call (217) 344-YOGA (9642), or
click here
!
Mondays, April 5 - April, 26, 2010
5:30 - 7:00 pm
Yoga Institute of Champaign-Urbana

407 West Springfield, Urbana, Ground Level, Lots of Easy Parking
Admission: $50 discounted for 4 classes or $14 drop-in fee
5th Annual Edible Book Festival

Celebrate the book arts and the (literal) ingestion of culture
!
Bibliophiles, book artists, and food lovers around the world gather to celebrate the book arts and the (literal!) ingestion of culture. Participants create an "edible book," which can be inspired by a favorite tale, involve a pun on a famous title, or simply be in the shape of a book (or scroll, or tablet, etc). All entries will be exhibited, documented, then EATEN! Among this year's judges, is downtown Urbana's very own Buffy Vance of Madeline's Confectionary Arts Studio & Gallery!


8:00 am - 12:45 pm


University YMCA


1001 South Wright Street, Champaign
"I Remember When..."
A solo dramatic performance by Karen Vaccaro!
Come out to enjoy a solo dramatic presentation by Karen Vaccaro, actor, director and acting coach, who taught at both Illinois Wesleyan University and the University of Illinois, and is the recipient of three Joseph Jefferson Awards for her work in Chicago. This special program includes excerpts of personal stories collected from local residents, and is funded in part by a grant from the Urbana Public Arts Commission. Refreshments will be available.
The event is free, but please call (217) 337-4767 to reserve a space.
Tuesday. April 6, 2010
7:00 pm
Heartland Gallery
112 West Main Street, Urbana
Armitage Gone! Dance: Three Theories

A play of projected and kinetic imagery and live and electronic sound!
Three Theories, which will premiere at Krannert Center at the apex of a creative residency, is inspired by Brian Greene's book that lays out the dispute between Einstein's general theory of relativity-which seems to fit the universe's functions. For Armitage, Greene's response in string theory is replete with visual and sonic metaphors that have inspired new ideas about the geometries of movement, patterns in space, and the structuring of rhythms. To give visceral and dramatic form to these ideas, Armitage, her collaborators, and her dancers will bring together a play of projected and kinetic imagery and live and electronic sound.
For more information, click here!
Tuesday, April 6, 2010

7:30 pm
Krannert Center for the Performing Arts, Tryon Festival Theatre
500 South Goodwin Avenue, Urbana
Turn it UP!

Join us for music, spoken word, socializing, and more!

The UP Center of Champaign County, a new LGBTQ (lesbian, gay, bisexual, transgender, and questioning) community center, is hosting Turn It UP! on April 8. Turn it UP! is a benefit concert and variety show. They show will feature Leiloni Stars as emcee and performer, musical performances by Vanattica and Tom Miebach, and spoken word. Tickets are five dollars in advance and ten dollars at the door (eight dollars for students).


Thursday, April 8, 2010

7:00 - 10:00 pm
Urbana-Champaign Independent Media Center
202 South Broadway Avenue, Urbana

Shared Space Ribbon Cutting Ceremony

Shared Art, Shared Food, Shared Drink, Shared Space. Come join us

!
The Urbana Business Association and the City of Urbana invite you to come to the Ribbon Cutting Ceremony for Shared Space Co-op.
Friday, April 9, 2010
3:00 pm
Shared Space
123 West Main Street, Urbana
The Urbana Free Library Fairy Tale Ball
Hear ye! Hear ye! You are cordially invited...
Children and their families can don their finest ball gown, shiny suit of armor, or dress as your favorite fairy tale character and join us for an evening of magical memories at The Fairy Tale Ball. The noble entertainers of this year's Fairy Tale Ball include the Central Illinois English Country Dancers and The Flatland Consort, the Ginger Lozar Puppet Show, the Illini Juggling and Unicycle Club, the Champaign Urbana Dulcimer Society, storyteller Dan Keding, and fortune teller Madame Zitron. At the Ball you can dance on a cloud, test your skill at medieval games, make courtly crafts, listen to your favorite fables of yore, and enjoy treats from the library's Latté Da! coffee shop. Before the clock strikes the hour of nine, don't forget to check out the library's amazing collection of international fairy tales and folklore. The 2010 Fairy Tale Ball is generously sponsored by Peggy and Bob Podlasek in memory of Greg Bliss.


For more information, contact:
Kathy Wicks, Associate Director, (217) 367-4058



Friday, April 9, 2010




6:00 - 9:00 pm




The Urbana Free Library




210 West Green Street, Urbana




Admission: FREE
American Diabetes Association Kiss a Pig Gala
Presented by Health Alliance!
The purpose of the contest is to raise "votes/dollars" for candidates' campaigns. Each vote is equal to one dollar. The candidate with the most "votes/dollars" wins the privilege of kissing a live pig. We honor the pig because insulin, the drug used to control diabetes, was originally derived from a pigs pancreas. The Champaign County Kiss-A-Pig Gala will benefit diabetes research and education programs such as summer camp for children with diabetes. The gala includes a cocktail hour, silent auction, dinner, live auction and the kissing of the pig.
For more information, and to enroll,
click here
!
Friday, April 9, 2010
6:00 - 10:00 pm
The Refinery
2302 West John Street, Champaign
Ticket: $65
Table of 10: $600 (with signage for your business) 111 West Main Street
Urbana, IL 61801
(217) 344-3872
Susan Toalson
Executive Director
Special Events Coordinator
Marketing Coordinator
2010 UBA Board Members
President
Chris Harlan
Vice President
Stephanie Bond
Treasurer
Jennifer Rybicki
Secretary
Tom Carrino
Members
Joe Duchene
Wade Franklin
Pamela Franks
Ted Jeurrisen
Jan Kijowski
Brian McKay

Amanda McWilliams
Dan Manolakes
Leah Pettit
Becky Weber
Paul Wirth

8th Annual Boneyard Arts Festival


WANT TO BE PART OF THE BONEYARD?


Visit the new

BONEYARD ARTS FESTIVAL BLOG

for both interested artists and venues.

The 40 North Boneyard Arts Festival is an annual four-day event showcasing the broad range of creative activity flourishing in our community. Its goal is to bring together local artists and businesses for a special event showcasing the art that lives

here

.

More than a traditional arts walk, the Boneyard is a unique countywide celebration that takes place in a wide variety of venues (over 100!) - both traditional (clubs, galleries & museums) and non-traditional (ice cream shops & real estate offices) - and features the work of literally hundreds of artists.

Sculptors, weavers, painters, photographers and other visual artists join musicians, actors, dancers, poets and performers of all kinds in sharing their creativity throughout Champaign, Urbana, Campustown, Dewey, Rantoul and Sidney. 40 North invites artists to partner with local businesses, arts organizations, nonprofits, schools or municipal offices in hosting a performance or display of work...and join the celebration!


Boneyard Events Take Place:
Thursday, April 15 - Sunday, April 18

For more, click here!

Law Day Poster Contest
Posters capture people's attention with a powerful graphic and inspire with a message to your community!
All public, private & home school students in grades 3-12 are invited to participate in designing a poster to be entered to win in the Law Day Poster Contest! Good posters tell important stories to present and future generations.
Rules:
Any media may be used to create a flat or two-dimensional effect (paint, crayon, colored pencil, charcoal, ink or other materials). Poster size must be 8.5" x 11" (portrait or landscape). All posters must be created by an individual student rather than a team of students. Entries completed by students in their handwriting and coloring will score better.
For more information on Law Day 2010, click here!
All entries must be postmarked by April 15, 2010 to:
Law Day Poster Contest
c/o Early American Museum
PO BOX 1040
Mahomet, IL 61853-1040
Illinois Lemonade Day
Illinois Lemonade Day is making its grand debut this year, in Champaign-Urbana, Effingham, and many surrounding communites in Illinois on Sunday, May 2, 2010!
Lemonade Day is a FUN and FREE educational program that teaches you how to start, own, and operate your own lemonade stand business.
Your neighborhood is a perfect place to start your business. Our sponsors, community partners, and neighborhood restaurants, shops and companies were all started by people just like you. It takes courage to get started, but we know you can do it!
So Dream Big! Don't be afraid to try something new and different. Your family, friends, and many others in our community are here to support you.
By signing up for Lemonade Day, you are signing up to learn the skills you need to be successful in the future. You will learn to set goals, establish a budget, speak to adults, and give back to your community!
For more information on how to register,
click here
!