Fan Mail
Almost every day I receive fan mail from all over the world. The "Fan of the Month" is Adam in Vermont. Here is a portion of his email (printed with permission.)



Hilari,




I don't have your new documentary on See What I'm Saying, but as a 37 year old deaf/Hoh (actually I 'pass' as hearing just like TL Forsberg) and lived in the midwest til I moved to VT with such a small and fractured deaf community. And as a struggling professional illustrator/designer, I have to say that this is "ballsy" (in a good way).





Anyway, thanks for doing the documentary and showing that there are more like me out there doing this thing and living in a "No Man's Land".







Cheers,




-Adam
Interns/Volunteers
I could not have made it through the past few months without my incredibly talented and dedicated interns and volunteers. The list is very long of all of the people who have helped the past two years, but here's a few who have helped me edit promotional clips, file, film, think and smile this winter:
Julia Dameron
James Foster
Laura Harvey
Aline Smith
Catherine Mackinnon
Jay Jorgenson
Chris Strompolos
Joe Milner
Deaf and hearing, working together
Deaf Entertainers News
DEAF ENTERTAINERS IN THE NEWS
Deaf Performing Arts Network (D-Pan) on CNN
Music videos in sign language. Congratulations Sean Forbes!
D-Pan interview on CNN
Congratulations to Deaf West's co-production of
Pippin at the Mark Taper
in Los Angeles, running through March 15th featuring:
Michael Arden
Jonah Blechman
Dan Callaway
Bryan Terrell Clark
Nicolas Conway
Rodrick Covington
James Royce Edwards
TL Forsberg
Sara Gettelfinger
Tyrone Giordano
Harriet Harris
Rebecca Ann Johnson
Troy Kotsur
Josť F. Lopez Jr.
John McGinty
Anthony Natale
Aleks Pevec
Victoria Platt
Ty Taylor
Nikki Tomlinson
Melissa van der Schyff
Alexandria Wailes

Behind the scenes:
Ed Waterstreet
Linda Bove
Jeff Calhoun
Coy Middlebrook
Alan Champion
James Foster
I know you're excited.
You have been flooding my inbox with screening requests. I love it!
FINALLY... the wait is over.
SEE WHAT I'M SAYING:
THE DEAF ENTERTAINERS DOCUMENTARY
announces screenings!
Enjoy all of the news. It has been a long winter.

Hilari Scarl
Director/Producer

Philadelphia Film Festival
March 26 - April 6, 2009
UPCOMING SCREENINGS
We have been accepted into the
Philadelphia Film Festival
March 26th - April 6th, 2009
Early acceptance into two other festivals - more details about all screenings coming soon!
Our Title Song on iTunes
Our title song SEE WHAT I'M SAYING by Powder is now up on iTunes. A percentage of all sales go towards the production of a music video, so check it out!

Go to iTunes, search
"See What I'm Saying" and choose the one by Powder.
Photos by Snook
We are in development of a music video in sign language to make this song accessible to everyone.
France Television Interview
CJ Jones and Hilari Scarl
Photo by Valerie Macon
In January, CJ Jones and Hilari Scarl were interviewed by Ramzi Malouki of the Hollywood Foreign Press for the French TV show, "Hollywood Live."
The interview is in French, English and ASL. I'm fighting hard for captions!
(Choose "watch in high quality" after clicking on the clips)
French TV interview Part 1
French TV interview Part 2
The interview was edited; my official statement is as follows:
"I believe that deaf people can do anything, and I am excited about the artistic tidal wave taking place within the deaf community. I am honored to know deaf filmmakers, writers, graphic designers, cinematographers, composers, festival directors, artistic directors, continuity supervisors and even a deaf sound editor! My greatest hope is that this film will open doors for everyone."
- Hilari Scarl
In the News
TL Forsberg


TL Forsberg, one of our main subjects in the documentary was interviewed by Fantastics Magazine.



TL Forsberg - magazine story
Sneak Preview Screenings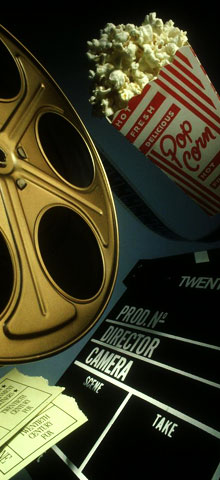 We are booking a handful of sneak previews for select audiences in a few communities. If you would like to book a sneak preview for your group, school, organization or community, please email me for information:
Hilari Scarl
Donations Urgently Needed

We are in need of immediate funding to hire interpreters and pay some travel costs for our entertainers.


When our journey began two years ago, the cynics in Hollywood said this couldn't be done. Thank you for believing in this vision with me and
helping me prove them wrong
. We're only just beginning.
$25 - will help pay for our Los Angeles screening
$50 - will help pay for interpreters for Q&A sessions
$100 - will help pay for airfares for the entertainers to attend their screenings
$500 - will help pay for educational workshops, Q&A and panel discussions at events
$1,000 - will help pay for advertising and publicist to get us to the next step - touring, distribution and DVD production




Other:


Please feel free to donate through our website and enter your own amount. Click on the button on the left column under the poster.

See What I'm Saying - official website

Help us raise funds to book a theater for our cast and crew screening in Los Angeles.
Please donate so we can show you the film!


About The Film

Still curious about a few things?
www.SeeWhatImSayingMovie.com
SEE WHAT I'M SAYING: THE DEAF ENTERTAINERS DOCUMENTARY is a feature film directed and produced by Hilari Scarl. The film follows four deaf entertainers: CJ Jones, a comic famous around the world but unknown to mainstream audiences; Bob Hiltermann, a drummer in Beethoven's Nightmare, the world's only deaf rock band; Robert DeMayo, a brilliant actor who teaches at Juilliard while being homeless; and TL Forsberg, a hard of hearing singer caught between the deaf world and the hearing world as she produces her first CD "Not Deaf Enough."
We are looking for corporate sponsors for our festival tour. Please contact me for additional information and publicity opportunities.
New contact information:
Videophone (323) 999-5000
Skype: Worldplayinc
"See What I'm Saying" is on Facebook. Please add us!
You can forward this newsletter using the link at the very bottom of the page. Every new contact is greatly appreciated.
Happy Valentines Day, everyone.
Thanks for showing me so much love.