Greetings!


Spring is here - it's time to be sure that you have your race calendar set and to get busy training. In this issue of TriColumbia's E-News you'll find information about TriColumbia's LIFEfest, lots of training opportunities, a new way to track and report road issues, the brand new Maryland Youth Triathlon Series, and inspiring stories of fellow triathletes overcoming odds and racing to make a difference.

It's not too late to get in the race. There's still time to register for the Celebration Sprint Triathlon, a great way to "tri" out multisport or to train for longer distance races.

If you wanted to race in this year's Subaru Ironman 70.3 EagleMan Triathlon, but were unable to get in before it filled; try the Skipjack 75.2 Triathlon, part of the ChesapeakeMan Endurance Festival. The Skipjack uses much of the same route as world renown EagleMan, but takes place in September after the heat of the summer. The CheseapeakeMan Endurance Festival also features the ChesapeakeMan Ultra Distance Triathlon, rated a "140.6 Best Race" by Triathlete Magazine, and the ChesapeakeMan AquaVelo where you will swim 2.4 miles and bike 112 miles.

The EagleMan AquaVelo is still open for registration and is the 2011 USAT Mid-Atlantic Championship Race.

So train safe and celebrate LIFE!

See you at the finish line!

The TriColumbia Team



Spring Into Training With LIFEfest - May 1st!



What better way to train for the season than by running in TriColumbia's LIFEfest on May 1st. Featuring a full menu of distances including half marathon, half marathon relay or 5K, there's an opportunity for everyone to join in the fun...even the kids with the Kidz Fun Run. And all to benefit a great cause, The Blossoms of Hope Foundation and the Claudia Mayer Cancer Research Center.

LIFEfest is part of Howard County's Cherrybration, a festival celebrating the blossoming of beautiful Cherry trees planted across the county to raise awareness of breast cancer prevention, and to raise money to benefit those within the community coping with cancer.

So embrace a healthy, fit lifestyle and come celebrate LIFE!

Click HERE today to get in the race!





Are You Ready To Hit the Road And Train for The Columbia Triathlon?


Princeton Sports, the Official Bike Shop of The Columbia Triathlon for over 25 years, will begin Sunday morning training rides once again, this Sunday, March 6, 2011 at 9:00 AM. Later in the spring, Princeton also plans to include training rides for less experienced riders training for the Celebration or Athleta Iron Girl Triathlons.

Rides originate at Princeton Sports, 10730 Little Patuxent Parkway, Columbia, MD 21044. Rides will not take place in the rain. A road bike is recommended, and helmets and signed waivers are required.


Questions? Just contact Bike Department Manager, Zach Hyland at (410) 995-1894 or zach@princetonsports.com


SeeClickFix - Providing Power To The Community

Have you ever seen a road hazard, bad pot hole, or other non-emergency public safety issue on the road, and wondered how you could communicate the problem to the appropriate agencies for repair?

Now there's SeeClickFix, which encourages active citizenship, by offering a variety of platforms to report your concerns - website, mobile apps, widgets and voice mail. Your concerns are sent to government agencies, and SeeClickFix maintains a searchable database of issues in your "watch area".



What Are Your Kids Doing This Summer? Join in the MYTS Fun!



Keep your kids from becoming couch potatoes this summer. TriColumbia Kidz Triathlon will be part of the Maryland Youth Triathlon Series, the first of its kind youth triathlon series in Maryland, promoting sun-safe practices, encouraging healthy lifestyle choices through multisport, and showing kids that winning is finishing what you start!

Kids, come get your swim, bike and run on! With four premier youth triathlons all within an hour of each other, there has never been a better time to try a triathlon - or add a second, third or fourth to your race calendar! All children completing two or more Maryland Youth Triathlon Series events will receive a certificate of recognition from the State of Maryland. Plus, we're working on some cool stuff for completing two, three or four events. Individual event registrations are now open and space is limited, so sign up now. See you at the finish line!

MORE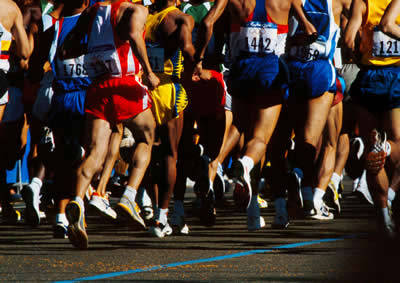 Congratulations to Desiree Ficker - 2011 Austin Marathon Women's Champion


Pro Athlete, Desiree Ficker took the womens title in the 2011 Austin Marathon on Sunday, February 20th. Desiree competes regularly at TriColumbia's Ironman 70.3 EagleMan Triathlon. She uses her stature as a professional triathlete to inspire others and to honor her late mother, Annette, who was diagnosed with colon cancer in 2007 and passed away in July, 2009. Desiree will once again bring "Team Ma Ficker" to compete in the 2011 Subaru Ironman 70.3 in Cambridge this summer.

The Ficker Foundation, Inc., through Team Ma Ficker, is dedicated to promoting cancer awareness with a vivacious group of triathletes and runners who seek higher fulfillment in their training and racing. The team goal is to promote education of healthy lifestyles and cancer-preventative habits, while raising money for cancer research and treatment centers around the country. We aim to reach out to those afflicted, surviving, or recovering from the heartbreak of a loss to cancer. Ma's slogan, "fly like an eagle," is always with the team.

Attention Iron Girls - Win and Get Cycling Tips at Kick off Party!



Win cycling gear, get training tips (like changing a tire!), and enjoy refreshments at a Kick off Party, courtesy of Trek Bikes and Race Pace Bicycles on Thursday, April 21 from 6-9 PM, 9801 Old Annapolis Road, Ellicott City, MD 21042.

Get your bike tuned up or find your perfect fit with a new model. To narrow down your choices, check out Trek Women's site.

* Cycling Tips for Triathlon
* Learn How to Change a Flat
* Giveaways and Refreshments
* Iron Girl Race Day Tips
* Meet Other Women in Training

RSVP (410) 290-6880 or via email



2011 Columbia Triathlon Triathlete, Diane Sharp Is Fighting Back

You'll be inspired by the following story about Diane Sharp, an upcoming Columbia Triathlon competitor, as reported earlier this year by www.citizen-times.com

Diane Sharp lost her biggest fan this year: her husband Bob.

Sharp, 58 and an internationally competitive triathlete from Asheville, battled the grief of her husband's death from pancreatic cancer just as she fought her own bout with lung cancer - by refusing to stop moving.

Despite having been a lifelong athlete and despite never having been a smoker, Sharp was diagnosed with lung cancer in December 2006. Based on initial biopsy results, she was told she had six months to live.

"My lung specialist told me that yes, I could continue to compete, but that I would be last or in the back of any race," Sharp said. "That's all I really needed to hear."

Less than six months later - right around the time of her projected death sentence - Sharp came in fifth in her age group at the National Championship Triathlon in Portland, Ore.

"Getting in the pool the first time after surgery was certainly shocking," Sharp said of her training, "because it's all about controlled breathing. But I just kept plugging away and built up my capacity. Nothing is impossible - really, nothing."

Her husband, she said, "was absolutely my biggest fan."

"Everybody knew exactly who he was because he came to every single race - simple running races, triathlons, everything. He was always there taking tons of pictures and cheering me on."

Even after suffering two stress fractures - one in each foot - Sharp has found a way to keep moving, and to keep fighting against cancer. Since she couldn't run, she did the next best thing - she swam.

After Bob's death earlier this year, Sharp honored him in June in Baltimore's Swim Across America, a 3-mile swim that raises money for cancer research. She continues to compete to raise money in his memory, and is now in training for a triathlon in Columbia, Md., in May, and hopes to compete in the national USA Triathlon in 2011.

Fleet Feet Hosts Triathlon Seminar Series


Fleet Feet Sports, 255 Kentlands Blvd., Gaithersburg, MD 20878 is hosting a four-part triathlon seminar series. In this free series, talk to experts like RRCA-certified running coaches, USAT-certified triathlon coaches, expert swim coaches, physical therapists, bike specialists and more! Whether you're training for your 1st or 500th, there's something for everyone!

Check out the schedule:
February 22nd, 7:30 PM Triathlon 101: Learn the basics of the sport, how to develop a plan and more!

March 15th, 7:30 PM: Run Training & Injury Prevention: Learn all there is about the run portion of training. Discuss injury prevention and how to manage those issues that "pop" up during training.

April 12th, 7:30 PM: Bike Clinic and Training & Sports Nutrition: Learn the basics of your bike like proper fit, tire change and more. Get tips on bike training and race day performance. Learn all there is to know about nutrition during training and race day!

May 10th, 7:30 PM: All About the Swim & Transitions: Learn all about swim training and techniques, plus all-important open water swim strategies. Get the scoop on making your transitions smooth and frenzy-free!

Please RSVP to each seminar by email or phone 301-926-6442.

2011 Event Schedule
May 1, 2011 -
TriColumbia LIFEfest - Half Marathon, Half Marathon Relay, 5K and Kidz Fun Run
Registration is open.

July 24, 2011 - TriColumbia Kidz Triathlon One of four area Maryland Youth Triathlon Series events. Registration is open.

July, 2011 (TBD) -

Epic Rydes - "Arc de Triomphe"

September 24, 2011 - ChesapeakeMan Endurance Festival featuring the Ultra Distance Triathlon named by Triathlete Magazine as a "Best 140.6", Skipjack 75.2 Triathlon, and Aqua Velo


** The ChesapeakeMan Ultra Distance Triathlon has been designated as the 2011 USAT Mid Atlantic Championship.

Registration is open.

Frequently Asked Questions & Resources
FIND US ON THE WEB
Columbia Triathlon Association is now on Facebook, Twitter, and YouTube. Please join us on these site for daily updates, special offers, and race reports.