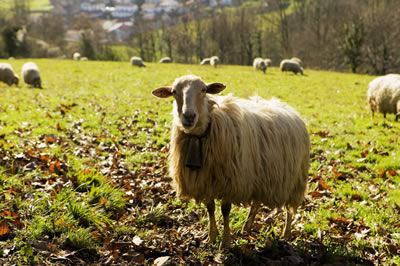 A Purdue Extension webinar will help sheep and goat producers be better managers of their operations and provide advice that those interested in entering the growing industry need to succeed.
The two-session Sheep and Goat Webinar Series can be viewed 7-9 p.m. (EST) on Nov. 30 and Dec. 7 at various Purdue University Extension offices, including our Hancock County office. Please register by calling 317-462-1113 by November 23rd!
"There are a lot of beginner sheep and goat producers in Indiana, and this webinar will give them information on what is needed to be successful in raising sheep and goats," said Mark Kepler, webinar coordinator and Extension Educator. Kepler said the webinar is a response to the requests from across the state for more information for beginning sheep and goat producers.
The first session will cover two topics - "Kid Care," presented by Kenneth Andries of Kentucky State University, and "Dealing with Difficult Births in Does and Ewes," by Endre Fink of the University of Kentucky. "The first session deals a lot with birthing and care of young kids, which is meant to help producers with the upcoming birthing season," Kepler said.
The second session, "Feeding, Management and Marketing Economic Projections," will be presented by Dan Morrical of Iowa State University and Erica Rosa-Sanko from the Livestock Marketing Information Center. This session will provide basic management information while also looking at the current market and prospects of the industry, Kepler said.
The webinar is a cooperative effort between Purdue, the University of Kentucky and Kentucky State. It will also be shown at some Extension offices in Kentucky.
The webinar will be shown at the Purdue Extension offices in Indiana listed below.
To register, contact the county office of your choice by Nov. 23.
* Blackford County: 765-348-3213
* DeKalb County: 260-925-2562
* Dubois County: 812-482-1782
* Fulton County: 574-223-3397
* Hamilton County: 317-776-0854
* Hancock County: 317-462-1113
* Harrison County: 812-738-4236
* Hendricks County: 317-745-9260
* Huntington County: 260-358-4826
* Jasper County: 219-866-5741
* Jefferson County; 812-265-8919
* Kosciusko County: 574-372-2340
* LaGrange County: 260-499-6334
* LaPorte County: 219-324-9407
* Martin County: 812-295-2412
* Montgomery County: 765-364-6363
* Morgan County: 765-342-1010
* Owen County: 812-829-5020
* Pike County: 812-354-6838
* Steuben County: 260-668-1000
* Sullivan County: 812-268-4332
* Tipton County: 765-675-2694
* Warrick County: 812-897-6101
* Washington County: 812-883-4601
For more information, visit:
SENT ON BEHALF OF: Roy Ballard, Purdue Extension Educator,
Agriculture and Natural Resources, Hancock County