Mobile Pet Care Clinic of Texas
The Mobile Pet Care Clinic of Texas, San Antonio's "original" source for low-cost pet vaccinations and affordable pet outpatient treatments, will be holding a clinic at New Braunfels Feed & Supply on June 23, 2012. The clinic will offer Rabies vaccines, Arthritis shots, Health Certificates, Heartworm Tests, 4-way Cat vaccines, Dog vaccine packages, Dewormings, and Bordetella vaccines. For more information regarding ...
Alan's Answers -
My dog has been diagnosed with Flea Allergy Dermatitis, but I have never seen a flea on him. Is this diagnosis correct?
My dog's skin has always been itchy and every summer he has to be treated. After a recent series of tests, I was told that he has Flea Allergy Dermatitis. The problem is that I have never seen a flea on him. Is this diagnosis correct? Great Question! The fleas and ticks have definitely arrived for the summer! In ...
Read More
Summer Pet Care
When the lazy days of barbecues and swimming pools roll around, you can make them even better by sharing them with your favorite pet. By following a few summer pet safety tips, you can keep your animal friends healthy and enjoy the months of sun and fun. Never leave your pet in the car. Though it may seem cool outside, ...
Read More
New Braunfels Feed & Supply has all your summer pet care items to help keep your animals safe! Pet crates, watering bowls, even automatic wateres that provide a constant flow of water during the summer heat!
Are you traveling with your pet this summer! Remember their vaccinations! Bordetella vaccines are required by most kennels at least 2 weeks prior to boarding. Bordetella helps preview kennel cough and is administered through your pets nose. Stop in to New Braunfels Feed & Supply and pick up your Bordetella vaccine!
Who Are You? Identifying Backyard Birds
Identifying Backyard Birds When you first notice the bright-colored yellow and black bird in your yard, all you can do is admire it. However, when you learn that the bird is an Evening Grosbeak, you'll know that a simple tube feeder with Black-oil Sunflower seeds will keep him coming back. Being able to identify the birds that frequent your ...
Read More
Purina Announces Senior Tales Winners!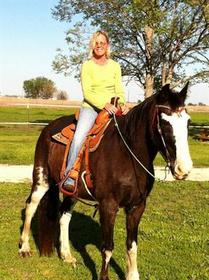 More than 600 horse owners shared their senior horse tales in our annual Senior Horse Tales Contest. Horse owners that shared their stories had a chance to win one ton of PurinaŽ Equine SeniorŽ Horse Feed. Read the press release . . .
Read More