New Year, New Membership
Start the new year off with a
new APALA membership
. Join your local APALA chapter members for a membership kickoff drive and celebrate the Lunar New Year - events are being planned in Washington, D.C., New York City, and other cities. As Asian Americans become one of the fastest growing groups within unions, it's only natural that we grow APALA's membership as well.
Electrical Minority Workers Caucus Conference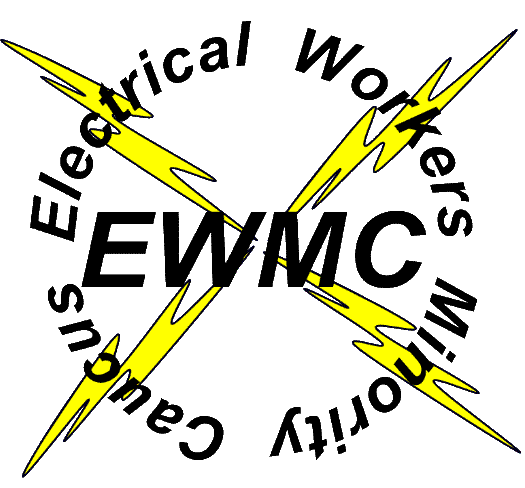 Founded in 1974 to promote equal opportunity and employment for minorities at all levels of the IBEW structure, the Electrical Minority Workers Caucus (EMWC) hosted their 20th Annual Conference, entitled The Courage to Lead, the Power to Make a Difference. The annual gathering coincides with the remembrance of Martin Luther King, Jr. Over 300 delegates from around the country gathered for the 20th Annual Conference in Portland, Oregon.
APALA participated in the conference by speaking on the
Power of Soli
darity
panel with the AFL-CIO constituency organizations, as well as participating in a workshop entitled,
Standing with Immigrant Workers
. The workshop provided an overview of Comprehensive Immigration Reform and highlighted the wage theft campaign in the Bay Area. Finally, Victor Uno, business manager of IBEW Local 595 and founding member of APALA, was elected EMWC Vice President, along with President Bobby Sparks and Secretary-Treasurer Dorothy Fortier.
Cervical Cancer Awareness and Prevention


For January, which is Cervical Cancer Awareness Month, APALA is working with the Coalition of Labor Union Women (CLUW) to publicize the Cervical Cancer Prevention Campaign. Asian Pacific American women have the lowest rates of cervical cancer screenings, but cervical cancer can easily be prevented through routine pap smears and checkups.

Carolyn Jacobson, director of the
Coalition of Labor Union Women
(CLUW) stated "No woman should die of cervical cancer. We now have available preventative technologies to stop this disease in its tracks. Additionally, union members have health insurance that covers many preventive services. Being tested and preventing disease saves the health care system money and ultimately can mean holding down costs. More importantly, making women aware of the need for preventive care can lead to greater health benefits for the entire family since women are the gatekeepers to their family's health and the largest consumers of the health care system."
Greetings!
APALA Members and Allies,

In the new year, and in the spirit of the esteemed Rev. Martin Luther King, Jr., we look forward to working with our partners here in the US and building bridges to allies in other countries to fight for workers' rights. An injustice to one worker in one country remains an injustice to workers everywhere, and recently Asian Pacific American labor activists traveled to Vietnam to discuss common organizing concerns and strategies.

Unions have had to think more globally, especially as their membership grows increasingly diverse. The recent Center for Economic and Policy Research (CEPR) report, "Unions and Upward Mobility for Asian Pacific Americans," shows that Asian American and Pacific Islanders, along with Latinos, represent one of the fastest growing segments of unionized workers. So it's fitting that we consider the plight of immigrant workers trying to form unions, who face an additional series of hurdles in the workplace.

Last week, Congressman Mike Honda and APA advocacy groups held an AAPI National Week of Action from January 12-20th to highlight the importance of family reunification and to call for comprehensive immigration reform. The issue of immigration unites our community, as the most recent Census figures show that 67% of Asian Americans are foreign-born. Furthermore, we need to reduce the family reunification backlogs, as people can wait over 10 years to be reunited with their loved ones. The actions that took place were in solidarity with our immigrant brothers and sisters who also seek just and humane immigration reform.

As I sat listening to President Obama give the State of the Union speech nine decades after King's birth and remind us that change would be difficult and cannot be done by him alone, I immediately thought of the people's historian Howard Zinn who passed away on this same day.

Howard through his life and work showed us that people, not a select elite, make history.

As President Obama talked about job creation, affordable tuition rates, and immigration, I remembered how it was the labor movement who created the middle class.

As MLK, Jr. once said, "

The time is always right to do what is right.

" I rededicate myself to action, and to pushing forward hand in hand with you as we seek equality in the global workplace and equality in larger society. We will move forward together and remember that we are the ones who will make change.

In solidarity,

John Delloro
APALA President

US Labor Delegation to Vietnam


APALA has a long and proud history of strengthening international solidarity with workers in Asia and the Pacific Rim. This has included working with the trade union movement in the Philippines, sending delegations to Cambodia, and developing relationships with the Vietnam trade union movement. Last year, APALA hosted a delegation from Vietnam at the AFL-CIO, marking the first time that an AFL-CIO officer met with a high-ranking official with the Vietnam General Confederation of Labor (VGCL).

More recently, APALA members participated in a U.S. trade union delegation to Vietnam from December 7-13, 2010 to establish international solidarity and build friendships with trade union leaders in Vietnam. Comprised of a dozen labor activists from California, New York, and Washington, D.C., participants traveled through Northern Vietnam to meet with the VGCL, the Industry and Commerce Union, the National Education Union of Vietnam, as well as leadership from Hai Duong Province and Quang Ninh Province. Site visits included meeting with workers at a garment factory, an award-winning brick manufacturing plant, and interacting with students at the Vietnam Trade Union University and Hanoi University. As a follow up to the trip, the APALA Alameda County Chapter and APALA Los Angeles Chapter are hosting a delegation from Vietnam in April 2010.

APALA Members Honored for Leadership and Service
Recently, some of APALA's finest members were honored for their leadership and commitment to advancing workers' rights.
New York State State Assembly member N. Nick Perry honored APALA Board Member Maf Misbah Uddin, who serves as District Council 37 Treasurer on Oct. 31. Uddin received the "Distinguished Labor Leader Award" from Assemblyman Perry (D-Brooklyn).
"He represents the values of the hard- working people who make this great city run," said Perry, as he presented a plaque to Uddin.
"I thank him for his leadership and selfless community service."
"It's an honor for me to be among so many distinguished New Yorkers this evening," said Uddin. He is also the president of Accountants, Statisticians and Actuaries Local 1407 and of the national Alliance of South Asian American Labor.
APALA President John Delloro was honored by Asian Pacific Americans for Progress as one of 10 AAPI Unsung Heros of 2009. He also works as the Executive Director of the Dolores Huerta Labor Institute of the 130,000 student Los Angeles Community College District, where he oversees programs and labor studies classes that train and prepare students to understand their power as future workers and professionals. Delloro is a visiting lecturer in UCLA's Asian American Studies Department and also teaches labor studies courses through the LA Trade Technical College. Recently, he has been appointed by the Mayor and approved by the city council to sit on the Los Angeles City Taxicab Commission. In addition to his community work, he writes for a national on-line blog for the Asian American Action Fund and the Los Angeles Progressive.
Finally, Ahmed Shakir, Secretary of Local 37 of AFSCME DC 37 was recognized by Indian Ambassador Mr. Prabhu Dayal on behalf of New York Tamil Sangam with the "Distinguished Labor Leader Award." Earlier in the month, he was also elected as a Treasurer for the Federation of Indian Associations of Tri-State area (NY, NJ, CT), DC37 Delegate and Central Labor Council Delegate for a 3 year term.
Congratulations to our distinguished board members and please write us at info@apalanet.org with your most recent news and achievements that you wish to share.
Photo credits:
Top left, Public Employee Press,
DC 37 Treasurer Maf Misbah Uddin receives the "Distinguished Labor Leader Award," from State Assembly member N. Nick Perry (left) at his annual awards ceremony held at the Ramada Plaza Hotel on Oct. 31
APALA Elected to Executive Board of NCAPA

APALA was recently elected to serve as Secretary on the Executive Board of the National Coalition for Asian Pacific Americans (NCAPA), a broad coalition comprised of 27 national Asian Pacific American organizations committed to serving the interests of the greater community. As the only national table for Asian Pacific American advocacy organizations, this provides a greater opportunity for APALA to continue to engage our national allies and partners around worker, immigrant, and civil rights.
The new slate of officers include the following:
George Wu, Chair & OCA Executive Director

Deepa Iyer, Vice Chair of Programs & SAALT Executive Director

Doua Thor, Vice Chair of Membership/Communications and SEARAC Executive Director

Tina Matsuoka, Treasurer & NAPABA Executive Director

Amado Uno, Secretary & APALA Executive Director
APALA looks forward to working even more closely with the community in its new leadership capacity within NCAPA.