Metro District Election
Battlement Mesa Metro District Election

Don't miss your opportunity to help choose the the new BMMD Board of Directors. This year's BMMD election is a mail in election and all ballots must be received by May 8th. District voters can return their ballots by mail or drop them off at the BMMD office at 401 Arroyo Drive (across from the Activity Center).

Six candidates are competing for the two open board positions. These six candidates, (in alphabetical order) are: Bob Arrington, Jason Fletcher, Bill Nelson, Lynn Shore, LeeRay J Smith, and Bill Wilde. Short bios of each of the candidates appeared in the April Grand Valley Echo.

The other three members of this five member board are Michelle Foster, Sara McCurdy and Bruce Richards.

Call Steve Rippy, BMMD Manager, at 970.285.9050, for additional information about the election.
Battlement Mesa...a Retirement Community...NOT!
Battlement Mesa: Much more than a 'retirement community'
If you've lived here very long you've probably heard Battlement Mesa referred to as a 'retirement community.' The truth is that Battlement Mesa has a lot of qualities, though being an exclusive retirees-only community is not one of them.
Mary Lee Mohrlang, a Battlement Mesa Realtor and an active community volunteer, recently stated that, "For a community development to receive a 'retirement community' designation, certain legal age restrictions and community offerings must be in place and Battlement Mesa has never met those requirements, nor did it intend to. According to Mohrlang, and many others, the Battlement Mesa Company promoted Battlement Mesa as a "great place to retire," but the area has always been promoted as a great place to raise a family, too.
In fact, according to the 2010 U.S. Census, out of 4,440 residents, only 17 percent of the population is 62 and older - less of a percentage than nearby Grand Junction's older demographic. The average age of a Battlement Mesa resident is 35...not exactly "the average retirement age!"
Meet Your Delegate
Each Battlement Mesa Village is represented by an elected Delegate that serves on the Battlement Mesa Service Association Board of Directors. Delegates are elected to a three year term. Since there are no term limits for Delegates, frequently Delegates serve multiple terms.
This month, we are introducing Laurel Koning, Battlement Creek's Delegate.
Laurel moved to Battlement Mesa from the Chicago area in 2006. She and her husband, John live in Battlement Creek. Laurel, who spent 30 years as a professional choreographer and retired following 19 years with Crowe Horwath, the 8th largest accounting firm in the U.S., is an active volunteer. In fact, she was recently selected as Volunteer of the Year by the Parachute - Battlement Mesa Chamber of Commerce.
In addition to serving on the BMSA board of directors, Laurel is a member of the KSUN board of directors, teaches ballroom dance at the Battlement Mesa Activity Center, volunteers at a soup kitchen and still finds time to organize the summer Movies Under The Stars. In her spare time (?) she skis, golfs and plays bridge.
When asked "Why Battlement Mesa?" she said, "because of the beautiful views, the golf course and (especially compared to Chicago) the low property taxes. When asked "Why serve on the BMSA board?" she said, "I am proud to represent our Village, and will always be reactive to the concerns of those that live in Battlement Creek Village. It's my job!" Laurel said, "we love our house, love our friends and we have found this community to be very gracious to us."
The BMSA Board meets on the 3rd Tuesday of each month at 9 a.m. at the Battlement Mesa Activity Center. All of the BMSA meetings are open to the public.
Watch future Newsletters for articles about each of the Delegates!
Movies Under The Stars Returns!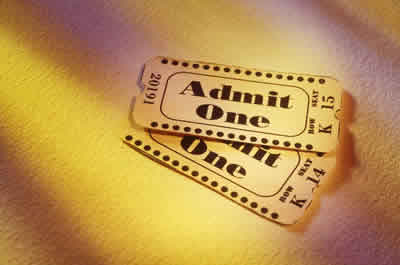 Movies Under the Stars is Returning for another season...with more movies.
Although the planning isn't yet complete, Movies Under the Stars is returning for another season. Laurel Koning, one of the organizers, reported that the FREE movie series has grown to four movies this year. The 2012 movie nights are:
June 8, 2012
June 29, 2012
July 20, 2012
August 10, 2012
If you can help with the set up or wish to sponsor one of the Movie Nights, call 970.285.1258. And if your group is interested in managing the popcorn and pop stand, as a fund raiser for your group, please contact Laurel.
The 2011 Movies Under the Stars at the Battlement Mesa Activity Center was well attended in its inaugural year and was great fun for the those who attended. Watch the website www.BattlementMesaColorado.com and future newsletters for the movie names of this year's summer movies.
Join the FREE fun in a perfect setting! Movies begin at dusk. Popcorn and sodas will be available for purchase.
Covenant Corner
In the spirit of educating more and enforcing less, Covenant Corner is a regular feature in the Battlement Mesa Newsletter. Experience has taught us that most people will comply with the covenants if they know what the covenant says. In this issue, we'll explore two rules: Lot Maintenance and Mowing and Plant Protection. Both regulations are part of Article VIII in the Amended and Restated Declaration of Covenants, Conditions and Restrictions for Battlement Mesa. The regulations are further defined in the Rules and Regulations Governing Battlement Mesa Service Association Area.
Lot Maintenance and Mowing
8.2 (a) (in the Rules and Regulations) states, "The responsibility for maintaining individual lots belongs to the owner of the lot. The owner of the lot, even if leased, whether built upon or not, has the responsibility for seeing that it is maintained in a clean, safe, attractive and sightly condition and in good repair."
8.2 (b) states that "Owners of undeveloped lots have the responsibility to see that these lots are mowed so the height of the vegetation does not exceed six (6) inches. Mowing may be required several times throughout the season.
Plant Protection
8.19 (a), (in the Rules and Regulations) says, "Plant protection is defined as barriers used for the protection of plants, shrubs, and trees from deer, elk, and other animals that may cause damage to plants. The potential for damage to plants is greater during the colder months, but some plants may be damaged at other times during the year."
8.19 (b) states, "Therefore there are two types of protection that are recommended for use to protect plants:
(i) Temporary Plant Protection:
1. Temporary plant protection may not be erected prior to October 1 of each year.
2. "Invisible" black plastic up to six feet high, supported with posts that are strong enough to keep the material from visible sagging may be used.
3. Welded wire up to six feet high, either supported with posts or secured at ground level, may be used.
4. Monofilament line supported with posts up to six feet high may be used.
5. Single plants or small groupings of plants may be surrounded. Entire yards are not to be enclosed with any of these materials.
6. Temporary plant protection must be removed and stored by May 1 of each year.
ii) Extended Plant Protection:
Some newly planted items and some specific plants may need more extended protection.
1. Using the material in 9.b.i. above, individual plants may be surrounded keeping posts at a minimum.
2. This plant protection must be removed as the new plants mature.
Please remember that sub-associations may have more restrictive covenants than the BMSA.
More detail on these and other covenant regulation are AVAILABLE HERE or on www.BattlementMesaColorado.com.
Did you know that the 30th Anniversary of Black Sunday is May 2, 2012! Read More in the next edition of the Grand Valley Echo
.
...Available in Mid-May
Nestled on a mesa in the picturesque Western Slope of the Rocky Mountains, Battlement Mesa, Colorado is an unincorporated 3,200 acre, residential community with approximately 5,000 residents. Situated on a mesa above the Colorado River with high desert mountain views of The Battlements and The Roan Plateau, Battlement Mesa offers a unique community with magnificent scenery and a quiet, peaceful, healthy lifestyle.
Battlement Mesa, Colorado....

A Great place to Visit, to Work, to Live or to Retire!

Battlement Mesa, CO 81636
For additional information about Battlement Mesa visit us online at

Board of Director
Election

The Grand Valley Fire Protection District recently elected Kevin Whelan and Keith Lammey to additional three year terms on the GVFPD board of directors.

The new terms begin in May.
Dates to Remember
Chamber of Commerce Member Meeting -

May 10th

Kiwanis Golf Tournament -

May 19th

Annual Community Yard Sale -

June 9th

Grand Valley Fire Protection District 50th Anniversary -

July 21st

Grand Valley Days Parade and Rodeo -

July 28th

National Night Out -

August 6th

Community Classic Golf Tournament -

September 29th

Oktoberfest and Fireworks -

October 6th
Rent a house, sell your Car, Promote your sale!


Do you want to rent a house, sell your old car, or promote your garage sale? If so, you need to know about the Classified Section of the community website. Log on to;
then click on "Businesses
"

then click on "Classifieds"
or just
CLICK HERE.
At least for now, classified ads are free!
Please don't put up illegal signs in our beautiful community!

Coming Soon: A new Bistro and Catering service!

Long time residents, Mary Jane Wahlman and Jane Chapman are opening Bodacious Bites Bistro & Catering at 71 Tamarisk Trail in Saddleback Center.

Watch for further information about their opening date.