Client Success Stories
" Finding out what really drives me was an eye-opener. I never realized that my 'explorer mentality' spills into every aspect of my career and personal life, from discovering what a customer's application is and how I can best serve their needs to eating exotic foods and travelling to distant lands!" Howard S. - Strategic Accounts Manager
Greetings!
Happy New Year! Hope you had an enjoyable holiday season and that 2011 is off to a good start for you!
With the New Year, many signs indicate that the US labor market is turning around. According to a recent Associated Press article, "Companies added nearly 300,000 jobs in December..more than in any month this past decade." Another article published by Bloomberg predicts that the "U.S. Economy Will Grow 3.3% [and] Double New Jobs in 2011," based on findings of the American Banking Association.
The Herman Group also published their 2011 Workforce / Workplace Forecast. One point the authors raise is that many people lack the skills desired by employers: this will lead to more federally funded workforce development programs, designed to get people back to work faster.
On this same subject, my featured article is "Update Your Skills for the New Year." When you stay current with the required skills for your profession, you'll be a much more attractive hire for targeted employers. You'll find tips for determining the skills you need and ideas for funding your educational program, backed by a client success story.

Being proactive is the key!
Here's to a successful 2011!
P.S. A great big "Welcome" to my new subscribers!
Every year at about this time, The Herman Group issues its annual forecast. Again, this year, they offer you their full forecast for the coming year. Enjoy.
Recruiting will intensify. We are already seeing the large companies looking for increasing numbers of employees. Later in 2011, the small and medium-size companies will join the scrimmage. More companies that had eliminated their recruiting function will hire inside people to offset their expenses of headhunter fees.
Unemployment will remain relatively high. We expect unemployment to remain over 8 percent for the coming year. The challenge for employers is that many of the unemployed do not have the skills they are looking for.
Workforce development will increase in importance. As communities realize the disparity between desired skills and those people actually possess, the issue of workforce development will become more important. The federal government will pass legislation to assist in this process.
More employers will embrace technology to manage processes and keep track of relationships.

Companies providing software to employers will see their businesses grow. Employers will face the challenges of training their people in these new systems.

More companies will tap women for executive positions.

With increases in the percentage of women in colleges, universities, and graduate schools, the world is graduating more capable, qualified women who will move into positions of authority in corporations.

The levels of corporate growth will depend on the region.

The

United States

and

Europe

will lag behind

Asia

and

South America

in job growth and profits. Lingering high levels of unemployment and housing situations will hamper expansion.

Any remaining companies that had not restored sales incentives will do so next year.

Recognizing the competitive disadvantage employers not only restore incentives to previous levels, but will also look for innovative ways to augment these programs with meaningful non-financial incentives keyed to the individuals' social circumstances.

The repeal of the Don't-Ask-Don't-Tell law will have far-reaching repercussions.

This law, governing gays openly serving in the

US

military, will open the door to more recognition for domestic partners. More employers will acknowledge these partnerships as civil unions with attendant expenses and benefits.

Employers will pay increasing attention to retention.

Higher employee turnover and greater difficulty in recruiting will again challenge more employers. By necessity, employers will once again be forced to look at employee retention.

The escalating regulatory environment will cause employers to need employment lawyers more than ever.

With OFCCP (The US Department of Labor's Office of Federal Contract Compliance Programs) inspections and other onerous regulations, employers will have no choice but to engage their employment lawyers at higher levels.
© Copyright 1998- 2011 by The Herman Group, Inc. -- reproduction for publication is encouraged, with the following attribution: From "The Herman Trend Alert," by Roger Herman and Joyce Gioia, Stra tegic Business Futurists. (800) 227-3566 or http://www.hermangroup.com . The Herman Trend Alert is a trademark of The Herman Group, Inc."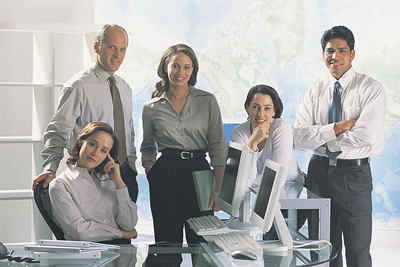 One of the biggest mistakes I see jobseekers make is letting their skills stagnate. They've depended on their employers to train them in new technologies and business skills, instead of taking the initiative to invest in their own education.
One of my IT clients avoided this mistake after she was laid off from her job in mid-2008. Instead of bemoaning her fate, she took an 18-month Database Operations Certificate Program in a community college.
Shortly after earning her certificate, she was snapped up for a contract gig as a Senior Business Analyst at a prominent medical school. When the contract job ended, she quickly found a similar position in a large, electronics components firm, where she is currently working today.
In her words: "I know that my success is partially contributable to going back to school, working hard and remaining positive, which positioned me to be ready to accept the 'lucky breaks' aka 'opportunities' when they presented themselves to me."
The lesson learned is this: Take charge of your own professional development plan and find a way to pay for it yourself. Staying ahead of the curve in the "latest and greatest" in your field (regardless of your profession) will make you more attractive to hiring managers. Don't wait for your employers to foot the bill for your education or tell you what skills you need.
The first step is determining which skills you might need to develop. Try these three strategies:
Reach out to your colleagues or to experts you might know through memberships in professional associations.
Conduct field research with university or college professors, particularly those who have strong connections in the business community.
Read industry-specific publications for clues about which educational programs will add value to your career.
Next, figure out how to fund your educational plan. Here are some suggestions:
Explore student loan programs available through colleges, trade schools and universities. Most programs have low interest rates and affordable repayment plans, which you can factor into the cost of career advancement. Go to FAFSA (Free Application for Federal Student Aid) for details. (Side note: if you need further help with FAFSA, my colleague, Sharon McLaughlin, can help you avoid the 9 common mistakes made during the application process.)
Look to workforce development centers for tuition assistance. If you've been unemployed for an extended period of time and meet other financial qualifications, you may be eligible for free or low-cost training through your local workforce development center. (Side note: this is how my client funded her certificate program.)
Tap into employment agencies which offer free or low-cost e-learning programs

available to those who register for temp, contract, or temp-to-perm assignments across multiple industries and professional levels

: Office Team (A division of Robert Half, International), Kelly Services, Manpower, and Randstad.
Never underestimate the power of self-study.

If you can't enroll in a formal education program yet, purchase the required textbooks (or get them from the library); then study as much as you can. When you're ready to enroll, you'll have increased your knowledge base and have an edge over the other students.
If you believe your career skills need a makeover, consider these questions:1) Do you need special training to move your career forward? 2) If so, how will you get it? 3) What are you willing to change or commit to, in order to make this happen?

© 2011 Joellyn Wittenstein Schwerdlin, The Career Success Coach. All Rights Reserved. www.career-success-coach.com
Is It Time to Partner with a Career Coach?
Do you work hard on your job search but seem to get nowhere fast?
Are you burned out with your job, but don't know what other career(s) might satisfy you?
Do you have trouble understanding how your transferable skills can be used in other professions?
Do you apply for jobs online, only to get "thanks but no thanks" responses?
Does it seem like your network can't help you with your job search the way you'd like?
Do you have difficulty "sealing the deal" at interviews?
Is it time to take a risk -- a giant step forward -- to end the pain once and for all? You may surprised: the problem might not be what you think and simpler to overcome than you thought possible.
Regardless of the issues you face or what you may be frustrated or confused about, I can provide the clarity, creative thinking, objectivity, and perspective you need to get your career and job search moving in the right direction.
Let's get started with a Career Action Planning (CAP) Session, to help you figure out what's working, what needs attention and what the next steps are to landing your ideal career position in record time. Go to my website to learn more:
About "The Career Success Coach"
Joellyn Wittenstein Schwerdlin is a career coach in private practice, who works with executives, managers, and professionals who are ready to make a change in their employment situation, but don't know what that change looks like or what their next steps should be. She uses a proven, 8-module career coaching program to help her clients identify and land ideal career positions much faster than they ever could on their own. Her program starts with a Career Action Planning (CAP) Session to first determine where clients are getting stuck, stalled or confused in the process of making their desired job and career transition.
Joellyn will be happy to discuss your situation on a free call. Contact her at 508-459-2854, joellyn@career-success-coach.com
or visit www.career-success-coach.com.
Quote of the Month: On "Initiative"
"If your ship doesn't come in, swim out to it."
-- Jonathan Winters (Actor / Comedian)
© 2011 The Career Success Coach