Client Landings!

Congratulations to Laura Niforatos, CPA, named as a key consultant on a Sarbannes-Oxley Compliance Project, for a global real estate services firm specializing in commercial property management, leasing, and investment management.
Greetings!
October is my favorite month. I especially love the fall here in New England, with the hilly landscape of trees turning multicolors of red, orange, gold and brown. But Mother Nature -- unpredictable as usual -- sent Worcester an unexpected blast of snow last Sunday. Thankfully, none of it stuck to the ground.
Besides reading books, a job search or career change requires a focused strategy to reach your goals.
But without
one key ingredient
, you'll have difficulty reaching the level of success which you're capable of.
The Secret Side of Job Search Success
will give you the answer. (No, it's not the book or DVD of
The Secret. <grin>)
Are you stuck, stalled or confused in your job search or career?
Whether you want to make a career change, re-enter the job market after a long absence, need to get a job after a layoff, invested too much time in an unproductive search or don't know what it takes to get the job or career you want
-- a
Career Action Planning (CAP) Session
will get to the root of your career problem and provide a plan to help you land the job you want--in record time.
Here's to your Career Success!
:-) Joellyn
P.S. A great big "Welcome" to my new subscribers!

New Book: The Quick 30/30 Job Solution
The Quick 30/30 Job Solution: Smart Job Search Tips for Surviving Today's New Economy
The authors suggest getting a "lifeboat" job: 1) within 30 miles of where you live; 2) pays at least 70% of your previous salary; 3) covers your mortgage; 4) meets your basic needs.
According to Joyce Lain Kennedy, who wrote the preface to this book:
"I respect the book's message so much that I wrote its foreword, quoting McNulty about what future potential employers will think if you accept a lifeboat job that obviously isn't perfect for you:'They will think that you were a lot smarter than the guy [or gal] who bit off his [or her] nose to spite his [or her] face because he [or she] would not settle for less than an ideal position, resulting in a year or more of unemployment, a choice often followed by a shambles of personal finances.' "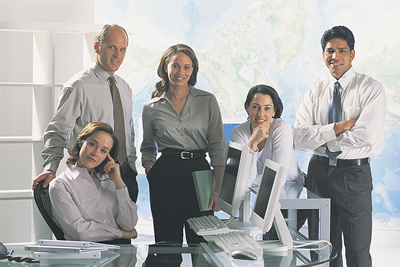 The Secret Side of Job Search Success
Much is written about what it takes to claim success in a job search. Twitter tips and a plethora of blog posts make it clear that you need to use a targeted job-search approach, tap the hidden job market, network (more than you think you need to), get a great résumé together, ace the interview, etc.

Unfortunately, the KEY ingredient to these recipes for success is often missing or easily overlooked. I'm sure you've seen evidence of this yourself. For example, you seem to be doing everything "right" in your job search - but it just isn't getting much traction.

Before I share the secret ingredient, let me offer a few telltale signs of its presence.
The first letter of each sign forms the acronym:
PRODS.
A successful job seeker "prods," nudges, and motivates himself or herself with:
Perseverance:
Abraham Lincoln said "Always bear in mind that your own resolution to succeed is more important than any other one thing." Feeling discouraged? Persevere. Feeling fatigued? Persevere. Feeling apathetic? Persevere.
Resilience:
This is the ability to bounce back when disappointments come. When you don't get the offer you thought was coming; when you learn that a former employer isn't giving you the glowing reference you'd hoped for; when you don't perform as well as you'd hoped in an interview. Be intentional about shortening your "bounce-back" time.
Optimism:
Optimism is hope personified. Optimism believes that there are solutions waiting to be discovered ... that there is provision for every need around the corner. It believes that, with insights and learning leveraged, the next minute, hour, or day can be better. Tiger Woods said, "The greatest thing about tomorrow is, I will be better than I am today. And that's how I look at my life ... That's the beauty of tomorrow. There is no such thing as a setback. The lessons I learn today I will apply tomorrow, and I will be better."
Discipline:
Discipline is quickly becoming a lost art. Most people equate it with pain or punishment. And yet, what would life be like if you could always muster 100% of the discipline you desired? How would things be different? It's not likely that, from this moment forward, any of us will live a life of complete self-discipline. As the saying goes, "The spirit is willing, but the flesh is weak." But we can make incremental changes. Start with a goal of being 5% or 10% more disciplined-what would that increase look like for you today?
Self-confidence:
The Cowardly Lion in the
Wizard of Oz
movie lamented his lack of courage, singing: "I could show my prowess, be a lion, not a mow-ess [mouse] if I only had 'da nerve." Courage is essential to success, but that doesn't mean you always have to feel courageous. Everyone experiences some level of trepidation when they're stepping up to the plate and doing something big and new. The fear never goes away. But we have a choice, to either be fearful and frustrated, or fearful and free. In the words of Susan Jeffer's best-selling book: "
Feel The Fear and Do It Anyway
."
Now, why don't these elements of success get as much press coverage amidst the abundance of advice on job search?
Frankly, because they're
difficult
. They don't come easy. And, as humans, we typically want an easy fix (myself included) . . . which leads me to the secret ingredient.
Here's how to find it:
1) Get up.
2) Walk to a mirror.
3) Look in the mirror.
It's YOU - YOU are the secret ingredient. (Surprised??)
Gandhi wrote that we are the sum of our actions. And what is at the root of action? Our thoughts. Our perspective. The way we believe. As the old proverb goes, "As a man [or woman] thinks, so shall he [or she] be."

That said, ask yourself what new thought you want to adopt today that would allow you to be more successful in your job search or career endeavors -- then act on it!

© 2009 Adapted from Career Coach Academy




Whatever career problem you may be struggling with -- whether you want to make a career change, re-enter the job market after a long absence, need to get a job after a layoff, invested too much time in an unproductive search and don't know why, or are unclear about your career direction -- a Career Action Planning (CAP) Session will get to the root of your career problem and provide a plan to help you land the job you want -- in record time.


In this two-hour, strategic breakthrough consultation,

you and I will talk about your work situation, your job search, and whatever seems to be making you feel stuck or stalled. We'll even discuss your career history from your early decision-making days to the present, to identify patterns and themes which stand out.

I'll listen, ask important questions, and provide you with constructive feedback:

(1) What's working: You'll learn which career decisions and job search strategies you've implemented that are on the right track.


(2) What's needs attention: You'll discover what's really holding you back from landing the job you want. This is the root of your career problem. Most likely, you've never thought of it before; unless you've been painfully aware of it, but have been ignoring it for too long.

(3) Next steps:

You'll get the beginnings of a

focused strategy

to land the job you want -- instead of spinning your wheels with unproductive activities.

Then, you can decide if you want to continue working with me or otherwise.

Either way, you'll finish the session with a sense of "

Aha! Now I know what I need to do!"

Investment: $175.00. This includes:
MP3 recording of the session, plus a written summary.
40-page e-book: "The 12 Biggest Mistakes Job Hunters and Career Changers Make -- and How to Avoid Them."
45-minute follow-up session (no additional charge)
Still skeptical? Here's what one client said:
"After going through your Career Action Planning (CAP) Session I quickly realized that you were someone I felt comfortable with and would tell me the truth. Together we uncovered my talents so I could have fun at work again. After completing your coaching program, I started my own business and am having the time of my life!
Quote of the Month: On "Kindness"
"Be kind, for everyone you meet is fighting a hard battle."-- Plato
© 2009 The Career Success Coach
All rights reserved.