Internet2 Basics
What is Internet2?
Internet2 is an advanced networking consortium led by the research and education community. An exceptional partnership spanning U.S. and international institutions who are leaders in the worlds of research, academia, industry and government, Internet2 is developing breakthrough cyber infrastructure technologies that support the most exacting applications of today-and spark the most essential innovations of tomorrow.
Led by its members and focused on their current and future networking needs since 1996, Internet2 blends its human, IP and optical networks to develop and deploy revolutionary Internet technologies. Activating the same partnerships that produced today's Internet, the Internet2 community is forging the Internet of the future. For more information, go to http://www.internet2.edu.
How is Internet2 used?
The local, isolated schoolhouse of yesterday is being replaced by a new one-a global, accessible one that opens the whole wide world to its students.
In very real ways, the K20 Initiative helps to bring the global schoolhouse to a street address near you. Now comprising 38 state education networks, teachers and innovators team with Internet2 members to extend advanced networking technologies right into local libraries, museums and classrooms. Participants benefit from exposure to world class professionals and media, use sophisticated scientific instruments remotely, and take part in a whole range of vicarious experiences-such as undersea exploration trips led by famed oceanographer, Dr. Bob Ballard.
The Science and Engineering Initiative works to support scientists and researchers who need to collaborate in distributed lab environments, or access one-of-a-kind instruments like radio telescopes and particle colliders, or obtain data from remote storage or computing resources.
Through the innovative work of Health Sciences and Health Network Initiatives facilitate the community's use of advanced networking applications in clinical practice, medical and biological research, education and health awareness. The FCC Rural Healthcare Pilot Program is a recent focus which will help public and nonprofit healthcare providers build state- and region-wide broadband networks to provide telemedicine services throughout the nation.
In similar ways, the Arts and Humanities Initiative is helping to enable long-distance, collaborative live performances, master classes and remote auditions, breaking down traditional barriers to the sharing of expertise. Workshops teach equipment and staffing requirements for interactive performing arts education and media events and netcasting. See what all our communities are up to at internet2.edu/communities.
Click here to read the full article.
---
American Recovery and Reinvestment Act of 2009
---
---
---
Quick Links
---

---
For more information about
EAGLE-Net, contact us at:
:: Phone: (720) 210-9500
:: Fax: (720) 210-9501
Greetings!
EAGLE-Net Alliance Has Launched!

After many months and long hours of hard work by a committed team, EAGLE-Net Alliance (EAGLE-Net) is ready for business.
What does this mean to you as a Colorado resident? In the next 28 months, you will see broadband projects launching and coming to completion across the state to underserved, rural and geographically hard to reach areas of the state. EAGLE-Net's middle mile network will link 178 K-12 schools, 15 community colleges, 26 public libraries and 3 institutions of higher education together by providing Internet and Internet2 services.
EAGLE-Net will enable high-speed affordable access to additional governmental and non-profit community anchor institutions throughout the state. EAGLE-Net will also make excess capacity available to private sector providers to offer broadband services to consumers and businesses.

We recently opened our office doors in Broomfield, and our staff is quickly coming up to speed. We have an ambitious task in front of us, and we are ready for the challenge that will enable affordable broadband to be built out across Colorado by August of 2013.

Denise Atkinson-Shorey
President
BTOP Sister Grants in Colorado
It is no secret that EAGLE-Net received $100.6 million to develop and improve upon existing infrastructure for broadband connectivity across the state of Colorado. By connecting school districts, libraries and community anchor institutions, EAGLE-Net hopes to address the lack of affordable high-capacity broadband access to many underserved areas in Colorado, many of which are rural. While EAGLE-Net is working hard to improve Colorado's broadband infrastructure, it is not alone its efforts. Several local and national community anchor institutions have also been awarded money to complete Broadband Technology Opportunities Program (BTOP) projects in the state of Colorado.
Adams County Communications Center (ADCOM911) was also awarded over $12 million to improve the wireless broadband network for 2,000 first responders from agencies within Adams County. This project will connect several different hubs for broadband connectivity including public safety answering points (PSAP), municipal governments, and Adams and Jefferson school districts, as well as Commerce City, Brighton, Thornton, and Northglenn. Through strengthening and building the broadband infrastructure in this area, ADCOM911 will not only improve public safety in Colorado, but will also serve as a model for a national public safety wireless broadband networks.
The Colorado State Board of Education through the Colorado State Library, was also awarded over $2 million from BTOP. To meet the technological needs of Colorado's underserved low-income and rural populations, the project intends to build several public computer centers and update 70 existing centers. At designated sites, more than 1,100 mobile and desktop computers will be replaced with new equipment and services for individuals with disabilities will be improved. Additionally, the project will include a training program for 90,000 residents that will focus on adult basic education, computer literacy and occupational skills.
In an effort to improve broadband conditions for interactive education, Governor's Office of Information Technology (OIT) for data collection, mapping and community outreach. BTOP awarded over $2 million to complete this project. The project sought out to increase citizen engagement in Colorado government through improved access to broadband.
In addition to EAGLE-Net, ADCOM911, Colorado State Board of Education, and OIT receiving grants to improve broadband access and technology in Colorado, the Mission Economic Development Agency (MEDA) was also awarded money through BTOP to complete a project. Unlike the preceding BTOP grant project, MEDA operates in several different states including Colorado. In collaboration with the National Association for Latino Community Asset Builders along with several other local organizations such as Colorado Rural Housing Development Corporation, MEDA is working on building new public computer centers in ten different states. This project will develop training programs centered on adult education and computer literacy in both English and Spanish.
Several organizations are already hard at work on improving access to broadband technology through BTOP. All of the grants awarded will no doubt improve education and technology for Colorado constituents including many underserved low-income and rural communities. EAGLE-Net is thrilled to become one of the leading change makers in Colorado and is committed to serving Colorado by improving the infrastructure for broadband technology.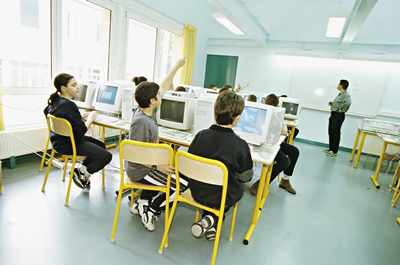 Moving Schools Forward
"Average", "usual", "run of the mill", "less than perfect", are not terms many people would use to describe the United States and its education system, but that is exactly how the U.S. is ranked in a recent report issued by the international Organization for Economic Cooperation and Development (OECD) Programme for International Student Assessment (PISA). With regard to reading skills, the U.S. ranked 14th among 34 countries, 17th for science and technology and 25th in mathematics.[1] As the U.S. has shown declining education rankings, China and other countries are seizing opportunities to improve, in education and lead the way for global technological innovation. It is clear, that if schools in the U.S. do not adapt quickly, our children may be left behind and finding it increasingly difficult to compete in a global marketplace.
While the numbers point to an "average" education across the nation. EAGLE-Net has been hard at work to raise the bar by promoting innovative, technology-rich education and providing high-speed Internet access to Colorado schools. EAGLE-Net is primarily known for being a cost-efficient, nonprofit consortium offering high-speed Internet to schools and libraries across Colorado. However, many people do not know that EAGLE-Net is committed to improving technology-rich education in schools and does so by offering a variety of services to enable schools to improve the quality of education.
Aside from offering cost-efficient high-speed Internet access, EAGLE-Net also provides Colorado schools with broadband network connections, advanced applications and Internet2 connectivity. Internet2 is the most advanced U.S. networking consortium comprised of over 200 universities collaborating with the corporate world and government to develop advanced applications and technologies to schools, museums, libraries and hospitals across the country as well as 39 states through the Sponsored Education Group Participants (SEGP) program.
Once connected to Internet2, schools will be able to take full advantage of the high performance network and world-wide connections to enhance research and educational initiatives. A few of the Internet2 benefits include:
· Virtual, high definition field trips to the Smithsonian Museum or a Federal Reserve Bank
· Biology classes exploring the human immune systems with an emergency room doctor
· Students can virtually attend classes at schools across the nation
· Teachers can receive interactive professional development from NASA, or the Library of Congress
· Live participation events to share knowledge and ideas instantaneously
EAGLE-Net is on the forefront of education reform paving the way for improved and technology-rich educational opportunities in Colorado. Not only will schools enjoy high-speed Internet access at a competitive price, they will also gain access to Internet2 resources that can enhance learning and equip students with the technological skills and experience necessary to compete with their global counterparts. Isn't it time Colorado stopped being "average"? EAGLE-Net enables schools to raise the bar, and challenges status quo by offering a range of innovative technology-rich services Colorado schools.
[1] "U.S. Falls In World Education Rankings, Rated 'Average'" The Huffington Post. 07 Dec. 2010. Web. 2 Feb. 2011.
Meet Our Staff
Dr. Randy Zila, Chief Executive Officer
Dr. Zila's career in education spans over 35 years, beginning as a teacher and including a variety of administrative positions, including the Executive Director at Centennial BOCES and the Superintendent of the St. Vrain Valley School District. A native of Wyoming, Dr. Zila received his Bachelor of Arts degree from the University of Wyoming, and also holds a Master of Arts degree in Curriculum and Instruction and a Doctor of Education degree from the University of Northern Colorado. In addition, Randy is a member of many educational and civic organizations.
Denise Atkinson-Shorey, President
Ms. Atkinson-Shorey has a diverse background in education and technology. Among her many accomplishments, she led the successful effort to make Colorado the 39th State to join Internet2 as a Sponsored Educational Group Participant (SEGP). In 2008, Denise was elected to the Board of Directors for Consortium for School Networking (CoSN) the national School District CIO/CTO organization and works with these organizations on national and international school and technology issues. Denise was with the Centennial BOCES serving as the Chief Technology Officer. Prior to that, she served in technology leadership roles at Adams Twelve Five Star Schools, Jefferson County Public Schools and IBM.